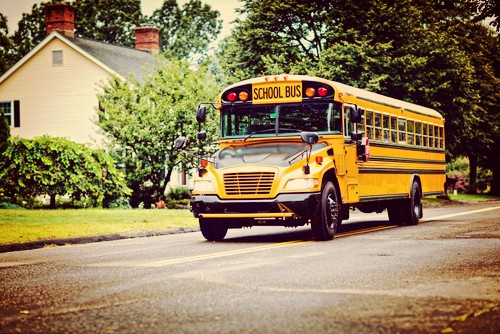 Monday's horrific school bus accident in Chattanooga has left many parents anxious and worried about the safety of their children. Though school bus accidents are not unheard of—in fact, 135 people die each year as a result of school bus accidents—the Chattanooga accident has captured the attention of bus companies, school systems, parents, and the National Transportation Safety Board due, in part, to its severity.
Five grade school children died in Monday's accident, and twelve more children are hospitalized. Six of those still in the hospital are in critical condition. The driver, 24-year-old Johnthony Walker, has been arrested on charges of vehicular homicide, reckless endangerment, and reckless driving. The investigation is continuing, as the NTSB looks into the cause of the accident and the overall safety of the bus environment at the time of the crash. Speed was apparently a factor, but we expect this investigation to be thorough in looking at all aspects of the accidents, such as:
Vetting of the driver by the bus company;
Questions about the prior accident in which Walker was driving a bus;
Prior concerns about unsafe driving by Walker;
Blood tests to determine whether drugs or alcohol played a role;
Whether seat belts could have prevented some of the deaths or injuries;
Renewed Concerns and Calls for Seatbelts
A school year doesn't pass when we don't hear about a school bus accident. As parents, we trust the bus companies, school systems, and drivers who take our kids to school, but in truth, we often know very little about them. Incidents like the one in Chattanooga make us question how we can better protect our kids in situations where we have very little information and even less control.
After the accident, there has been an uprising of activity geared toward requiring seat belts on school buses. Last year, the National Highway Traffic Safety Administration came out clearly in favor of seat belts on school buses. Still, only six states have made this safety feature a requirement: California, Florida, Louisiana, New Jersey, New York and Texas.
Due to the massive size and weight of school buses, typically injuries and fatalities are heavier for drivers or passengers in other vehicles in collisions with buses. 71% of school bus accident fatalities are individuals who are not on the school bus.
Occupants of school buses actually make up the smallest number of fatalities in such accidents; however, these are largely child passengers, many of whom are not properly restrained on the bus.
Kentucky School Bus Accident Attorneys Can Help
Any injury to a child is devastating, and the loss of a child changes a family's life permanently. If you find yourself in this situation, allow us to help you deal with the financial burdens of the accident so you can focus on your family. The Kentucky vehicular accident attorneys at Rhoads & Rhoads have the experience required to seek justice for your child and your family. Call us today for a completely free consultation: 888-709-9329.