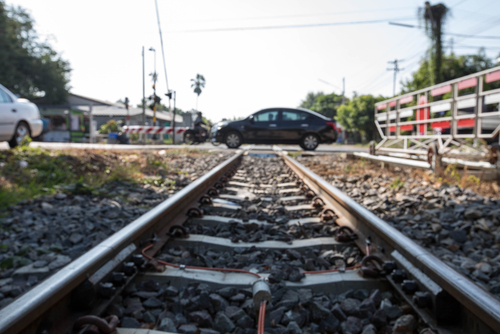 Train Crash A Reminder of Railroad Crossing Risks
A train traveling 40 minutes north of Owensboro recently collided with a 64-year-old woman on CR 600 W, near Huntingburg just beyond the Kentucky/Indiana border. The afternoon crash happened at a crossing with functioning signals at the time of the impact and the accident remains under investigation. Initially, it is believed the woman's vehicle collided into the side of the lead engine of the mile-long train. The National Highway Traffic Safety Administration (NHTSA) says approximately every three hours, a person or vehicle crashes with a train in the U.S. About half of all crossing collisions occur at highway-rail intersections with flashing lights or gates leaving nearly 1,000 people dead each year as a result.
According to Federal Railroad Administration (FRA) statistics, there were 2,105 highway-rail grade crossing collisions in 2017. Preliminary data provided by the FRA shows 11 train accidents, and seven fatalities and 38 nonfatal incidences related to Kentucky train crashes during the time period of January 2018 thru June 2018. 411 total fatalities stem from U.S. train related crashes from review of the same time span. Some train crash fatalities involve pedestrians and workers who have been injured as well.
Train and Railroad Accident Causes
In some cases, a train company may be found negligent for causing a motorist injury in the event of missing or broken train warning signage or lack of safety crossbars. Train operators traveling too fast or failing to use a horn to signal drivers of its approach may also be to blame. Common causes of train accidents include:
Mechanical or electrical failures
Track, roadbed, and structural defects
Maintenance problems
Human error
Warnings and communication problems such as signage
Driver fatigue or inexperience
Speed
In addition, Kentucky law (per KRS 277.200) says railroads are "prohibited from blocking any public highway or street by stopping and permitting trains, engines or cars to stand upon a public grade crossing for more than 5 minutes at any one time, unless such stopping and standing is caused by circumstances beyond the control of the railroad." Railroad companies should also practice these three safety measures to prevent accidents with drivers, pedestrians, and workers.
Road grade should be designated at a railroad crossing area and be relatively consistent with the road way surrounding it.
Adequate warning systems like flashing lights, crossbars to prevent entry, or a train horn should be present at all crossings to warn others when a train is approaching.
Motorists should be able to see an approaching train at a designated railroad crossing area and the locomotive, or engine train, should be free from visual impairments on each side of the track.
Most railroads partner with expensive, powerful insurance companies prepared to fight. If you or a loved one are injured in a collision with a train, it is critical to seek counsel from an experienced attorney.
Driver Tips for Avoiding a Collision with A Train
A motorist is almost 20 times more likely to die in a crash involving a train than in a collision involving another motor vehicle. The personal injury and motor vehicle accident legal team at Rhoads & Rhoads is happy to share these safe driver tips with the help of Kentucky's Operation Lifesaver program.
Trains and cars don't mix. Never race a train to the crossing — even if you tie, you lose.
The train you see is closer and faster-moving than you think. If you see a train approaching, wait for it to go by before you proceed across the tracks.
Be aware that trains cannot stop quickly. Even if the locomotive engineer sees you, a freight train moving at 55 miles per hour can take a mile or more to stop once the emergency brakes are applied. That's 18 football fields!
Never drive around lowered gates — it's illegal and deadly. If you suspect a signal is malfunctioning, call the emergency number posted on or near the crossing signal or your local law enforcement agency.
Do not get trapped on the tracks; proceed through a highway-rail grade crossing only if you are sure you can completely clear the crossing without stopping. Remember, the train is three feet wider than the tracks on both sides.
If your vehicle ever stalls on the tracks, get out and get away from the tracks, even if you do not see a train. Locate the Emergency Notification System sign and call the number provided, telling them about the stalled vehicle. If a train is approaching, run toward the train but away from the tracks at a 45-degree angle. If you run in the same direction a train is traveling, you could be injured by flying debris.
At a multiple track crossing waiting for a train to pass, watch out for a second train on the other tracks, approaching from either direction.
When you need to cross train tracks, go to a designated crossing, look both ways, and cross the tracks quickly, without stopping. Remember it isn't safe to stop closer than 15 feet from a rail.
ALWAYS EXPECT A TRAIN! Freight trains do not follow set schedules.
Operation Lifesaver, Inc. (OLI), in partnership with the Federal Railroad Administration (FRA), recently awarded Kentucky funds to support a variety of rail crossing safety and trespass prevention public education projects. Kentucky's Operation Lifesaver campaign focuses on safe driving choices for new drivers and awareness activities with statewide media to enforce railroad crossing safety efforts across the Bluegrass.
Train Accident Lawyers Who Are Here to Help
If you or someone you love has been injured, don't hesitate to call us. Many train accident injury victims are afraid they can't afford high-quality legal representation but working with Rhoads & Rhoads is totally risk-free. Our clients pay no fees up front for consultation or investigation of claims, and our compensation comes only after we have successfully settled or won your case. All you need to bring are the facts of your case and your trust—we'll take care of the rest.
Call us at 888-709-9329 or contact us by e-mail to schedule an appointment with one of our Madisonville or Owensboro personal injury attorneys.