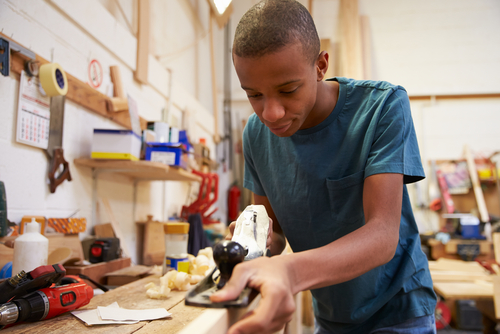 Workers' Comp Program Supports Young Workers
Almost every employee in Kentucky is covered by the commonwealth's Workers' Compensation Law, including minors. Kentucky's Department of Workers' Claims, which is attached to the Labor Cabinet, administers the workers' compensation program. The department has reported in its Fiscal Year 2016- 2017 Annual Report, there were 391 injuries to young workers (under the age of 18) reported. Here is an overview of those workplace injuries.
A summary of minor age groups for those injuries include:
2 injuries were reported for workers 14 years of age
8 injuries were reported for workers 15 years of age
112 injuries were reported in which the workers were 16 years of age
269 injuries were reported in which the workers were 17 years of age
Industry identified for those injuries sustained by minors during this period were:
Accommodations and Food Services: 163
Transportation & Warehousing: 54
Retail Trade: 46
Administrative & Support & Waste Management and Remediation Services: 30
Manufacturing Industry: 20
Arts, Entertainment and Recreation: 15
Public Administration: 13
Other Services (except Public Administration): 12
Finance & Insurance: 10
Construction: 9
Healthcare & Social Assistance: 7
Wholesale Trade: 4
Professional, Scientific & Technical Services: 3
Educational Services: 2
Agriculture, Forestry, Fishing & Hunting: 1
Mining: 1
The top three causes of injury to minors reported during this fiscal year include:
Burns or scalds (59)
Falls or slips (58)
Cuts, punctures or scrapes (51)
Accordingly, the top three body parts most frequently injured were fingers (51), hands (38) and knee which was reported in 30 instances.
Understanding Kentucky's Workers' Comp Coverage
Rightful workers of all ages, who are injured on the job in Kentucky, are covered by the state's workers' compensation laws – with few exceptions for independent contractors, domestic workers, and most volunteers. Workers' compensation provides injured workers with compensation for medical costs, temporary disability, or permanent disability if lingering injuries or impairments are present. State law requires all employers who have at least one part-time employee to have workers' compensation insurance or become self-insured.
If an injury occurs or a worker is diagnosed with an illness related to work, it should be reported to the employer immediately. This begins the process of filing for workers' compensation because the employer will provide the necessary forms for filing a claim. Once the claim is notarized it will then be filed with the Department of Workers Claims and within two months a decision of approval or denial will be provided. If the claim is denied, workers have the option to appeal the decision.
For more information, see Kentucky's guidebook to workers' comp or contact a work injury attorney at Rhoads & Rhoads.
Contact a Madisonville or Owensboro Workers' Comp Attorney
With offices in Owensboro and Madisonville, Rhoads & Rhoads offers free initial consultations, and there is no payment required up front. Call us at 888-709-9329 or contact us by e-mail to schedule an appointment with one of our Madisonville or Owensboro workers' comp attorneys.
Source: Department of Workers' Claims Annual Report 2016-2017