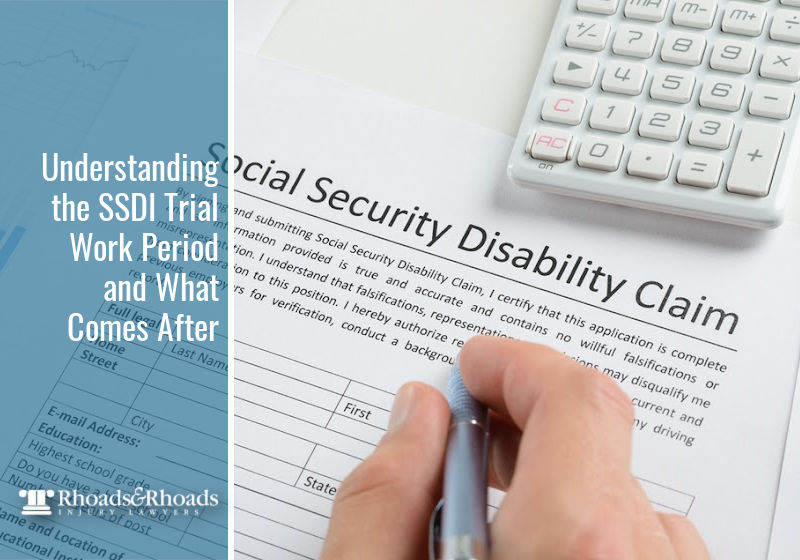 Key Points of this Article
SSDI recipients are entitled to a trial work period

Once the trial work period ends, the recipient enters into an extended eligibility period. 

Once the extended period ends and the trial work period has been exhausted, the recipient is no longer eligible for benefits but may reapply if they become eligible again at a later time. 
If you are receiving social security insurance benefits due to a long-term injury or disability, it's important to understand your rights and how benefits work. 
For example, it's not uncommon for people who receive SSDI payments to assume they will become ineligible if they do any kind of work for money during their disability. But there is something called an SSDI trial work period that allows individuals to work while still collecting disability payments. 
In this article, we'll dive deeper into the SSDI trial work period to help you better understand what it is and how it works. 
If you have further questions after reading this, one of our Kentucky Social Security Attorneys can assist you. We understand how confusing SSDI benefits can be and are here to help you understand your rights and ensure you get the full benefits you deserve. 
Do You Have a Right to an SSDI Trial Work Period? 
The Social Security Administration does allow those who collect SSDI to seek out employment and perform work for payment without the risk of losing their benefits. 
SSDI recipients have the right to a 9-month trial work period. During this period, individuals can continue to receive their full benefits, no matter how much income they earn. Furthermore, the months that the individual works do not have to be consecutive; the nine months can be spread out across a 60-month window.  
Essentially, if you are not working and are receiving SSDI benefits, the 9-month trial work period will be triggered once you start working again and start earning a certain amount of money.  
How Much Income Triggers the SSDI Trial Work Period? 
The amount that triggers the SSDI trial work period changes every year as average incomes change. The idea is that once someone is considered gainfully employed and able to support themselves again, they do not need SSDI benefits. 
So only if you make that certain amount will it trigger the trial work period. Then, once you have worked nine months at the income limit, the trial period will end. 
But again, those months don't have to be consecutive. If one month you don't make enough to hit the income threshold or if you just don't work at all that month, it is not counted as one of your nine months. 
As of 2022, the amount that triggers the SSDI trial work period is $970 or more. For self-employed individuals, the trial work period is triggered either by earning $970 or more or by working more than 80 hours in a month. 
So, if you earned $1,000 in March 2022 but then only earned $800 in April 2022, only March would count toward one of your nine trial work period months. 
What Happens After Trial Work Period SSDI? 
Once you have completed your nine-month trial period, you will then enter into an Extended Period of Eligibility for 36 months. During this period, you can continue to receive benefits as long as you remain disabled and do not earn more than the Substantial Gainful Activity (SGA) amount.  
If you earn more than the SGA amount during the extended period, you will lose your benefits. If your income drops below the SGA limit during the extended period, you will start receiving benefits again without having to submit a new application. 
After the extended period, if you continue to make above the SGA limit, you will become ineligible for continued SSDI benefits. At this point, if you have to stop working again or start making less than the SGA amount again, you would have to file a new application or apply for expedited reinstatement. 
Kentucky Social Security Lawyers – Rhoads & Rhoads
You have a right to an SSDI trial work period and the Extended Eligibility Period. If you believe you are not receiving the benefits you deserve, our social security attorneys can assist you. 
At Rhoads & Rhoads, our Kentucky social security attorneys have years of experience handling SSDI cases and are dedicated to helping each client get the benefits they deserve. 
Call us at 888-709-9329 to schedule an appointment with one of our Madisonville or Owensboro attorneys. We offer free initial consultations, and all cases are taken on a contingency fee basis, so no initial payment is required. 
We get paid only if we win or settle your case, and there is NO RISK involved.