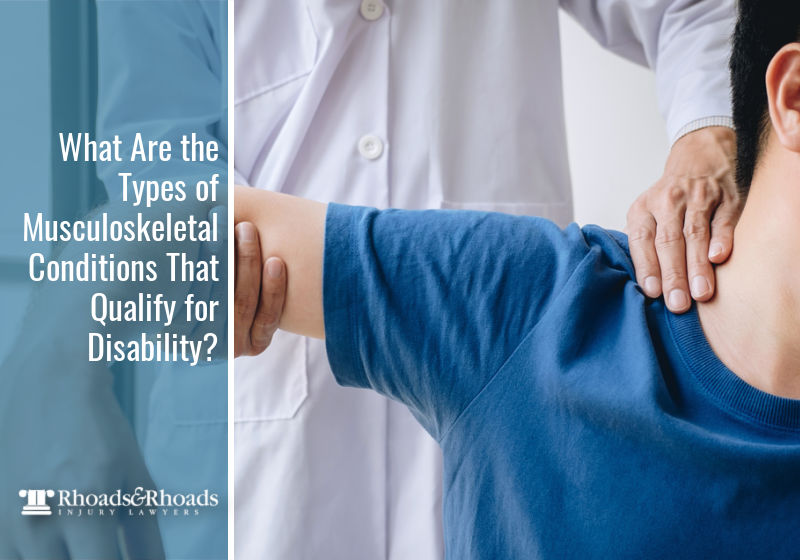 Key Points of This Article:
Not all musculoskeletal disorders are considered a disability.
The Social Security Administration has a Blue Book List of Impairments and a Grading System of Function, which helps them determine which musculoskeletal disorders are eligible for SSD benefits.
A Social Security attorney can help you file your SSD claim, help you with claim denials, and take your case to court if necessary.
Musculoskeletal pain can occur for various reasons, many of which are minor and not that big of a deal. However, some musculoskeletal conditions can be severe and debilitating, affecting your ability to work and live your life.
Unfortunately, not all musculoskeletal disorders or conditions are recognized as severe enough to warrant eligibility for Social Security Disability (SSD) benefits. So if you are wondering if you can file an SSD claim for your workplace or car accident musculoskeletal injury, we're here to help.
At Rhoads & Rhoads, our Kentucky Social Security attorneys have years of experience handling SSD cases. We can review your case and offer you guidance to ensure the best possible outcome and recovery of the SSD benefits you deserve.
Is Musculoskeletal Disorder a Disability?
The musculoskeletal system includes the tendons, ligaments, bones, and connective tissues that make up the framework and support for your body. Various conditions and disorders can affect the musculoskeletal system, leading to pain, inflammation, mobility issues, and other problems.
Musculoskeletal pain and other issues with the musculoskeletal system are widespread. Lower back pain, for example, is considered a musculoskeletal issue and affects 80% of the population in the United States.
While conditions like this are common, not all musculoskeletal disorders are considered debilitating enough to warrant eligibility for Social Security benefits. For instance, sprains and strains are musculoskeletal conditions, but these are injuries that are minor and can heal easily, meaning you don't need SSD benefits for them.
However, there are certainly some musculoskeletal disorders that are severe enough that they are considered a disability. If a musculoskeletal condition impacts your life and your ability to perform everyday functions, it could mean you are eligible for SSD.
Musculoskeletal Conditions That Qualify for Disability
Which musculoskeletal conditions qualify for disability benefits is based on the Social Security Administration's Blue Book List of Impairments and a Grading System of Function.
The Blue Book Listing recognizes a wide range of disorders that affect the musculoskeletal system; however, they only list certain disorders as a disability if the condition affects a person's ability to perform "meaningful work."
In other words, the administration makes decisions on claims based on how the musculoskeletal disorder affects a person's ability to move, perform tasks, and concentrate on a job.
The specific list of musculoskeletal disorders that are listed in the Blue Book List of Impairments include:
(Section 1.15) Disorders of the skeletal spine resulting in compromise of a nerve root(s)
(Section 1.16) Lumbar spinal stenosis resulting in compromise of the cauda equina
(Section 1.17) Reconstructive surgery or surgical arthrodesis of a major weight-bearing joint
(Section 1.18) Abnormality of a major joint(s) in any extremity
(Section 1.19) Pathologic fractures due to any cause
(Section 1.20) Amputation due to any cause
(Section 1.21) Soft tissue injury or abnormality under continuing surgical management
(Section 1.22) Non-healing or complex fracture of the femur, tibia, pelvis, or one or more of the talocrural bones
(Section 1.23) Non-healing or complex fracture of an upper extremity
Musculoskeletal Disorders and SSD Claims
Though the Blue Book only specifically lists the few conditions above, the Social Security Administration understands that many musculoskeletal conditions could leave a person disabled. As such, when filing an SSD claim, you will need to provide extensive medical evidence proving the extent of your disorder and how it is affecting your life.
Such evidence may include:
Medical records
Medical imaging and scans
Diagnostic results
Doctor's notes and statements
Any other documentation that shows how severely your life is impacted by the disorder
If you need help, a Social Security attorney can advise you on what documentation you need to submit, as well as offer guidance on any other aspects of your SSD claim, such as deadlines, and ERISA requirements. If your claim is denied, your attorney can also help you file an appeal or take your case to court if necessary.
Kentucky Social Security Lawyers – Rhoads & Rhoads
If you are suffering from a musculoskeletal disorder and are looking to file for Social Security Disability benefits, the team at Rhoads & Rhoads can help you with your claim. We represent SSD applicants throughout Western Kentucky with offices in Owensboro and Madisonville.
Call us at 888-709-9329 or contact us by email to schedule an appointment with one of our Social Security attorneys today. We offer free initial consultations, and all cases are taken on a contingency fee basis, so no initial payment is required. We get paid only if we win or settle your case, and there is NO RISK involved.