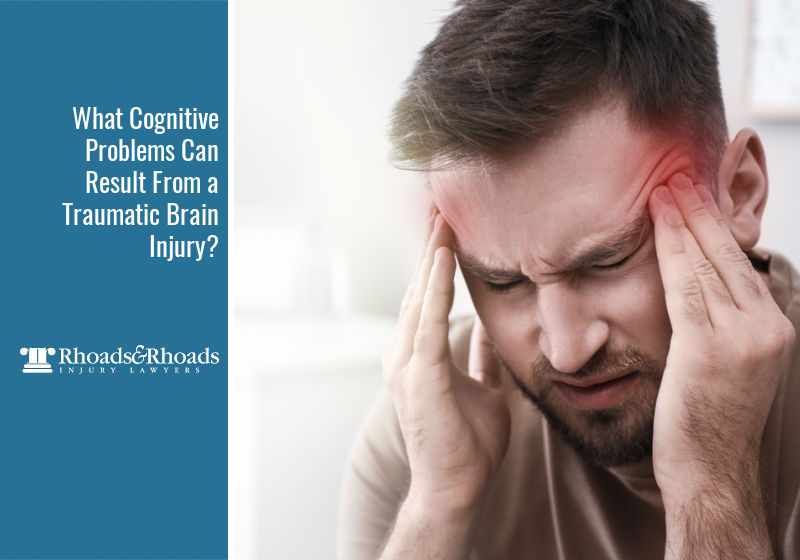 Traumatic brain injuries (TBIs) are incredibly common in the United States and can leave victims with permanent limitations. Cognitive problems from a traumatic brain injury happen all the time. Some of the most common causes of TBIs include car accidents, slip and fall accidents, and bullet wounds.
March is officially brain injury awareness month, and if you or a loved one has suffered from a traumatic brain injury, you need to be aware of some of the cognitive effects that occur from the condition.
Traumatic Brain Injury Statistics
National Statistics
Every year, around 1.7 million people suffer from traumatic brain injuries in the United States. Approximately 22% of serious traumatic brain injuries are fatal, and TBIs contribute to a third of all injury-related deaths in America. People over the age of 75 are at the highest risk of dying from a traumatic brain injury.
Vehicular accidents are the leading cause of traumatic brain injury deaths, and those between the ages of 20 and 24 are at a higher risk of suffering from a traffic accident that results in fatal traumatic brain injuries.
Additionally, around 500,000 people become permanently disabled from TBIs annually. Those who are at the highest risk of suffering from TBIs include children from 0-4, adolescents from 15-19, and adults older than 65.
Kentucky Statistics
Traumatic brain injuries are also exceedingly common in Kentucky. In a single year, 15,000 people went to the hospital because of TBI-related injuries. Of those 15,000, 3,522 were hospitalized and 1,034 died.
Of the many people who suffered from TBIs, 24% suffered from memory problems and 20.5% reported an increase in depression. Sadly, these are not the only problems that people develop after suffering from a TBI.
Cognitive Problems from a Traumatic Brain Injury
People who have suffered TBI injuries can develop many different cognitive problems depending on the severity of the injury. Some problems include:
Communication
Because traumatic brain injuries can impact one's ability to perform cognitive functions, communication is often difficult for TBI victims. Common communication problems include:
Trouble finding the rights words
Difficulty starting a conversation
Difficulty understanding other people
Trouble staying on topic
Having a hard time communicating through tone, body language, and facial expressions
Misunderstanding others' facial expressions and other forms of nonverbal communication
Attention and Focus
Traumatic brain injuries can also highly impact your ability to focus and pay attention. Those with TBIs often struggle with:
Staying focused on a task
Avoiding distractions
Difficulty finishing what they're doing
Having a hard time maintaining long conversations
Trouble switching from one task to another
Planning and Organizing
Those suffering from traumatic brain injuries often have a great deal of trouble planning out steps to accomplish their goals or tasks, and they also have difficulty:
Organizing their thoughts
Planning their day
Scheduling appointments
Keeping track of important documents and other essential items
Trouble performing tasks that require multiple steps
Processing Information
TBIs often cause victims to have great difficulty processing and understanding information. Symptoms include:
Difficulty understanding others
Needing more time to understand directions than others
Taking an inordinate amount of time to understand written materials, like books, newspapers, etc.
Trouble following storylines in movies and television
Taking a great deal of time to perform basic physical tasks, like getting dressed
Learning and Remembering
Victims of traumatic brain injuries often have great difficulty learning new things and even recalling things that happened. They may even fail to remember entire events that occurred or conversations they had. Those with TBIs may experience false memories that their brain created because they have gaps in their memories.
Complex Cognitive Skills
Traumatic brain injuries can heavily debilitate one's ability to perform complex cognitive skills like judgment, problem-solving, decision-making, reasoning, and self-monitoring. Those with TBIs often struggle with:
Figuring out solutions to problems
Changing the way they think by taking in new information
Failing to see that a problem can have multiple solutions
Trouble distinguishing what is safe and unsafe
Acting without considering consequences
Being unaware of one's own cognitive difficulties
Contact a Kentucky Personal Injury Attorney
If you or a loved one suffered from a traumatic brain injury because of another person's negligence, you may be able to recover compensation from the at-fault party. When you file a personal injury claim for a TBI, you could recover damages for medical bills, lost wages, loss of future earnings, pain and suffering, and more. Consider contacting a personal injury attorney to increase the likelihood of settling or winning your case. A qualified attorney can help you collect evidence and gather expert testimonies to prove your case and hold the negligent party accountable.
For legal support in personal injury cases in Kentucky, contact Rhoads & Rhoads Injury Lawyers at 888-709-9329, or you can contact us online here. There's NO FEE until we settle or win your case.