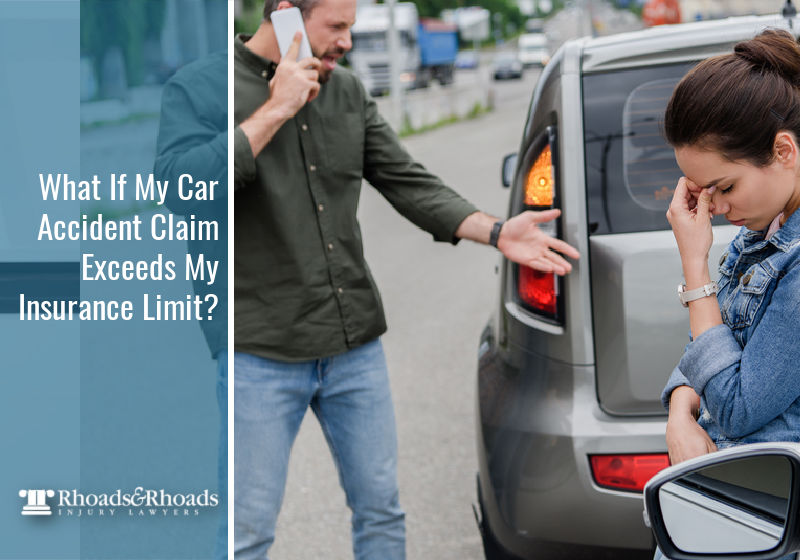 Key Points of This Article:
Injured victims can file their claim against the at-fault driver's insurance company.
Kentucky is a no-fault state, so victims can also choose to go through their own no-fault insurance coverage first.
If my car accident claim exceeds my insurance limit, there are other options available.
Most states have minimum coverage requirements for auto insurance to ensure there is at least basic coverage if an accident occurs. However, most people tend to only carry the minimum, which means they might not have enough to cover a car accident claim if the damages and injuries are severe and require a higher compensation amount.
It is understandably scary to think that you might not have enough money to pay for your medical bills and other expenses if you get injured in an accident. While most insurance minimums do provide a good amount of coverage, there are times when it might not be enough. If this is the case, there are alternatives that the injured party can seek to help cover the rest of their expenses.
If you or a loved one are injured in an accident and have questions or concerns about your case and how much money you can recover, contact our Kentucky car accident attorneys at Rhoads & Rhoads. We can offer you guidance and support to help you navigate your claim and ensure you get the full coverage you deserve.
At-Fault Drivers Are Responsible for Paying Compensation to the Injured Victim
In Kentucky, the driver who caused the accident is generally the one who will be held liable, and their insurance company will be the one to compensate the injured victim for their damages. So if you are injured in an accident, you will initially file a claim against the guilty party's insurer.
This is why it is crucial to have an attorney on your side. There are often disputes after car accidents over who was actually at fault. If you were the one injured due to another driver's negligence, you want to make sure that they are the one held responsible. But it is not uncommon for someone who knows they are guilty to deny fault or for their insurance company to deny fault in an attempt to reduce the settlement amount.
With an attorney assisting you, however, you will be more likely to win your case and get the money you deserve because they know what it takes to advocate for their clients' rights and prove who was really at fault. Insurers are also less likely to fight against a claim when the plaintiff is working with an attorney because they know you will likely have sufficient evidence to prove your case.
Kentucky Insurance Policy Limits
When you file a personal injury claim after a car accident, the guilty party's insurer will compensate you for your damages, such as medical expenses, lost income, and pain and suffering. However, keep in mind that insurance companies are only responsible for paying the dollar amount up to the limit of the policy purchased by the guilty party.
So if their coverage is not enough, you may have to seek additional compensation through other means. It is possible that the guilty driver could carry more than the required minimum, which then might be enough to cover your claim. This is not common, however, and is not something you should depend on.
In Kentucky, the minimum liability coverage is as follows:
$25,000 per person in a single-car accident
$50,000 for all injuries from a single-car accident
$10,000 for property damage
What to Do My Car Accident Claim Exceeds My Insurance Limit
If the at-fault driver's insurance coverage is not enough to cover all of your expenses related to the accident, there are a couple of other options. However, it is first worth mentioning that Kentucky is a no-fault state. This means that you have the option to carry your own no-fault coverage, known as Personal Injury Protection (PIP), which can help cover some of your expenses from an accident, even if it was someone else's fault.
If you choose to opt-in to the state's no-fault coverage option, you would first have to seek coverage through your PIP insurance policy first before you could take legal action against the guilty party. If your PIP coverage is not enough to cover your expanse, you could then file a lawsuit against the guilty driver to recover further compensation.
PIP coverage offers up to $10,000 for:
Medical bills
Lost wages
Other out of pocket costs resulting from the accident
Whether you opt-in or opt-out of PIP coverage, and the guilty party's liability coverage is not enough, there are some other options available to you, including:
Underinsured motorist coverage: This type of coverage on an auto policy is often glossed over, but it is an option if you are worried you might be involved in an accident with someone who doesn't have enough insurance. The amount you can receive through this type of coverage will depend on how much you choose to purchase as your limit.
Other liable parties: In some cases, the other driver may not be the only party that can be held liable. It is also possible to pursue a claim against the owner of the car, the car manufacturer, the maintenance company, local municipalities, or even a bar or other establishment that served alcohol if it was a drunk driving accident.
Personal assets: Even if the at-fault driver does not have sufficient coverage, they could decide to pay you with their own personal assets, such as money they have on hand in their accounts or by selling some of their personal property for money.
Legal trial: If a settlement cannot be agreed upon or the guilty driver does not have enough insurance coverage, you could take the case to court. In this situation, the at-fault driver could receive a court order and have their personal property seized and used to pay for your damages.
Bad faith lawsuit: Insurance companies can sometimes be challenging to work with, and they might refuse to settle the claim within the policy limits. If this happens, it could be seen as an act of bad faith and in violation of the terms of the contract, which means they would be held financially responsible.
Kentucky Personal Injury Lawyers – Rhoads & Rhoads
If you need help filing a car accident claim to recover compensation for your injuries and other potential damages, our experienced team of personal injury attorneys can help. We have years of experience handling difficult claims and know what it takes to win our clients the compensation they deserve.
Call us at 888-709-9329 or contact us by email to schedule an appointment with one of our attorneys today. We offer free initial consultations, and all cases are taken on a contingency fee basis, so no initial payment is required. We get paid only if we win or settle your case, and there is NO RISK involved.