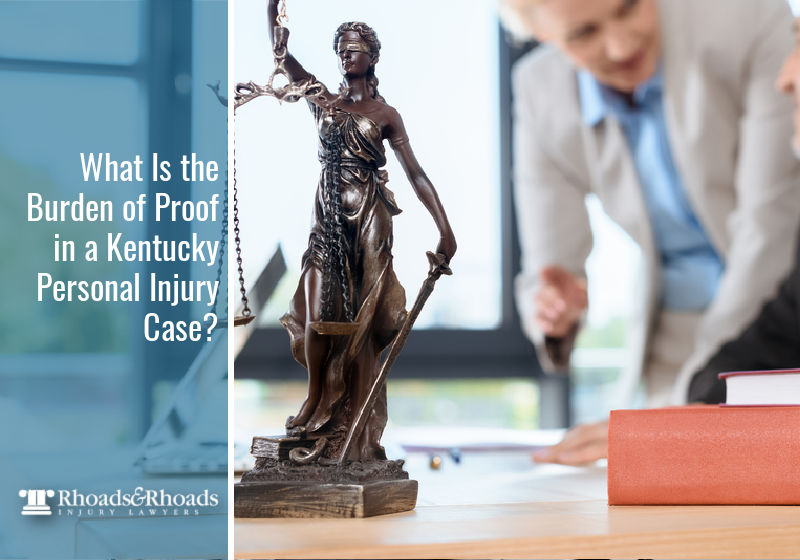 If you've experienced a personal injury that was caused by another person's negligence, you may wonder if it's possible for you to receive compensation from the at-fault party in court. You have every right to seek damage from the negligent party, but you need to be able to prove that their negligence directly resulted in your injuries. This is burden of proof in personal injury and it's complicated.
The burden of proof in personal injury cases falls on the plaintiff, meaning the person who filed the lawsuit. You need to be able to supply convincing evidence that establishes your claim as fact. In this blog, we discuss the definition of burden of proof, elements of negligence, and the evidence you can provide to support your claim.
The Burden of Proof Definition
Many people are familiar with the term "burden of proof" from criminal cases. Prosecutors have the burden of proof of providing evidence that proves defendants committed a crime beyond a reasonable doubt. In civil cases — such as personal injury cases — on the other hand, the burden of proof isn't as high. Plaintiffs don't need to prove beyond a reasonable doubt that the defendant caused their injuries.
Instead, the burden of proof in personal injury cases is a preponderance of evidence. Plaintiffs aren't required to prove negligence beyond a reasonable doubt — they only need to supply enough evidence to prove their claim to the jury with 51% certainty. Juries in personal injury cases decide whether or not plaintiffs' allegations are likely to be true, and they only need to be 51% certain.
Although the burden of proof is not as high as it is in criminal cases, a plaintiff in a personal injury case still needs to be able to provide sufficient evidence to prove their claim. They need to show that the defendant was negligent and that their negligence resulted in injuries.
Elements of Negligence in Personal Injury Cases
When building a case, plaintiffs need to prove that the defendant was at fault by providing different elements of negligence. The four elements of negligence are:
Duty of care: Duty of care in personal injury cases means that the defendant legally owed you a duty. A defendant's legal duty to the plaintiff depends on the type of personal injury case. For example, if you're injured in a car accident because of a driver's negligence, that driver owed you a duty of care to drive safely on the road. In medical malpractice cases, healthcare professionals owe their patients acceptable medical care.
Breach of duty: A breach of duty means that the person who owed a duty of care did something wrong or failed to do something. When defendants breach their duty, they fail to provide reasonable care to plaintiffs. Reasonable care means that a person acts as a reasonable person would in the same circumstances.
For example, if a drunk driver injures you, they breached their duty by drinking and driving. They owed you a duty of care to operate their vehicle while sober, and they broke reasonable care because a reasonable person wouldn't drink and drive. In medical malpractice cases, a healthcare professional can breach their duty to patients by failing to supply acceptable medical care.
Causation: Causation means that the defendant's actions or lack of action directly resulted in a plaintiff's injuries. For example, if you're injured in a car accident caused by a drunk driver, their negligent driving directly caused your injuries.
Damages: Finally, you need to prove that you sustained injuries that require compensation. Common damages in personal injury cases include medical bills, lost wages, loss of future earnings, and pain and suffering.
Providing Evidence to Prove Your Claim
You need to build your case and provide evidence that convinces the jury with 51% certainty that the defendant is liable for your injuries. You can provide evidence that proves the different elements of negligence. For example, you can show that the defendant breached their duty through:
Police reports
Eyewitness statements
Security camera footage
Photos
You can also provide additional evidence depending on the nature of your personal injury case. For example, if you're bringing a drunk driver to court, you could provide credit or debit card payments that prove the defendant bought alcohol before your accident. In another example, if the at-fault driver caused your accident because they were on a cell phone, you can provide their cell phone records to prove they drove while distracted.
Getting this evidence may seem daunting, but you can hire a personal injury attorney to help you subpoena the relevant documents.
In addition to providing evidence that the defendant broke their duty of care, you can show their actions resulted in your injuries. You can provide:
Your medical records
Photos of your injuries
Medical bills
Medical professional's testimony
Your work records that indicate you couldn't work due to your injuries
Appropriate expert witnesses to help prove your case
Your personal journal that details how your injuries have physically and emotionally impacted you
Contact a Kentucky Personal Injury Lawyer
If you're filing a personal injury claim, you need to be able to build a solid case because the burden of proof falls on you. You can strengthen your case by hiring a personal injury attorney. An attorney can help you gather evidence and subpoena necessary documents that prove your claim. For seasoned legal assistance in Kentucky, contact Rhoads and Rhoads Injury Lawyers. With 150 years of combined experience, we can help you prove your claim and maximize the amount you'll receive in damages. For a free initial consultation, call our office at 888-709-9329, or you can contact us online here.