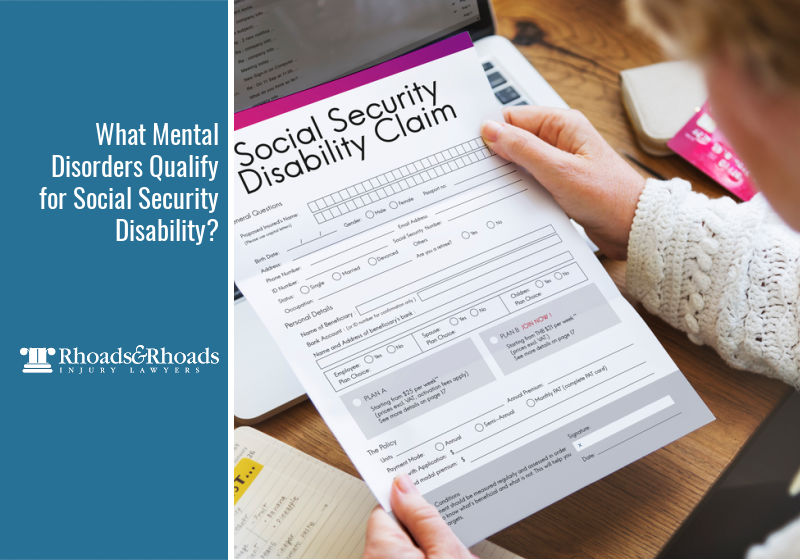 Key points of this article:
You may qualify for social security disability benefits if you are unable to work due to a mental illness
Even if your claim is denied at first, you could still win benefits through the appeals process
Due to the complicated nature of mental illness, these kinds of claims can be difficult to win, but Rhoads and Rhoads can help you make a strong case
Introduction
Mental illnesses are complicated and multi-faceted, and they can also be extremely debilitating. Due to both their complex nature and the stigma that still surrounds mental illness worldwide, winning disability benefits for a mental illness can be difficult. Sometimes the SSA denies benefits, and in order to receive a payout, people must go through a lengthy appeals process. However, with a lawyer from Rhoads and Rhoads by your side, you can rest assured that your case will be given the utmost care and concern. Mental illness disability cases are among the most difficult to prove, and some lawyers don't want to take them on for that reason. But our firm is committed to getting you the benefits you need and deserve.
What Mental Illnesses Are Covered by Social Security Disability in Kentucky?
There are many categories of mental disorders that the social security administration lists as verifiable disabilities. These include neurocognitive, schizophrenic, psychotic, depressive, bipolar, intellectual, anxiety, obsessive-compulsive, somatoform (this means patients suffer from a multitude of clinically significant but unexplained physical symptoms), personality and impulse-control, autism spectrum, neurodevelopmental, eating, substance abuse, and trauma and stressor-related disorders. You can read on the SSA's site here what these disorders look like and how they present.
How Can I Get Coverage?
In order to get social security disability benefits from social security, you need to prove several things:
That you have been diagnosed with one of the above qualifying disorders by a healthcare professional
That you are taking medication and participating in therapies prescribed to you for this condition while you are applying for benefits
That you are no longer able to do your work due to your illness
That you cannot be trained for other work
That your illness is long-term
The SSA will gather evidence from you, your friends and family, your employers, your educational institution if you're in school, and your physicians to get an overall picture of how you function in your day-to-day life. This evidence will also show how your illness affects those functions, both in the short term and in the long term. They will take into account how you function in both unfamiliar and supportive settings. You can read all of their terms and conditions here. In short, you need to prove that your disorder or illness significantly and consistently affects your ability to perform basic work functions of any kind.
How Much Do People Typically Receive in Social Security Disability Benefits?
Every person is unique, and everyone's mental health condition affects them differently, so the amount of payment varies on a case-by-case basis. Whether you receive supplemental security income (SSI) or social security disability insurance (SSDI) will also affect your payment. SSDI is specifically for people who were able to work full-time at one point but, due to their disability, are no longer able to. SSI is solely needs-based. Other factors that affect payouts are what state you live in and your monthly income. After all, these benefits are meant for people with limited income and extremely disabling conditions. As of 2021, the average payout per month for SSI is $586 and the average payout per month for SSDI is $1,277. (SSDI payments are typically larger than SSI payments).
How Do I Get the Coverage I Need?
We here at Rhoads and Rhoads are committed to getting you the monetary help and support you need while living with your disability. We represent clients throughout Western Kentucky, and we work tirelessly to get our clients the results they want when dealing with the SSA. Click here to learn more about acquiring social security disability benefits through Rhoads and Rhoads.
Additionally, you can call us at 888-709-9329 or contact us by e-mail to schedule an appointment with one of our Madisonville or Owensboro personal injury attorneys.