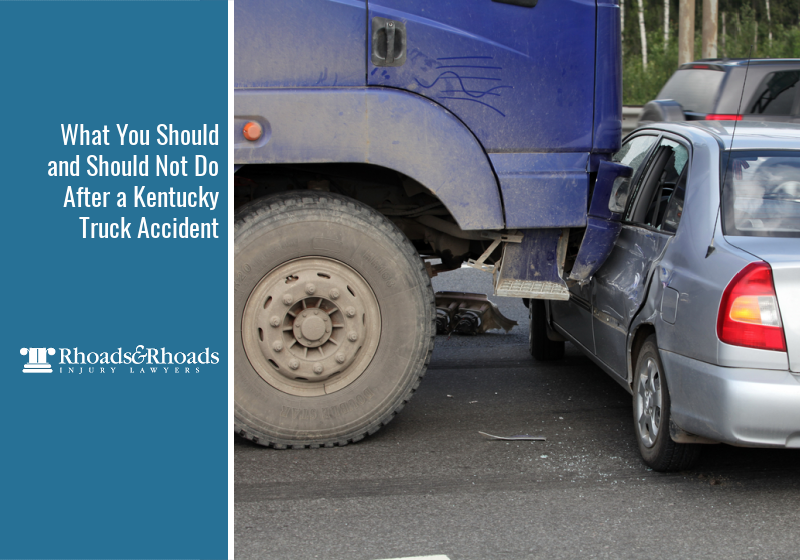 Dealing with the aftermath of a truck accident is highly stressful. Once you ensure the immediate safety and health of yourself and other involved parties, there's still a lot to navigate as you determine what happened and how to proceed. If you or a family member has been in a truck accident in Kentucky, read this list to get an expert opinion on what you should and should not do following the accident.
What you should do after a Kentucky truck accident
DO – Attend to the safety of all involved. The first concern after any truck accident is the health and safety of affected drivers and passengers. If anyone appears to be seriously injured, call an ambulance right away.
DO – Call the police. Even if no one appears to be injured and both vehicles seem undamaged, it's still a good idea to file a police report. The officers will evaluate the scene, ask questions, and file an official accident report. This serves as a useful record of events if needed.
DO – Gather key information from the other driver. This allows you to easily contact them and their insurance company during the post-accident process. Some information to consider requesting from the truck driver includes their contact information (name, address, phone number or email); their license and license plate information; their insurance information (company and policy number); and their employer information (name and a phone or email address). Gathering this information at the scene will make the post-accident process smoother.
DO – Gather any evidence from the accident. Evidence includes pictures of the damage done to either vehicle, witness observations, and witness contact information in case you need to get in touch again. Also, any notes on weather conditions, your own memory of what happened, and any other useful information. The evidence will help you make sense of what occurred and can aid in the discovery of what you may be entitled to.
DO – See a doctor (even if you feel fine). You might be tempted to skip the doctor's visit if your injuries seem non-existent or minor, but it's a good idea to visit regardless of how you're feeling. Many post-accident injuries can be internal and less visible or show up after the accident once your body has had time to process the shock of the event. Additionally, many truck accidents can affect mental health. Be sure to check in with a therapist or other licensed mental health professional if needed.
If you're able to do most of the things on this list, you'll set yourself up for a less stressful post-truck-accident process.
What you should not do after a Kentucky truck accident
DON'T – Admit fault or liability. While it is good to talk to the driver to exchange key contact and insurance information, it is not a good idea to get into a conversation with the driver about the accident or who is at fault. It can be tempting to be accomodating in this type of conversation, but any perceived expression by you of fault or responsibility for the accident could be used against you in court. Keep the conversation short and focus only on exchanging information.
DON'T – Have a long conversation with your insurance agent. The same advice applies here. While you should get in touch with your insurance company to let them know you've been in a truck accident, don't have a long conversation about what happened. Most importantly, don't express fault or blame for the accident in any way. Truck accidents are complex and multiple factors are often at play. Even if you think you bear some responsibility, it is a good idea to refrain from expressing anything about the cause of the accident until you have the full picture.
DON'T – Get your vehicle fixed before assessing and recording the damage. Be sure to document the damage that happened to your vehicle before it is repaired. It is best to ask your insurance company what kind of proof and documentation they need. You may want to take pictures of the vehicle, and/or have a body shop mechanic assess the damage before repairs are made.
DON'T – Post on social media. Social media posts can easily be taken out of context in a court of law. Refrain from sharing a mass message on social media about the accident. Instead, if you're worried about communicating with friends and family, send individual private messages. If possible, refrain from posting on social media altogether post-accident until you have professional counsel; even innocuous posts can be used as evidence in court.
Don't Go it Alone – Get Professional Help to Navigate the Process
There are a lot of dos and don'ts after getting in a truck accident in Kentucky. One of the easiest decisions you can make is bringing in a lawyer to help you make sense of the process.
The team at Rhoads & Rhoads has experience handling Kentucky truck accident cases. We are dedicated to helping victims receive the guidance they need to win their cases and navigate the complex factors at play. Truck accidents can lead to physical injuries and emotional distress. They are often also more complex because the truck driver's employer is involved as well as the driver themselves. It's important to us to help victims navigate this stressful process to get the full compensation they deserve.
Call us at 888-709-9329 to schedule an appointment with one of our Madisonville or Owensboro personal injury attorneys. We offer free initial consultations, and all cases are taken on a contingency fee basis, so there is no initial payment required. We get paid only if we win or settle your case. There is NO RISK involved.