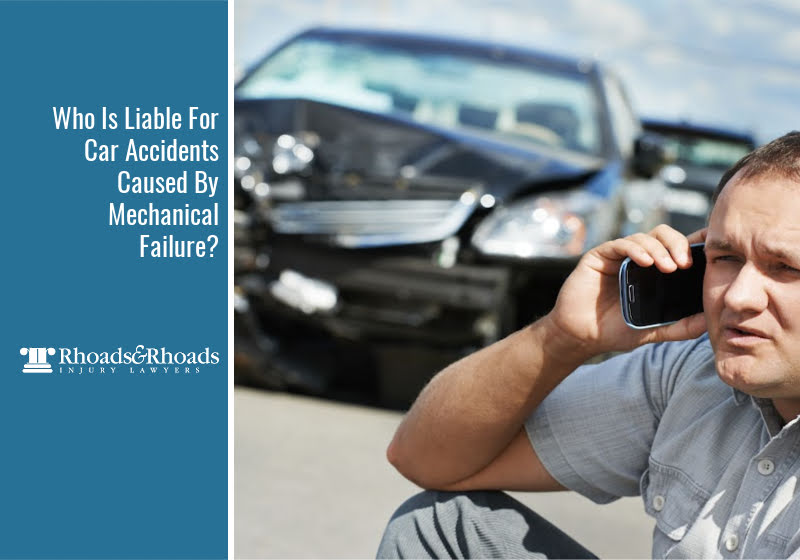 Key Points of This Article:
Faulty brakes, tire blowouts, and steering malfunctions are common causes of car accidents.
Multiple parties but there are a primary three that can be held liable for a mechanical failure accident: The manufacturer, the mechanic, or the vehicle owner.
Under comparative fault laws, more than one party can be held liable and responsible for paying compensation to the victim.
Though most car accidents are due to negligent driving, there are some situations where other factors can contribute to or be the main reason an accident occurs. Mechanical failures, for example, can cause a driver to lose control of their vehicle and cause an accident. In these situations, the driver may not be to blame.
However, determining which other parties may be at fault for a mechanical failure-related car accident can be tricky. If you intend to pursue legal action for compensation, you will need to provide evidence that can support your claim and hold the guilty parties accountable.
If you are injured in a car accident resulting from a mechanical failure, the attorneys at Rhoads & Rhoads can help. We have years of experience handling complex cases that require some digging to determine which parties were at fault. Our goal is to help victims get the compensation they deserve to help cover medical expenses for injuries, car repairs, and other damages related to the accident.
Common Mechanical Failures That Cause Car Accidents
There are several reasons why a car might experience a mechanical failure. Vehicles are complex pieces of machinery that have a lot of different parts and mechanisms. The most common mechanical failures that contribute to car accidents include the following:
Faulty brakes: Brake failures are a common contributor to car accidents. When the brakes are defective, a driver is highly likely to cause a rear-end collision. Faulty brakes can be due to low brake fluid, worn-out brake pads, or issues with antilock brake systems.
Tire issues: Tire blowouts are another common cause of accidents, especially when they occur at high speeds. When a tire blows, it can easily cause the driver to lose control of their vehicle. Tire blowouts typically happen due to over inflation, underinflation, or being old and worn out.
Steering system defects: Defective steering mechanisms can also cause a driver to lose control of the car. The steering system can fail due to defective ball joints, snapping steering relays, and improperly assembled steering wheels.
Potential Liable Parties for Mechanical Failure-Related Accidents
When a mechanical failure occurs and causes an accident, there are typically three parties that can potentially be held liable: the manufacturer, the mechanic or repair shop, and the driver or owner of the vehicle. According to comparative fault laws, a guilty party can carry all of the blame or a percentage of the blame.
Manufacturer: The first party that should be looked into after a mechanical failure is the car manufacturer. If they are responsible for manufacturing and distributing a faulty product, they are responsible for putting out a recall to have the issue fixed. In addition, car manufacturers must adhere to strict standards, and if a part or mechanism is found to have been made below standard, they can be held liable.
Mechanic: Faulty or low-quality repairs can also result in an accident. If a driver has recently taken their vehicle in for repairs and they have an accident shortly after, the victim may be able to go after the mechanic or the repair shop if the work they did on the car caused the accident.
Driver/Owner: Of course, the car owner is also responsible for keeping up with repairs and regular maintenance. If they fail to adhere to their vehicle's maintenance schedule or ignore a recall on a part and it leads to an accident, they can be held responsible.
Pursuing Compensation After a Mechanical Failure Accident
Following the accident, if the victim plans to pursue legal action to receive compensation for their injuries and other damages, they will need to work with an attorney to gather the necessary evidence to prove fault. In some situations, there may even be more than one party that can be held liable and responsible for paying the victim.
When multiple parties are to blame, comparative fault laws come into play. Comparative fault means that a party will be responsible for paying damages based on their percentage of fault in causing the accident. For example, if the owner of the vehicle failed to keep up with repairs or address a recall issue, they may be found 40% responsible, and the manufacturer may be found 60% responsible for having produced the faulty part in the first place.
When determining fault, several things can be used as evidence to build a strong case against the guilty parties. These include:
Police reports
Photographic evidence from the scene of the accident
Eye witness statements
Manufacturer information
Maintenance records
Medical records to back up injury claims
Kentucky Personal Injury Lawyers – Rhoads & Rhoads
If you or a loved one are injured due to a mechanical failure-related car accident, the team at Rhoads & Rhoads is here to help. We have experience handling complex cases where determining a guilty party may be more complicated than usual. Our attorneys are dedicated to doing whatever they can to help victims get the compensation they deserve.
Call us at 888-709-9329 to schedule an appointment with one of our Madisonville or Owensboro personal injury attorneys. We offer free initial consultations, and all cases are taken on a contingency fee basis, so no initial payment is required. We get paid only if we win or settle your case, and there is NO RISK involved.