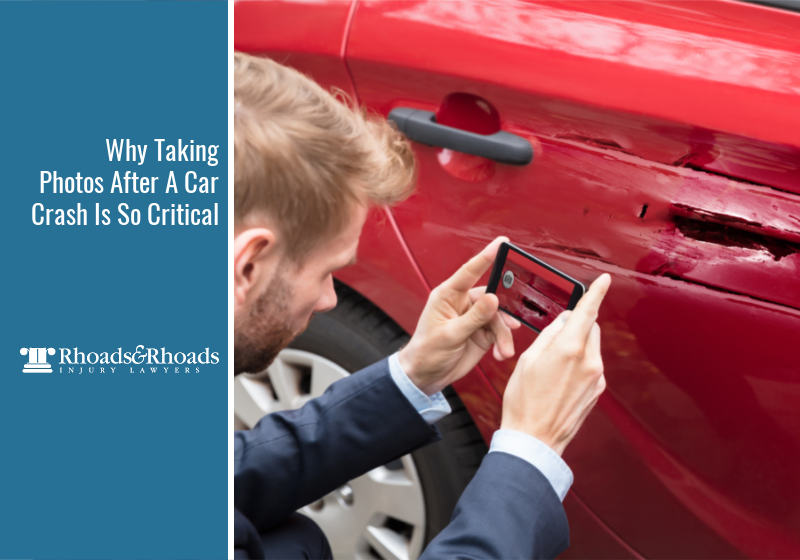 Key points of this article:

The importance of documenting your accident by taking multiple photographs at the scene
The types of photos to take
What to do if you are too injured to take photos
Subsequent photos that could prove helpful
Suppose someone has just smashed into the back of your car at a red light. They miscalculated and thought the light would have changed by the time they reached the intersection, so they didn't hit the brakes. What do you do?
Well, obviously, your safety and the safety of any passengers are paramount. But once you have determined that you aren't in imminent danger and the police have been called, it's time to take photographs. No, not so that you can post later for internet hearts — it's to protect yourself from the difficulties that lie ahead.
Being in a motor vehicle accident is traumatic and catastrophic, but the actual collision is over in seconds. The aftermath is another story. You may have injuries or PTSD that last for weeks, months, or even permanently. You will be trapped in a cycle of medical bills, insurance calls, paperwork — and possibly even a lawsuit — for the foreseeable future as you attempt to prove exactly what happened to you and your car.
If you can safely do so, pull out your cell phone and take photographs. These will serve as vital pieces of evidence if you need to prove details about your accident later on.
In previous years, most people didn't drive around with cameras. Cameras were taken out for special occasions and vacations. But now, in a time where cell phones are ubiquitous and the capacity for taking photos endless, things have changed. According to a Pew research study, 97% of Americans own cell phones. For those between the ages of 18 and 49, that number is 100%. Chances are, you will have a phone with the ability to take photographs with you when your accident occurs. And, unlike in the old days when you may have had to focus a lens or wind the film, you can just hit a button and let the phone do the rest.
What pictures should I take?
Let's start by saying that you can never have too many photos. You probably aren't in a fit emotional state to think too deeply about what you are doing, so more is best. That being said, try to document the following:
Wide shots of the entire area to identify the location
Skid marks on the road: Take distance shots as well as close-up photos of tire marks. If you can get close safely, take one set of pictures of each mark facing in the direction that the vehicle was traveling. Tire marks can offer a lot of evidence to accident investigators about the speed a vehicle was traveling and about the impact.
Any traffic lights, stop signs, yield signs, or directional markers
Each of the vehicles to show where they ended up in relation to the road and each other
Damage to the exterior of each of the vehicles — taken from multiple angles
The license plate of the other car
Your injuries and the injuries of any passengers
The interior damage to your car
The other driver's insurance information (It's easier to snap a photo than to hunt for pen and paper and try to write with a hand still shaking from post-collision adrenaline.)
Multiple shots from various angles of the entire accident scene
Any debris or car parts scattered on the road. Take these from multiple angles to show their exact locations.
Vehicles belonging to witnesses, including license plates, just in case you or your attorney have to track people down to make depositions in the future
Photos showing the sky and any weather that may have impacted the crash
The location of the sun in relation to the horizon. The accident may have happened at a time of day where the angle of the sun "blinded" one of the drivers.
Any surrounding businesses or houses. There may be security cameras or doorbell cameras with useful footage that will be needed at a later date.
Any construction markers or cones
Notes:
Most digital photos come with a date and time stamp. Even if you don't see these on the actual photos, your attorney's office should be able to access them from the metadata. If you have doubts about your phone's capability to do this, take a quick panoramic video where you pan around the entire accident site and say the date and time out loud.
Take photos from multiple angles, distances, and heights. Your attorney will be able to determine what is important. You don't have to worry about that in the moment.
What if I am too injured to take photos?
In 2019, there were 87,340 collisions in Kentucky; this included 320 fatalities and 1,292 serious injuries. Obviously if you are unconscious or immobile on the back of a stretcher, you can't suddenly pop up and start snapping photos. However, a trusted person may be able to help you.
If you are unable to take photos at the scene, ask a friend or family member to take photos at the crash site as soon as possible. Even though the vehicles will probably have been towed away, there may still be tire marks to document. Multiple shots of the location, traffic lights and signage, area businesses can also prove helpful.
Should I take any other photos?
Yes! Document your injuries as they evolve. For example, on the day of the accident, your face may just look swollen, but in subsequent days, you may develop black eyes, burst blood vessels in your eyes, or other facial bruising.
Take detailed photos (or have someone else take them) of all of your injuries every day. You should also be keeping a journal documenting how you feel and the level of pain you experience.
Photos of an accident's aftermath are extremely helpful, but don't despair if you don't have them. Rhoads & Rhoads personal injury lawyers have been protecting the rights of the injured throughout Western Kentucky and surrounding areas for over 45 years. We work closely with experienced expert witnesses, those who reconstruct accidents, medical doctors, insurance companies and other subject-area experts who are equipped to support your case. We do a thorough investigation of every accident, identifying any witnesses and collecting all evidence. It is our goal to help you recover the compensation that you need to get through this difficult time, including damages for:
Medical bills
Future medical expenses
Lost wages, including for future earnings
Services such as housekeeping
Pain and suffering
Wrongful death