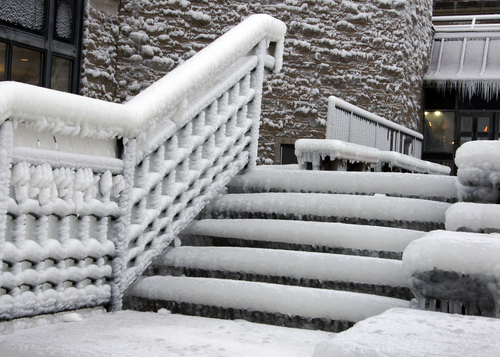 Winter Slip and Fall Injuries Often Caused by Slippery Walkways
Businesses, residential and commercial property owners see a fair share of slips, trips and falls triggered by unexpected snow and ice storms. The causes are usually because of slick entrances, stairs, sidewalks, and driveways. These areas become a real liability to those who do not take responsibility for creating safe grounds. Falls can lead to serious back injuries, head injuries, traumatic brain injuries, paralysis, and even death for those unfortunate individuals who have fallen. If you are the person responsible for the prevention and removal of snow or ice on a property, its imperative to manage those areas to prevent falls that could ultimately cause serious injuries to others.
Who Is Responsible For Snow and Ice Removal?
Most Kentucky city ordinances require property owners to keep sidewalks clear of ice and snow. For example, the snow and ice removal ordinance for the City of Lexington says:
"Residents and businesses are responsible for clearing the sidewalks adjacent to their property. Sidewalk clearing is required per city ordinance when more than four (4) inches has fallen and your street has been plowed.
The owner or occupant or any person having the care of any building or lot abutting in any sidewalk shall remove all snow therefrom within four (4) hours after daylight and after the falling of snow has ceased, and the provisions of this section shall apply to the falling of snow or ice from any building or structure.
Whenever the sidewalk, or any portion thereof, adjoining any building or lot on any street shall be encumbered with ice it shall be the duty of the owner or occupant or any person having the care of any such building or lot to cause such sidewalk to be made safe and convenient by removing the ice therefrom or by covering the same with sand or some other suitable substance.
The City has a plan for clearing city-managed sidewalks. Prioritization of sidewalks for snow and ice removal is based on volume of pedestrian traffic with consideration for access to public transportation, emergency services, and schools."
Rental or commercial property owners should maintain common areas, so they are not found liable for accidents. If you have created a tenant-landlord agreement, it's important to be specific about when and where the snow needs to be shoveled and how icy areas will be managed.
What To Do If You Slip and Fall  
Property owners have the responsibility of keeping on top of snow and ice buildup to alleviate slippery walkways. When they fail to do this, people too often get hurt. If you are that individual, it is important to remember a few things:
Seek Medical Attention
It is important to visit with a doctor as soon as possible after a fall, especially if you have endured a broken bone or suspect a head trauma. Call 911 if it is a serious injury. If the fall was the result of someone else's negligence and you want to pursue a claim, you will need a professional diagnosis of any injuries.
Collect Evidence of the Scene
Most people slip or fall because of a specific cause. If you are able, look around for the potential cause of your fall such as snow buildup, ice, a snow shovel left in a walkway, and uneven concrete. If you carry a phone, take several pictures and videos of the scene immediately. If you aren't able to grab images, call someone to help and have them take photographs of the area as soon as possible. Making a written note of how the accident happened is also important.
Look For Witnesses  
There may be others who saw you fall but also those who came to help after your incident. Gather the contact information for these people so they can help serve as a witness on your behalf.
File an Official Report
While you should not make an effort to resolve the issue at the place of business, make sure the property owner or store manager is aware of your accident immediately. You should request to fill out slip and fall accident report. If a report is not available, make notes of who you spoke with and what was said.
Avoid A Winter Fall
According to the National Safety Council, slips and falls are the single largest cause of emergency room visits in the winter months. Walking through snow and on ice can be extremely dangerous, particularly to those people who already may have mobility issues, such as the disabled or the elderly. Take the following precautions if walking outside during the winter months:
Watch out for black ice which typically forms under covered walkways or in areas where moisture sits.
Wear a pair of insulated boots with good rubber treads. Most street shoes won't prevent you from slipping and may increase your risk of a fall.
When walking outside, take short steps and walk at a slower pace so you can react quickly. Stay off your phone and don't be distracted.
Avoid uneven surfaces if possible. Steps and curbs may be especially icy.
If you are walking at night, wear bright clothing so others can see you.
Wearing sunglasses during the daytime may help you see better and avoid hazards.
Whenever possible, travel light or use a backpack to evenly distribute weight to help you walk more easily.
If the only choice you have is to walk in the street, walk against the traffic and as close to the curb as you can. Get back on the sidewalk as quickly as possible. Watch for oncoming traffic and do your best to be seen.
If you do encounter an area that is slick and not safe for passing, be sure to report these spots to property managers or business owners.
Owensboro and Madisonville Lawyers — No Recovery, No Fee
If you or a loved one have been injured as the result of a slick or snow-filled walkway, don't hesitate to call us. All you need to bring with you are the accident facts and your trust — we are here for you and can take care of the rest. Call us at 888-709-9329 or contact us by e-mail to schedule an appointment with one of our Madisonville or Owensboro personal injury attorneys.