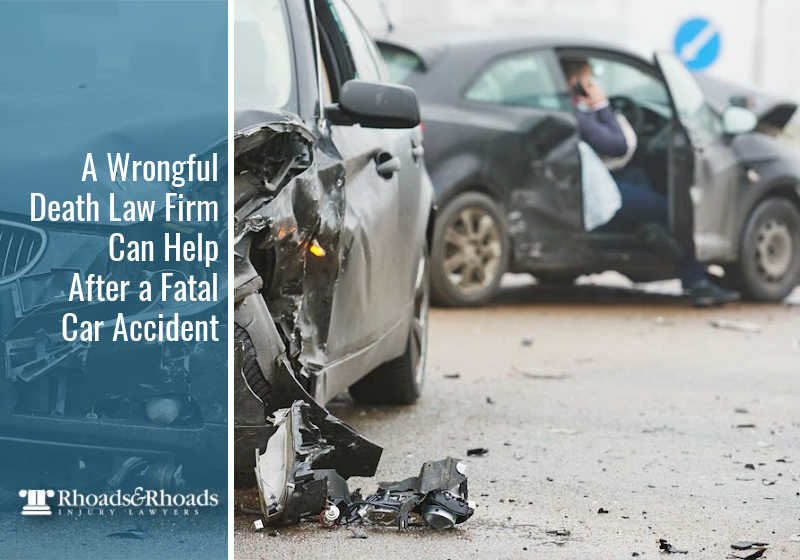 Key Points of this Article
806 people were killed in Kentucky traffic accidents in 2021.
When someone dies in an accident due to someone else's negligence, loved ones may be entitled to wrongful death benefits.
A Kentucky wrongful death law firm can help family members recover damages suffered, such as medical bills, loss of support, and funeral expenses.
According to the CDC, traffic accidents are a leading cause of death in the United States. Every year, millions of people are injured and killed in car accidents — and more than half of those killed are pedestrians, motorcyclists, and bicyclists.
If you have lost someone you love in an accident, nothing can ease that kind of pain. However, if the loss results in financial burdens, you may be entitled to compensation that can help cover certain expenses.
For questions or help after losing a loved one in an accident, contact our Kentucky Wrongful Death Law Firm for assistance.
What is a Wrongful Death Claim?
When someone dies due to another person's negligence, this is known as "wrongful death." When a wrongful death occurs, certain loved ones or family members of the deceased may be entitled to benefits that compensate them for the suffering and losses they have experienced. These benefits are awarded through wrongful death claims or lawsuits.
In Kentucky depending on the circumstances and who the living beneficiaries are at the time of death, the following parties are often times eligible to collect wrongful death benefits:
Surviving spouse
Surviving parents
A personal representative of the deceased's estate
After the accident, the estate has one year from the date of the appointment of the representative of the estate (but not to exceed two (2) years from the date of the death) to file a claim in court for a wrongful death lawsuit. This is called a statute of limitations. For a surviving spouse to file a loss of consortium clam, the statue of limitations is a strict one (1) year from the date of death.
What Causes Fatal Accidents in Kentucky?
In 2021, 806 fatalities occurred due to traffic accidents in Kentucky.
Of those fatalities, the Kentucky Transportation Center report shows that:
39% involved collisions between two or more moving vehicles
25% involved collisions with fixed objects
10% involved collisions with pedestrians
5% involved non-specified collisions or "other"
As for the behaviors or acts that led to these accidents, some of the most common reported causes of fatal accidents include:
Drunk driving
Distracted driving (primarily cell phone use)
Fatigued driving
Speeding
Aggressive and reckless driving
In most cases, fatal accidents in Kentucky are the result of negligence, meaning that one or more parties were doing something they shouldn't have been doing. The person who dies could have acted negligently, or the person who hit them could have acted negligently. However, in order for a loved one to be eligible for wrongful death benefits, the person who died must have been killed due to someone else's negligence, not their own.
What Damages Can I Collect in a Kentucky Wrongful Death Lawsuit?
When a person is injured in a car accident, they can file a claim to recover damages for the losses they have suffered due to the accident. With wrongful death claims, the personal representative on behalf of the estate and family members  or loved ones pursue the damages for the decedent's losses, which can be a little different from damages in regular personal injury claims.
In Kentucky, those who are eligible to collect wrongful death benefits can seek the following damages:
Medical bills and expenses from the treatment of the deceased
Loss of earnings and financial support
Loss of benefits (i.e., pensions, social security retirement, social security disability or medical coverage)
Loss of services (i.e., childcare or other household services)
Pain and suffering for the person who died
Loss of companionship or consortium
Loss of care and nurturing
Loss of guidance and support
Funeral and burial expenses
Attorney and other legal fees (in particular cases)
How Can a Kentucky Wrongful Death Lawyer Help?
Filing a claim after any kind of accident can be challenging, but it can be especially difficult when it involves losing a loved one. A wrongful death attorney can handle complex legal matters so you and your family can deal with your grief and focus on moving on.
Your lawyer can help investigate the accident if needed. They can help determine who is eligible for wrongful death benefits. And they can ensure the full and fair settlement of benefits is awarded.
Your lawyer is essentially your voice. They can speak for you when you cannot and handle negotiations and communications with the insurance company or any other parties involved. They can also guide you through the process and answer any questions to help you feel at ease and better understand what is happening.
Rhoads & Rhoads: Kentucky Wrongful Death Law Firm
If you have lost a loved one and need assistance filing a wrongful death claim, our wrongful death law firm can help. We can review your case, offer you guidance, and help you receive the highest settlement possible for all you have lost.
At Rhoads & Rhoads, our Kentucky wrongful death lawyers have years of experience. We understand how devastating losing a loved one can be and are here to help.
Call us at 888-709-9329 to schedule an appointment with one of our Madisonville or Owensboro wrongful death attorneys. We offer free initial consultations, and all cases are taken on a contingency fee basis, so no initial payment is required.
We get paid only if we win or settle your case, and there is NO RISK involved.