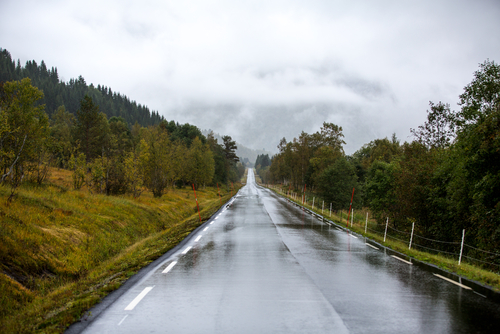 Rain and Wet Roads Increase Likelihood of Car Accident
When that Kentucky rain starts pouring down, automobile crashes due to wet pavement follow close behind. In fact, the U.S. Department of Transportation, estimates nearly 950,000 motor vehicle accidents occur because of wet roadways each year in the U.S. Since weather conditions remain an uncontrollable force against drivers, there are several things everyone can start doing to lower their risk of being injured in a motor vehicle accident caused by the rain or wet roads. After all, if a driver finds himself in a critical situation on the road, being informed can mean all the difference between life and death.
Maintain your vehicle. Keep your gas tank full and be sure your windshield washers and lights are properly working. Make certain your tires are properly inflated.
When a downpour hits, lower your speed. Reduce by about 10 miles per hour below the speed limit, or more until you're comfortable. Remember to slow down a couple of hundred feet before stop signs and lights.
Increase the distance between your vehicle and other cars to allow for additional reaction time if something happens.
Avoid distractions. One of the most accident inducing distractions happens when a driver uses their mobile phone to talk or send messages while operating a vehicle.
Most cars feature cruise control. This feature works great in dry conditions, but when used in wet conditions, the chance of losing control of a vehicle can increase.
Even the lightest of rainfalls can create a slippery surface and trigger accelerating speeds, loss of car control, and serious crashes. Remain cautious of all road conditions.
Cruise Control and Rain Can Create Deadly Driving Conditions
Hitting the cruise control option can be great for drivers travelling long distances and help keep the occurrence of speeding down for others, but the feature can become a problem when activated on wet roads. Cruise control can sometimes make a vehicle jump forward and go faster than expected during the moments the tires' tread are off the pavement. The driver could then lose control once the vehicle returns back to the pavement at a high speed if locked into cruise. As a precaution, watch the weather and as soon as it is raining, or roads are wet, disable the cruise control. Resume safe rain driving practices while keeping cruise control off until the destination is reached, or roadways become dry. In general, stay off the road during rain and if you have to drive, avoid using your cruise control options. 
Get Help From a Kentucky Car Accident Attorney
Rhoads & Rhoads is Kentucky's leading and experienced personal injury firm with offices in Owensboro and Madisonville, representing car accident victims throughout Western Kentucky. We offer free initial consultations, and all cases are taken on a contingency fee basis. We get paid only if we win or settle your case, so there is NO RISK involved.
Call us at 888-709-9329 or contact us by e-mail to schedule an appointment with one of our Madisonville or Owensboro personal injury attorneys.