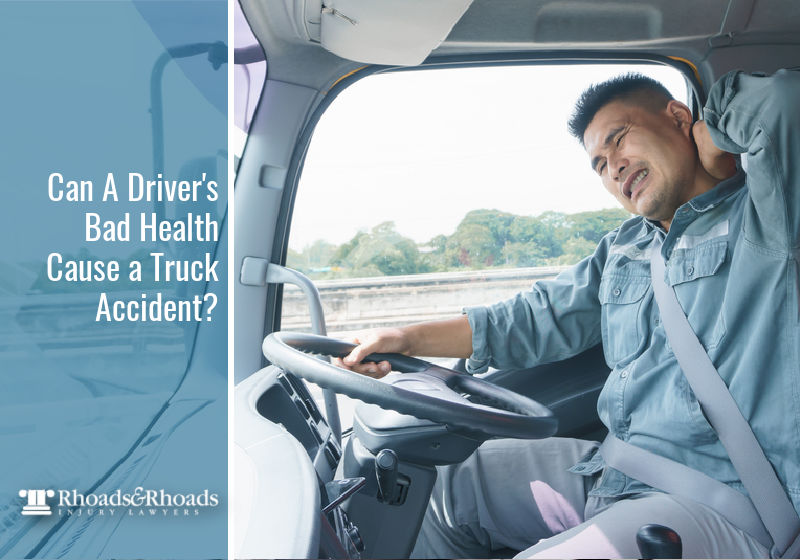 Every year, semi-truck accidents cause around 100,000 injuries in the United States, and they also cause thousands of deaths annually. One serious contributing factor that can cause a deadly semi-truck accident is poor driver health. A driver's bad health can directly cause an accident, and if you suffer from an injury caused by a driver's poor health, you need to seek compensation.
In this blog, we discuss truck driver health statistics, specific health problems that can cause or contribute to wrecks, common injuries victims sustain in truck accidents, and what you need to do to recover damages. 
Truck Driver Poor Health Statistics
The Bureau of Labor Statistics and the National Institute of Health and Safety conducted studies regarding truck drivers' health. The Bureau of Labor Statistics found that truck drivers experience more workplace injuries and illnesses than other professions. According to their data, out of every 10,000 truckers, 298.7 experience workplace injury or illnesses that force them to take time away from work. 
That rate is shockingly high when compared to other dangerous professions. For example, construction workers have a workplace injury and illness rate of 168.9 per 10,000 employees, which is almost half of the incident rate of truckers. 
The National Institute of Health and Safety conducted a study indicating that 88% of long-haul truck drivers have a contributing factor for developing a chronic illness. Some factors for developing chronic diseases include hypertension, obesity, smoking, and alcohol consumption. Additionally, truckers are frequently overworked and spend hours on end sitting with little opportunity to exercise, which contributes to developing medical problems
One recent study indicated that around 34% of truck drivers have a serious medical condition that can negatively impact their driving. Such medical conditions include diabetes, heart disease, lower back pain, and more. Evidence indicates that when truck drivers have multiple medical conditions, such as both heart disease and lower back pain, their risk of causing a traffic accident increases.  
What Health Problems Do Truck Drivers Have in Kentucky? 
When truckers develop medical problems, their injuries or illnesses can directly contribute to a wreck. Some common medical problems that truckers develop include:
Sleep Apnea

Diabetes

Heart Disease

High Cholesterol

Stress

Cancer

Obesity

High Blood Pressure
One major health condition that can significantly increase the risk of an accident is sleep apnea. Many truckers develop obstructive sleep apnea, meaning that they have throat tissue that keeps them from breathing properly while sleeping. Many individuals who struggle with obesity develop obstructive apnea, and truckers frequently develop this condition because their profession makes it challenging to eat healthily and engage in regular exercise. 
Sleep apnea causes individuals to wake up in the middle of the night due to blocked breathing, and this frequent sleep interruption prohibits them from getting quality rest. They may then cause an accident due to their tiredness. 
Additional dangerous health issues that can result from truck driving include:
Exposure to hazardous freight

Long periods of isolation that contribute to depression 

Exposure to diesel fumes, leading to lung issues

Developing a dependency on drugs that keep them awake

Musculoskeletal injuries from loading and unloading cargo
Injuries Caused Semi-Truck Accidents in Kentucky
All vehicular accidents can be dangerous, but semi-truck accidents are especially hazardous due to their significant weight and size. Semi-trucks can weigh 16 times more than a standard passenger vehicle, meaning that you're far more likely to sustain serious or fatal injuries if you collide with one. 
Additionally, a semi-truck's height also contributes to the risk of causing a catastrophic or fatal injury. When colliding with a truck, a car may be pushed underneath the truck, causing serious or fatal injuries. 
A truck's cargo can also cause deadly injuries. Semi-trucks frequently carry harmful chemicals that can cause serious injuries or illnesses, and a truck's loose freight can cause crush injuries. 
A few common injuries that result from truck accidents include:
Burns

Internal organ damage

Paraplegia

Quadriplegia

Back injuries

Neck injuries

Broken bones

Amputations

Spinal cord injuries 

Disfigurement
Recover Compensation From Your Semi-Truck Accident in Owensboro, Kentucky
If you become injured from a semi-truck accident caused by a trucker or another party, you have every right to seek compensation. 
Semi-truck accidents are frequently more complicated than other types of wrecks because many different parties may have contributed to the accident. When it comes to wrecks resulting from a driver's health issues, the trucker and their company could both be at fault. For example, if a truck driver falls asleep at the wheel as a result of their sleep apnea, they may be at fault for driving while fatigued and their truck company could also be at fault if they overworked the driver. 
There are Kentucky laws restricting truckers from traveling more than 11 consecutive hours or 14 hours total in a day. If a trucking company requires their truckers to drive more or if they have unrealistic expectations that obligate truckers to drive more, the company may be liable after a wreck. 
Because semi-truck accident claims are frequently complicated, you need to contact an Owensboro, Kentucky semi-truck accident attorney. 
For seasoned legal support in truck accident claims, contact the lawyers at Rhoads & Rhoads Attorneys at Law. We've helped numerous Kentucky residents settle or win their claims against negligent truckers and trucking companies. You may be able to recover different types of compensation including vehicle damages, medical bills, pain and suffering, lost wages, loss of future earnings, and more. Call our office today at 888-709-9329, or you can contact us online here.