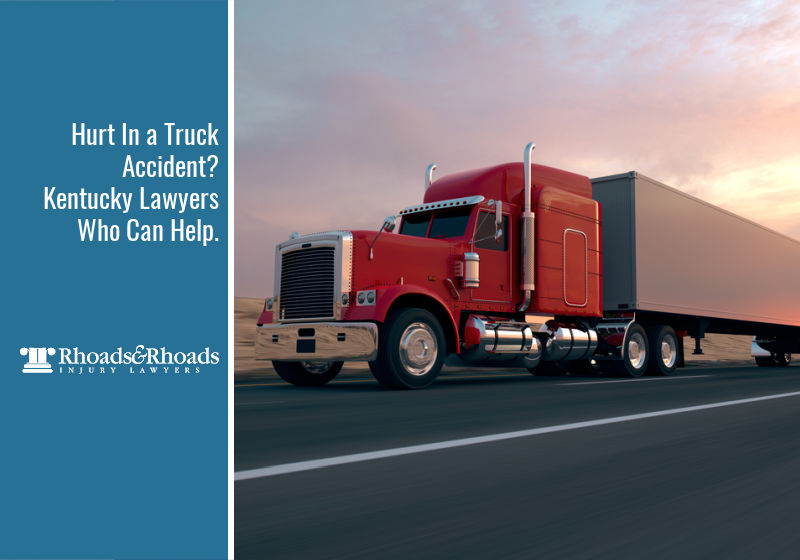 Key Points of This Article:
A boost in online shopping demand now requires 70% of all U.S. products to reach their destination by freight delivery trucks or large semi-trucks, weighing more than 10,000 pounds.
Truck drivers who deliver freight often work long shifts and are under a demanding schedule, making fatigue, speed, and distraction common causes of accidents.
Kentucky interstates and rural highways in counties such as Jefferson, Fayette, Warren, Bullitt, and Campbell have experienced increased big truck accidents involving smaller passenger vehicles and pedestrians.
Those injured in semi-truck accidents may struggle with costly rehabilitative surgeries and therapies related to traumatic brain injuries and broken bones, leaving many unable to work.
Were You Injured in a Large Truck Accident in Kentucky?
There is no doubt that the surge in online shopping and increased customer demands are causing a significant increase in more of us sharing the road with larger trucks and contract parcel service companies hauling delivery-day-sensitive freight, guaranteed by mega online retailers. For example, according to the American Trucking Association, these trucks move roughly 72.5% of the Nation's freight by weight each year, now creating a spike in accidents causing severe injury or death to other road users, including pedestrians. Unfortunately, these companies are earning a reputation for pushing chaotic and rushed work conditions and creating an acceptable pattern of recklessness on the road.
Accidents involving the larger freight and delivery trucks have included:
head-on collisions
rear-end collisions
broadside collisions
exiting-while-parked collisions
centerline crossover collisions
lane change collisions
loss of control of a vehicle
hit-and-run accidents
In Kentucky, most crashes involving large trucks occur in rural areas or on Interstate highways. In 2019, Kentucky's Transportation Cabinet identified several counties with the most alarming semi-truck accident trends.
Fayette
Boone
Kenton
Hardin
Bullitt
Madison
Laurel
Campbell
McCracken
Hart
Scott
The majority of semi-trucks and 18-wheelers that travel through Kentucky weigh 20-30 times as much as passenger vehicles. Crash outcomes are devastating to passenger vehicle occupants who now face life-long injuries and catastrophic disabilities. And for others, the pain of losing a loved one in a big truck accident can never be healed. Yet, too many semi-truck haulers and trucking companies continue to ignore regulations designed to minimize dangerous travel in hopes of cutting operational costs and ensure on-time deliveries.
Causes of Common Semi-Truck Accident Injuries
In 2018, of the 33,654 fatal crashes on the Nation's roadways, 4,630 (13.8%) involved large trucks. In addition, there were an estimated 6,701,000 nonfatal crashes, 555,000 of which involved at least one large truck, according to the National Highway Traffic Safety Administration's most recent Large Truck and Bus Crash Facts publication.
The reported injuries to passenger vehicle occupants and pedestrians caused by semi-truck collisions can vary based on the type of crash and road conditions but often include:
spinal cord injury and paralysis
neck injuries
broken bones
amputation injuries
internal organ damage
severe burns
death
After a collision with a semi-truck, those injured and their families may live a life of struggle caused by ongoing medical bills and rehabilitative surgeries and therapies. And others may never be able to return to work again. The devastating impact creates many stressors for families, including overwhelming financial burdens. Because of this, the truck driver should be held liable for those injuries and the related life changes when negligence occurred. Equipment manufacturers, mechanics, and trucking companies who allow defective and dangerous products or outdated truck technologies to be used may be found incredibly guilty of negligence as well.
Some of the possible factors in proving truck-driver accident negligence include:
improper load weight
congestion and construction hazards
truck or equipment maintenance
bad turning radius
distractions
drowsiness
bobtailing inexperience
jackknife risks
technical glitches
gear floating attempts
railroad crossing violations
driving heavy loads on roads with a grade or incline
tip-overs due to excessive or unequally distributed weight
careless driving in dangerous weather
speeding
alcohol or prescription medications or recreational drug use
Seek Legal Support When Working with Large Trucking Companies
According to the U.S. Department of Transportation, as of April 2020, the number of for-hire carriers on file with the Federal Motor Carrier Safety Administration totaled 928,647, private carriers totaled 799,342 and other interstate motor carriers totaled 84,763. These workers are most often agents or employees protected by large trucking companies who have no problem paying out expensive insurance policies designed to make it difficult for accident survivors to seek support for the severe damages and injuries a negligent driver caused.
No one should have to pay the price for a crash caused by another driver, and the injured will need all the facts to present a winning case against trucking companies that do their best to mask unsafe practices. Gathering the right evidence and proving negligence can be more rigorous than other types of accidents. Experienced attorneys who are knowledgeable in state and federal laws regulating the tractor-trailer industry may be necessary to help an accident victim prove truck driver negligence.
Western Kentucky Semi-Truck Accident Lawyers — No Recovery, No Fee 
Seeking a fair settlement and the compensation you deserve without a lawyer can be frustrating, especially for someone already dealing with the costly consequences of their accident injuries. With offices in Owensboro and Madisonville, Rhoads & Rhoads represents car and truck accident victims throughout Western Kentucky. We offer free initial consultations, and all cases are taken on a contingency fee basis. This means there is no initial payment required to work with us, and we get paid when we win or settle your case, leaving NO RISK involved.
Call us at 888-709-9329 to schedule a time to talk with one of our semi-truck accident injury attorneys in Kentucky. We are here for you.
Watch: Rhoads & Rhoads | Client Case | Traumatic Brain Injury
Source: The Federal Motor Carrier Safety Administration (FMCSA), 2020 Pocket Guide to Large Truck and Bus Statistics, retrieved October 26, 2020.