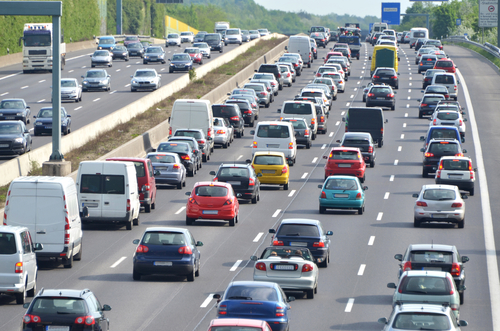 Kentucky Highway Earns No. 10 Slot for Worst Traffic Congestion
The annual Top 100 Truck Bottleneck List has been released from the American Transportation Research Institute (ATRI), ranking one Kentucky highway in the top ten percent for having the worst bottleneck induced traffic congestion in 2017. The Institute used GPS data to conclude that the commonwealth state is home to the No. 10 most bottlenecked roadway found in Louisville, on I-65 at I-64 and I-71. A bottleneck is a disruption in traffic patterns and can be found on streets, roads or highways.
The group collected the information to help quantify the impact of traffic congestion at 300 specific locations across the U.S. The information is used to help create better understanding of the severity of congestion and mobility constraints on the U.S. highway transportation system and identify solutions to creating safer travel routes for all motor vehicles. 
Semi-truck Congestion and Higher Crash Rates
Road safety analysts have made a sure connection between truck congestion and other vehicle backups that result in accidents, predominantly front- and rear-end collisions. In addition, with the rise of distracted drivers who also share impatient driving habits, we see a major chain reaction of accidents and injuries on this stretch of I-65 in Louisville. The car accident team at Rhoads & Rhoads has reviewed the Institute's bottleneck analysis and put together four easy rules so you can safely navigate through your next bottleneck slowdown. 
4 Rules for Driving into a Bottleneck
Pay Attention: Highway traffic can be unexpected and change without notice. Follow traffic rules and take extra time to pay attention. Watch for speed limit reductions, accidents, brake lights, alert signage, narrowing lanes, changing traffic patterns, and highway workers.
Don't Be Distracted: Nearly 80 percent of crashes and 65 percent of near-crashes in Kentucky involve some form of distraction, including texting or phone use. We can't say this enough. Put your phone away and avoid other distractions while driving.
Follow the Speed Limit: Speeding and aggressive driving are major causes of interstate crashes. Respect the posted speed limits and merge as soon as safely possible. This will allow other traffic to flow smoothly.
Find Your Space: Rear-end collisions are the most common type of interstate crash related to bottleneck traffic. Use your mirrors to keep respected space on all sides of your vehicles and maintain a safe following distance.
If you travel this known bottleneck area in Louisville, expect delays and allow extra travel time to navigate the already congested area. Take the steps to be patient and stay calm. When it comes to sharing the road with bigger trucks, respect their size and obey their guidance.
We Help I-65 Car Accident Victims
While traffic jams aren't always preventable, the crashes associated with them usually are, with driver error and bad choices as a primary culprit. If you have been involved in a bottleneck crash or any other type of accident, please call us at 888-709-9329. You can also contact us by e-mail to schedule an appointment with one of our personal injury attorneys located in Owensboro and Madisonville.