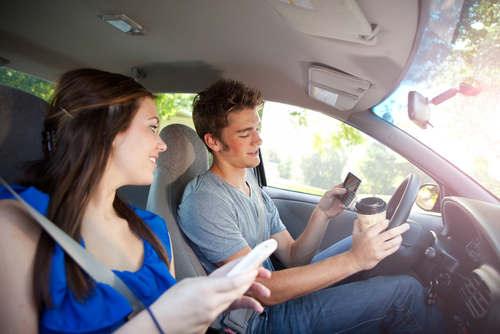 Distracted Driving Epidemic Is Worsening
Although we had been applauding the general decline of highway deaths in the United States since 2007, recent reports are starting to see that downward trend reverse. More than ten people are killed and 1,000 are injured each day in the U.S. as a result of distracted driving. From 2014 to 2016, National Highway Traffic Safety Administration (NHTSA) reports showed nearly 4,000 distracted driving-related deaths each year, averaging all-time highs. In fact, 2015 fatalities attributable to distracted driving increased on a percentage basis faster than those caused by drunk driving, speeding, or failing to wear seat belts.
Most of us would agree that the dangers of distraction aren't confined to the car. But driving while distracted increases the risk of error as our brain activity is busy staying focused where it's needed most – on the road. 
Driver Distraction Causes and Prevention
Nearly 80 percent of crashes and 65 percent of near-crashes involve some form of distraction, including texting or phone use, within three seconds before the event. Data from the Fatality Analysis Reporting System (FARS), which surveys all American motor vehicle fatalities reveal the top causes of distracted driving. Avoid these known distractions to keep yourself and others on the road safe from a serious injury or accident-related fatality.
Adjusting Audio or Climate Controls
Cellphone Use or Texting
Eating or Drinking
Generally Distracted or "Lost in Thought"
Moving Objects
Outside Person, Object or Event
Passengers or Pets
Smoking
Using Devices or Vehicle Controls
Using or Reaching for a Device
Now that you know the dangers and causes of distracted driving, here are six easy things you can start doing today to maintain your focus and drive safer out there.
Out of Sight, Out of Mind
Consider putting your phone in a spot like the trunk, or in the backseat inside a zipped purse or bag. This way you will have to think twice before using it because you will need to pull over and get out of the vehicle to access it.
Avoid Multitasking
Before you hit the road, eat your breakfast at home and wrap up any lingering messages or phone calls. Keep toll money on hand and place items you might need, such as gloves or sunglasses, in an easy to access spot. The better organized you are inside your vehicle, the less you'll have to take your eyes off the road and hands off the wheel to search for items.
Let Your Passengers Help
Remember that your main priority is to get everyone to the destination safely. If you have other people in the car and their hands are free, ask them to navigate the map, adjust the radio, make a call or send a text for you.
Use Your Phone's Do Not Disturb Feature
Most phones today have a Do Not Disturb feature that will disable texting, send an automated text response, and hold calls while you're driving. Turn it on!
Talk To Your Teen
More than 50 percent of serious teen crashes are now believed to be caused by distractions. Model good driver behavior and talk to them about the risks associated with distracted driving and their age group.
Stay Focused
We could all use a little more resting time in our lives. We suggest using your commute to collect your thoughts and simply focus on arriving to your destination safely. All things will be much easier to concentrate on in the future without a car accident injury or lawsuit added to your load.
Kentucky Law Bans Texting For Drivers 
According to the Kentucky Transportation Cabinet Office of Highway Safety, latest statistics (2014) show there were over 53,500 crashes resulting in over 14,000 injuries and 169 fatalities due to distracted driving across the bluegrass state. While all distractions can endanger drivers' safety, cell phones and personal technology are often a cause because using these handheld devices involves all three types of distraction.
Visual (taking your eyes off the road)
Manual (taking your hands off the wheel)
Cognitive (taking your mind off driving)
Many states, including Kentucky, have enacted laws against texting or the use of mobile devices while driving. In Kentucky, House Bill 415, was signed into law on April 15, 2010. The law bans texting for drivers of all ages while the vehicle is in motion.
For drivers 18 and over, the ban allows the use of global positioning devices and reading, selecting or entering a telephone number or name for the purpose of making a call.
For drivers under 18, no use of personal communication devices is allowed while the vehicle is in motion. The use of a global positioning system is allowed, but manually entering information must be completed while the vehicle is stopped.
Another Way to Deter Distracted Drivers  
Fourteen states have banned cellphones while driving and 46 states have banned text messaging while driving. Some state legislatures are even reviewing a device called the Textalyzer. This tablet sized technology would allow police officers, after a crash, to download information from the driver's phone and see if the phone was engaged immediately before the crash. However, privacy advocates are concerned about allowing police to access a person's belongings without obtaining a warrant or the possibility of the technology contributing to constitutional issues. The Textalyzer has been designed to only be capable of extracting information indicating what type of usage, such as whether or not the driver was messaging, browsing social networks, or taking a selfie for example, but not the actual content of those texts or tweets.
We will continue to share the new ways federal and local laws could hold distracted drivers accountable and share what we find here on the blog and our social networks. In the meantime, stay safe and drive distraction free!
Contact Rhoads & Rhoads – NO RECOVERY, NO FEE  
If you have been involved in an accident because of the negligence of a distracted driver, we offer free initial consultations, and all cases are taken on a contingency fee basis. Call us at 888-709-9329 or contact us by e-mail to schedule an appointment with one of our personal injury attorneys.