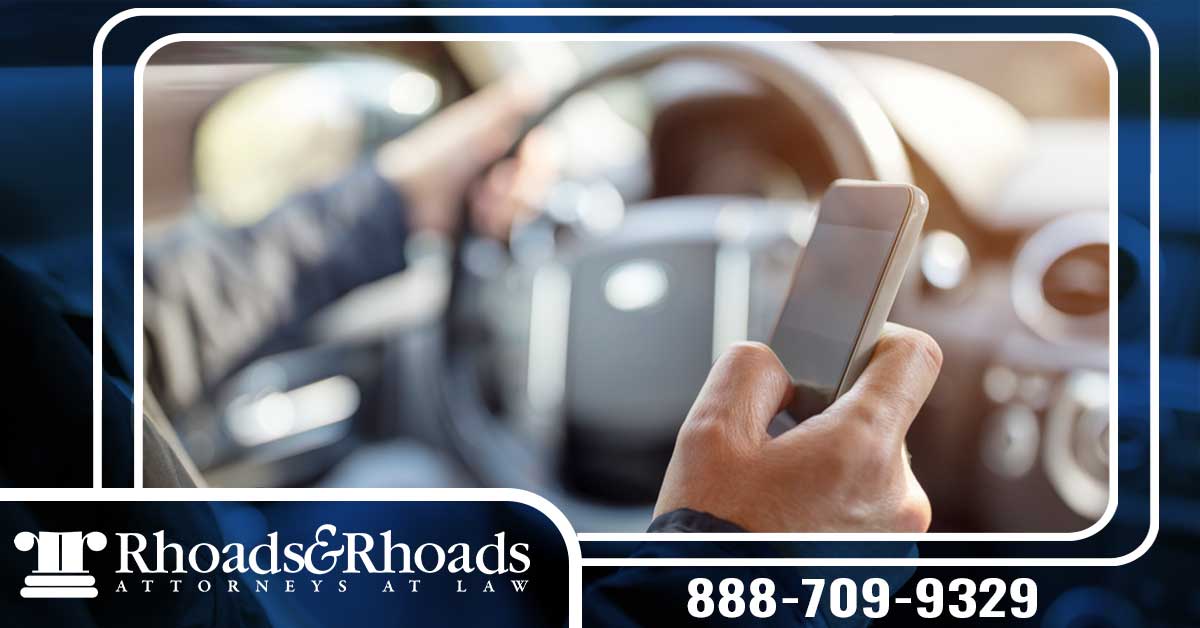 According to the National Traffic Highway Safety Administration (NTHSA), distracted driving is "any activity that diverts attention from driving." This list of activities includes talking or texting on your phone, fiddling with the stereo, entertainment or navigation system, eating or drinking, or talking to people in your vehicle. The NTHSA also reports distracted driving statistics. According to their website, 3,522 people were killed in distracted driving accidents nationwide in 2021. 
But what if you were in an accident caused by a distracted driver? What do you do? Who do you contact? 
After you've documented your accident with a police report containing pictures of the vehicle and injuries and you've sought medical attention, contact a distracted driving accident lawyer at Rhoads & Rhoads online or by phone at 888-709-9329 to seek compensation for your injuries. They will work to prove the other driver was distracted while you recover. 
How to Prove the Driver Was Distracted
It can be challenging to prove another driver caused an accident because of distracted driving. That's why working with a distracted driver accident lawyer is beneficial. Below are 5 ways to prove the other driver was on their phone at the time of the accident. 
Police Reports – A police report is filed immediately after an accident. The details of what you tell the officer or what the officer actually saw should be documented in the report. If you or another witness told the officer you saw the other driver on the phone, it should  be listed for everyone who gets a copy of the report.

Driver Admits Fault – There is a chance that the driver who caused the accident confesses to being distracted while driving or overheard saying so.  Sometimes, this admission is by mistake, and witnesses overhear it. Other times, the driver might tell the officer directly, which should  be captured in the police report too.

Witnesses – Don't discount the power of the witnesses. Other people driving by the distracted driver or people on the sidewalk could have seen him or her on the phone and stopped at the accident to provide help. Make sure you get contact information from all witnesses at the scene of the accident.

Cell Phone Records – If you think the other driver was on the phone, your attorney can request or subpoena their cell phone records. They may be admissible evidence in court and can be used to establish that the driver was potentially illegally using his or her phone at the time of the accident or be used as evidence that the driver was distracted.

Videos or Cameras – It's surprising, but there are video and phone cameras that surround us everywhere. Surveillance and dashcam cameras can capture the distracted driver in action, either on their phone or weaving in and out of traffic.  Oftentimes, an experienced personal injury attorney can help investigate and find evidence if it exists.
Distracted Driving Breakdown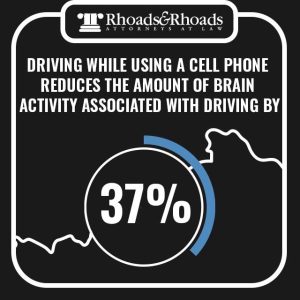 We've already learned the definition of distracted driving, but what does distraction look like? There are three main types of distraction, according to the Kentucky Office of Highway Safety:
Visual – taking your eyes off the road

Manual – failing to keep hold of the wheel

Cognitive – taking your mind off what you are doing
Texting is the most dangerous because it involves all three types of distraction. Additional distracted driving statistics indicate that driving while using a cell phone reduces the amount of brain activity associated with driving by 37 percent. 
This is where having an experienced lawyer on your side is crucial. They can help determine if the distracted driver violated all three types of distractions.
What Does the Law Say?

The ban on texting while driving was put into place by House Bill 415, signed into law on April 15, 2010. The bill bans texting for drivers of all ages while the vehicle is in motion. For drivers 18 years of age or older, it allows for using GPS, reading, or selecting a telephone number or name to make a call. 
For drivers under 18, no use of a personal communication device is allowed. You can use a GPS, but you have to manually enter the information while the car is stopped. 
Contact An Experienced Distracted Driving Accident Lawyer
Don't leave anything to chance. While you recover, the experienced accident lawyers at Rhoads & Rhoads in Owensboro, KY, can work on your case to get you the compensation you deserve for your injuries and pain and suffering. They know the law. They know how to prove the other person was distracted. 
You can get a free case evaluation 24 hours a day by calling 888-709-9239. Reach out today!