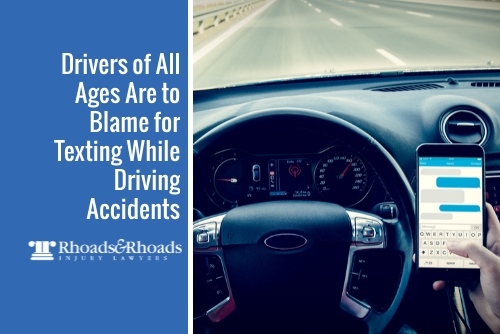 Synopsis
The National Highway Traffic Safety Administration says drivers who text message are the highest percentage of those involved in fatal distracted driving crashes.
Distracted driving was responsible for 2,994 fatal crashes in 2017 and countless accident-related injuries which impacted not only the victims, but also families and friends.
In Kentucky, the law bans texting for drivers of all ages while the vehicle is in motion but there is currently no hand-held cell phone use ban except for drivers under the age of 18.
Any lapse in attention to driving can create deadly consequences for all road users but drivers who choose to use their cell phone while driving to text should be held accountable for their poor decision making.
New Survey Says Drivers of All Ages Are to Blame for Texting While Driving Accidents
Texting while driving has become the biggest contributor to distracted driving accidents for drivers of all ages. Using an electronic device while driving is extremely dangerous because the activity causes all three main types of distraction:
Manual – taking your hands off the wheel
Visual – taking your eyes off the road
Cognitive – taking your mind off of driving
And unfortunately, there doesn't seem to be any type of descending trend in these cell-phone related crashes over the last few years. In fact, the only data used to provide nationwide trends on driver electronic device use in the United States comes from the National Occupant Protection Use Survey (NOPUS). NOPUS recently reported (2019) there was no significant decrease observed for drivers' visible manipulation of handheld devices in recent years, and drivers of all ages are continuing to use electronic devices behind the wheel at steady rates.

This news should leave everyone who owns a cell phone and operates a motor vehicle responsible for the 1.6 million crashes annually caused by cell phone use while driving. While the Centers for Disease Control (CDC) says drivers under the age of 20 have the highest proportion of distraction-related fatal crashes, an AT&T survey found that more adults (49 percent) than teens (43 percent) admit they text and drive. And nearly 98 percent of those adults were educated, professionals who commuted daily to work and also agreed that sending a text or email while driving isn't safe.
Kentucky Law Enforcement is Watching So Stop Texting and Driving
Text messaging for all drivers is banned in Kentucky and 46 other states (plus Washington D.C.), yet it is still happening each day. So much so that officers in the Barbourville Police Department have started patrolling the streets in a tractor-trailer to identify drivers using their phones to text. The truck provides the officers with a higher view into a driver's space and stop those who are choosing to break Kentucky law and put others at risk.
Using a phone to make or receive calls while driving in Kentucky is legal but should still be considered a distracting activity that puts drivers at risk of taking their attention off the road.
Kentucky State Police have also recently joined in on the "6-State Trooper Project" with Indiana State Police, West Virginia State Police and Michigan State Police to focus stronger on distracted driving enforcement. Officers have been busy enforcing these types of distracted driving violations with zero tolerance:
texting while driving
use of a handheld mobile telephone
use of hearing impairment devices
text-based communications
careless driving
reckless driving
use of an image display device
Social conversations on cell phones should not be carried on while driving and in Kentucky you are likely to be ticketed and fined if caught or worse – find yourself responsible for an unimaginable fatal tragedy. Commit to driving safely and distraction-free, no matter what. If you aren't paying attention to operating your vehicle safely, you are drastically increasing your risk of causing a crash or failing to avoid one.
Distracted Driving Avoidance Is Lifesaving
The National Safety Council says that every day, at least nine Americans die and 100 are injured in distracted driving crashes. It's best for all drivers, no matter their experience behind the wheel, to simply turn their phone off (or on silent) to avoid the chance of being distracted by an incoming call, text, or app notification. Even taking your eyes off the road for as little as two seconds can double your chances for getting in a distracted driving wreck.
Drivers can also download a safe driving app such as LifeSaver, Drivesafe.ly, True Motion Family, DriveMode, and SafeDriver or enable their own devices to its "do not disturb while driving" feature, most commonly found with Apple technology.
And for those too tempted to use their phone while driving, finding the willpower to put it in an unreachable spot before starting your journey will take away that urge to send a text or scan your favorite social media site. The trunk or out of reach in the backseat are good places to aim for.
While cell phones and other technologies pose one of the biggest threats to driver and passenger safety today, there are several other driving while distracted activities contributing to the steadiness of crash statistics.
adjusting audio
general cellphone use
eating and drinking
participating in reckless driving behaviors
passengers including children and pets
drowsiness
smoking
in-vehicle technology controls
For many, these distractions, including the need to have access to a cell phone 24/7, have become a habit for many Americans. Kentucky drivers need to work harder to avoid these behaviors to keep themselves and other road users safe from a serious injury or an accident-related fatality they will be sorry to have caused.
Distracted Driving Accident Injury Attorneys at Rhoads & Rhoads 
If you have been involved in an accident because of the negligence of a distracted driver or someone who was texting while driving, we offer free initial consultations, and all cases are taken on a contingency fee basis. We can do the work in collecting the evidence to find out if the wrongdoer was in fact texting and driving at the time of the crash to determine liability and settle your claim.
Call us at 888-709-9329 or contact us to schedule an appointment with one of our motor vehicle accident injury attorneys.