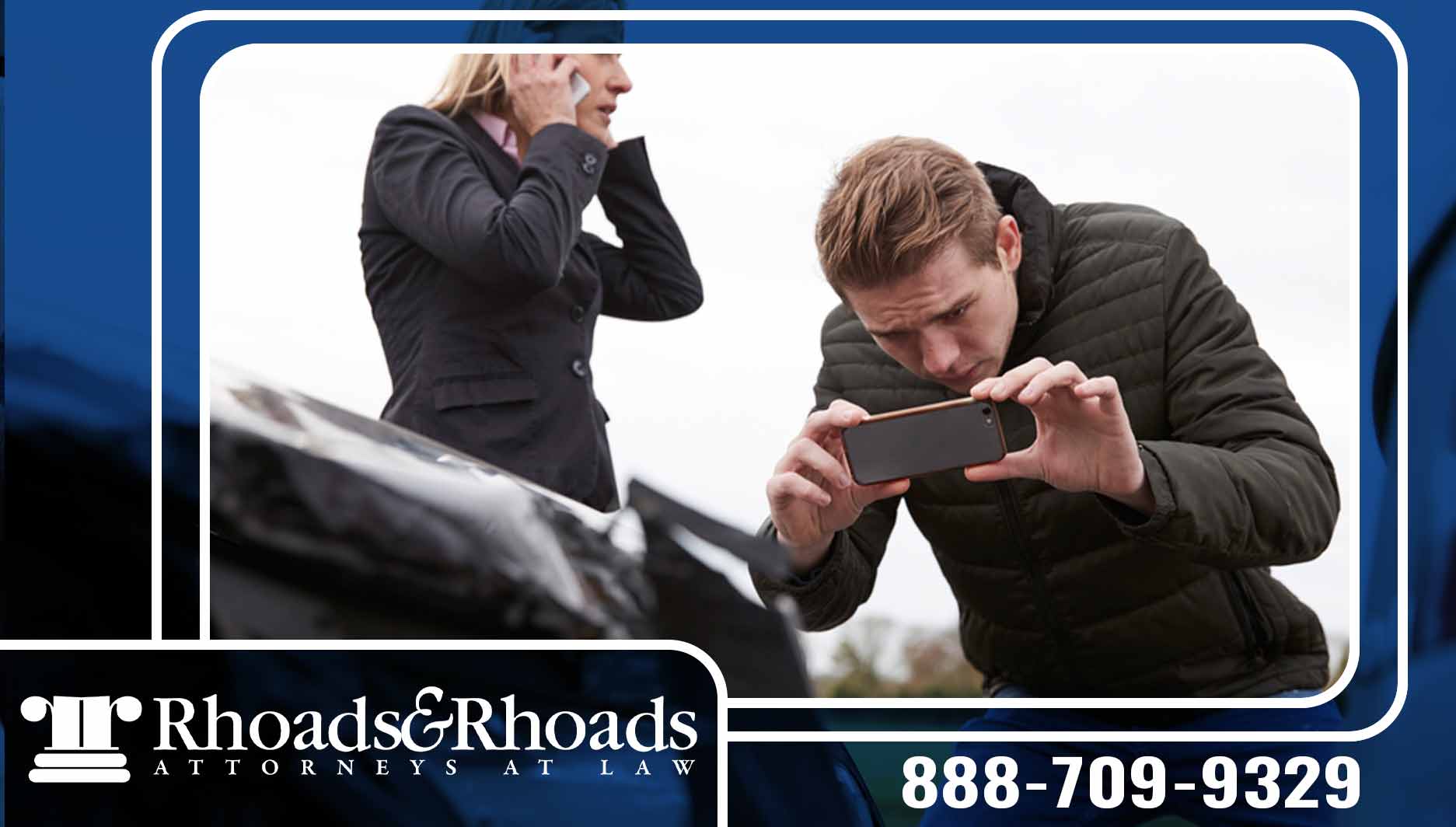 Key Points of This Article:
Car photos from accidents are some of the most beneficial kinds of evidence.

You should take as many photos as possible after an accident, including close-up shots of car damage and injuries, as well of the scene. 

A lawyer can help you obtain other important evidence to ensure you win your case.
When you're injured in a car accident due to someone else's negligence, you have the right to file a claim against them for compensation. This compensation can cover the damages you suffered from the accident, such as your medical bills, lost wages, pain and suffering, physical, mental and emotional distress. 
However, you must provide evidence to prove that another party was liable or responsible to win your case. And some of the most helpful evidence is photos from the accident scene. In particular, pictures of the crashed cars are best, but other pictures can help, too, such as those showing your injuries, what caused the accident, or anything else that seems relevant. 
Unfortunately, when car accident victims take photos, they are often in a state of shock, which means they might overlook certain things or not take the best pictures. Taking photos of fatal car crashes, for example, can be difficult and traumatic, and this will typically be done by law enforcement. 
For these reasons, our team has put together a little guide to help you know how to take car photos after an accident to ensure you have the best pictures possible for evidence.  
If you are injured in a Kentucky car accident and need help with your claim, please don't hesitate to contact our team at Rhoads & Rhoads for assistance. We've been helping car accident victims in Western Kentucky for over 45 years and are here to offer you the support you need to win your case. 
The Importance of Taking Car Accident Photos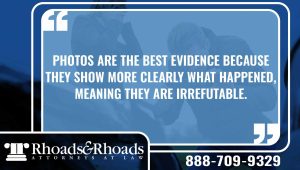 When you file an accident claim, you carry the burden of proving that another party was liable if you want to recover compensation for them or their insurance company. You cannot simply blame another person without proof to support your claim. 
Of course, various kinds of evidence can be used in these cases, such as police reports, eyewitness statements, and testimonies from those involved in the accident. But photos are the best evidence because they show more clearly what happened, meaning they are irrefutable. 
For example, if the other driver tries to claim you hit them instead of the other way around, photos can show that they are lying and that you are, in fact, the one that was struck. There are many other things that photos can capture as well that can help paint a picture of what happened, such as skid marks, weather conditions, traffic signals, or signs. 
Photos can also show the extent of damage, which shows it was a hard impact that caused your injuries.  This can potentially help you recover more money for your claim. And they can also show the injuries you suffered, which can also help you get a higher settlement to help you pay for your medical bills. 
How to Take Car Photos After an Accident
In general, the best car accident photos are the ones that capture as much detail as possible to show what happened. But when you are in the moment after an accident, knowing exactly what this means can be difficult as you will likely be stressed and potentially in shock. 
To help, we've put together this list so you know precisely how to take car photos after an accident:
Photos of the whole scene: Before getting close-ups of the damage, you should capture photos that present a wider view of the scene as a whole. This will show details that you might not have thought to consider, such as the weather, people standing around watching, the road conditions, the street signs, traffic lights, or other traffic signage. This will also show a wider view of the cars involved, which can help paint a clearer picture of who hit who, who was turning which way, who ran the red light, etc. 
Car damage:

It's important to not only capture a wide shot of the cars, but close-ups of the damage as well, such as scratches, dents, cracked or broken glass, damaged wheels, and crumpled bumpers. This will show the extent of the damage, which will help the insurance company understand the extent of damage to your vehicle and the nature of the impact.  This could help determine how much you are owed. 
Injuries:

The injuries you sustained will also play an important role in your case. The more severe your injuries, the more money you will be compensated.. So it's a good idea to snap pictures of your injuries at the scene or later that day or beyond, if you can, to show how badly you were hurt before or while you are seeking medical treatment. 
Any other relevant photos:

Take as many pictures as possible and include as many details that seem relevant to what happened. If you didn't already capture the other vehicles involved, make sure you do so. 
What if I Forgot to Take Pictures of the Accident or Am Not Able to Take Pictures?
While car accident photos are crucial, they are not more important than your health and well-being. If you are badly injured and unable to take photos, you should call 911 and seek emergency medical attention instead. If getting close enough to take photos of the damage will also put you in harm's way, do not attempt to do so. 
If you are in shock and simply forget to take photos because there is too much going on, this is also okay. There are other ways to get evidence that can help you win your case. 
Whether you are able to take photos or not, working with an attorney can help. They will be able to access other evidence that you might not be able to get on your own, such as footage from nearby video surveillance cameras, dash cam footage from other drivers involved, and copies of police reports. Your lawyer can also help you contact witnesses and get testimonies from them that can support your claim.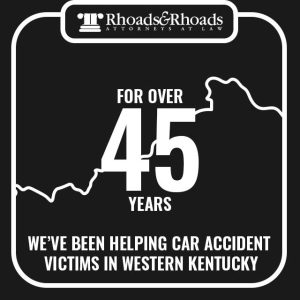 Kentucky Personal Injury Lawyers – Rhoads & Rhoads
If you are injured in an accident and need help obtaining evidence and building a strong case, our personal injury lawyers at Rhoads & Rhoads can help. We understand how beneficial car photos can be after an accident, but we can also help you gather other kinds of evidence to ensure you win your case and recover the compensation you deserve. 
Call us at 888-709-9329 to schedule an appointment with one of our Madisonville or Owensboro personal injury attorneys. We offer free initial consultations, and all cases are taken on a contingency fee basis, so no initial payment is required. We get paid only if we win or settle your case, and there is NO RISK involved.