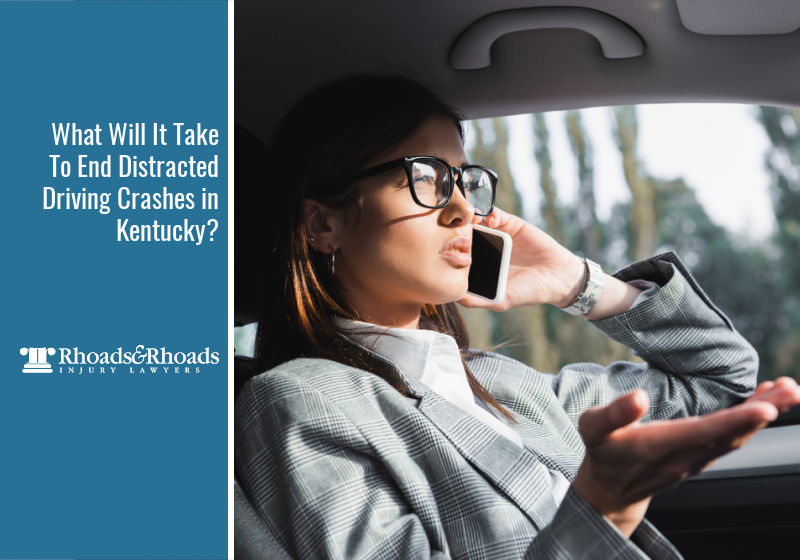 Key Points of This Article:
In Kentucky, distracted driving results in over 50,000 crashes and nearly 200 deaths each year.
Nearly 80% of crashes and 65% of near-crashes involve some form of distraction within three seconds before the event.
Talking on a cell phone – even hands-free – or texting or programming an in-vehicle infotainment system diverts your attention away from driving.
Driving requires 100% of the motor vehicle operator's attention. Anything less puts the driver and other road users in danger.
Kentucky Officials Say All Distractions Reduce Driver Safety, Especially Cell Phone Use
On a typical day, nearly 1 out of 10 drivers use a cell phone, and more than 700 people are injured in distracted driving crashes nationwide. Any type of cell phone use by drivers is distracting, and therefore no type is safe.
Every year in Kentucky, distracted driving results in:
Over 50,000 crashes
Over 15,000 injuries
Nearly 200 deaths
The car and truck accident attorneys at Rhoads & Rhoads want to remind Kentuckians always to buckle up, operate at the posted speed limits, and drive sober and distraction-free.
What Is Distracted Driving?
Kentucky defines distracted driving as "any non-driving activity a person engages in that has the potential to distract him or her from the primary task of driving and increases the risk of crashing."
Activities that can distract Kentucky drivers may include:
Use of electronic devices including talking, texting, checking email, and using social media platforms
Music controls and in-vehicle technologies
Reaching for an object
Talking or listening to passengers
Reading and/or writing
Tending to children and pets
Eating, drinking, or smoking
Grooming
While all distractions can endanger drivers' safety, cell phones are the most dangerous because they require all three types of distraction to be used. AAA officials say about six in 10 crashes involving young drivers result from distractions, including sending and reading emails and texts on cellphones or social media use.
Commit to Buckle Up and Put Your Phone Down
Educating Kentucky motorists on the risks involved with distracted driving is an important task in preventing accidents and traffic deaths year-round. However, April is dedicated as Distracted Driving Awareness Month. This year, the Kentucky Transportation Cabinet's (KYTC) Office of Highway Safety (KOHS) is partnering with the National Highway Traffic Safety Administration (NHTSA) to drive home a life-saving message for all motorists with the Buckle Up/Phone Down campaign.
"If you must use your phone, safe practices like waiting to text or post until you parked off the roadway or having your passenger give you driving directions can reduce the risk of preventable crashes," said KYTC State Highway Engineer James Ballinger. "Texting and driving is illegal for all motorists, but we want people to stop because it's the right choice, not just because it's the law."
For more information about the Buckle Up Phone Down and Be Safe Kentucky campaign, visit www.kyhighwaysafety.com.
Surprising Facts About Distracted Driving and Cell Phone Use
Over the past decade, distracted driving has become one of the leading causes of vehicle crashes on our nation's roads. Knowing your risk and the contributing distracted driving crash factors may help save a life.
Distracted Driving Heavily Contributes to Work Zone Crashes: Drivers not paying attention for any length of time – answering a phone call, returning a text message, or being distracted by a passenger – are 29 times more likely to be involved in a collision in a highway work zone. Drivers talking on hands-free phones in work zones take longer to reduce their speed when the vehicle in front of them is slowing down, even when the scenario includes clues that traffic will stop. Sideswipe crashes are also more common.
Seat Belts Save Lives: Each year in Kentucky, more than half of those killed in motor vehicles are not wearing a seat belt even though wearing a seat belt gives motorists the best chance of preventing injury or death if involved in a crash. Properly fastened seat belts contact the most vital parts of the body, such as the chest, hips, and shoulders. A seat belt spreads the force of a crash over a wide area of the body, putting less stress on any one part, and allows the body to slow down with the crash, extending the time when the occupant feels the crash forces.
Texting and Driving is Still Illegal in Kentucky: In Kentucky, it is against the law for a driver to text while the vehicle is in motion. No personal communication devices are allowed for young drivers under age 18 while the vehicle is in motion. Drivers over 18 are permitted to use a cell phone, but not for texting. If you are caught violating one of these laws, you can be pulled over by a police officer and receive a fine or citation.
The accident lawyers at Rhoads & Rhoads, located throughout western Kentucky, can help if you or someone in your family has been seriously injured or killed in a distracted driving crash or by a reckless driver. Our goal is to help you recover the compensation that you need to get through this difficult time.
Contact Rhoads & Rhoads Car Accident Lawyers – No Recovery, No Fee  
If tragedy strikes and you or your family are involved in a distracted driving accident or crash caused by another driver, please call the car accident attorneys at Rhoads & Rhoads. We will seek justice for the wrongs done to you and ensure medical care realities and future recovery needs do not challenge your family.
With offices in Owensboro and Madisonville, take advantage of our free initial consultations that can be done virtually or in person so you can discuss your case with us in a setting comfortable for you. There is no payment required upfront, and there is NO RISK involved in your consultation. Call us at 888-709-9329 to schedule a visit with our experienced personal injury legal team.
Source: National Safety Council, Injury Facts (website). Distracted Driving Data Details. Retrieved from https://injuryfacts.nsc.org/motor-vehicle/ motor-vehicle-safety-issues/distracted-driving/data-details/ on
March 31, 2021.
Also read: What You Need to Know About Electric Scooter Accident Risks