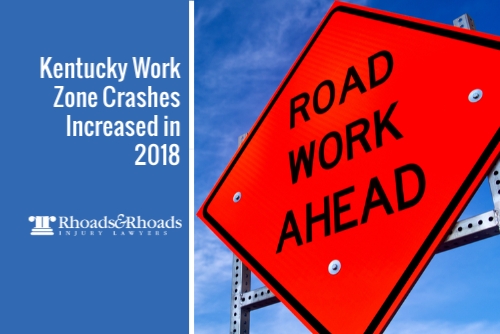 Synopsis
The Kentucky Transportation Cabinet (KYTC) reports many motorists will encounter at least one work zone in their daily commute starting in April thru November, a time when an increase in work zone crashes also occurs.
The most common crash between drivers in a highway work zone is a rear-end collision, making whiplash a common related accident injury.
In Kentucky, work zone crashes rose 3 percent from 2017 to 2018 with more than half being caused by distracted driving, says the Federal Highway Administration (FHWA).
Motorists need to bestow a greater interest in work zone safety by navigating through work zones without distractions, respecting workers' space and obeying traffic laws.
Kentucky Work Zone Crashes Increased in 2018
Heavy construction equipment, changes in road speeds, orange barrels, flags, and neon vested workers can all be the cause of slow moving, congested traffic throughout Bluegrass work zones and impact motorists of all kinds. These temporary work sites for maintenance or construction along highways, roads, and streets do not always have cones, or barriers but almost always warning signs, shadow vehicles, or flashing lights to indicate worker operations involving mowing, repairs, or pavement striping and concrete work.
According to the Federal Highway Administration (FHWA) work zone accidents rose 3 percent (1,042) from 2017 to 2018 here in Kentucky. Among those crashes 53 percent were listed as being caused by distracted driving. This upward trend, even if seemingly small, should remind Kentucky motorists to take a vested interest in driving cautiously, within the posted and reduced speed limits, and always alert in watching out for workers while operating through a work zone.


How To Prevent Future Work Zone Crashes
To help reduce future work zone accident and injury rates, the Kentucky Transportation Cabinet (KYTC) asks drivers to practice three simple work zone safety tips:
Pay Attention and Avoid Distractions – Don't text, eat, or perform any other distracting activity while driving.
Respect Workers Holding Flags and Work Zone Signage – Obey their guidance and watch their direction carefully.
Slow Down and Don't Follow Too Closely – Maintain a safe following distance; rear-end collisions are the most common work zone crash.
In addition, avoid making post-accident mistakes if injured in a work zone or construction area crash.
Whiplash is a Common Injury for Work Zone Crash Victims Hit by Other Drivers
The FHWA reports four out of five victims in work zone related crashes are actually other drivers, not road workers, leaving one work zone fatality every 13 hours and an injury every 13 minutes. The most common crash between drivers in a highway work zone is a rear-end collision caused by a distracted driver and will occur during the warmer months beginning in April thru November, when motorists are likely to encounter at least one work zone along their daily commute.
Whiplash is a common rear-end collision injury that occurs when the neck and head are suddenly forced backward and then forward, putting the cervical spine through too fast motions and extreme, quick stresses. More serious whiplash can cause changes to occur throughout the structures in and surrounding the cervical spine, causing each to become a potential source of chronic or debilitating pain.
Cerebral Hemorrhage:Tearing of brain tissue that produces bleeding, which is immediately life threatening.
Concussion: Symptoms of concussion can include severe headaches, nausea, vomiting, dizziness, difficulty sleeping, blurred vision, tinnitus and mood swings.
Disk Damage: Severe whiplash can cause a disk to "slip," putting pressure on the spinal cord and producing debilitating pain. When a spinal disc's inner core shifts from the center and comes in contact with and irritates a nearby spinal nerve root, symptoms may include sharp, shooting pain down the arm and neurological symptoms like numbness, tingling and muscle weakness in the arms. Extended therapy and/or surgery will be required.
Spinal Cord Damage: Spinal cord trauma produces numbness, weakness and fatigue in the body below the point of injury.
Torn Muscles and Ligaments: When the muscle or ligament is torn or ruptured, the head will be completely immobilized. Surgery is generally required, with a recovery period from four to six months.
After being involved in any motor vehicle accident, seek a medical evaluation to identify any injuries or new injury symptoms. Whiplash may not be immediately noticeable. These types of injuries most often require extended therapy or even invasive surgeries that require months off of work for rehabilitation and recovery time.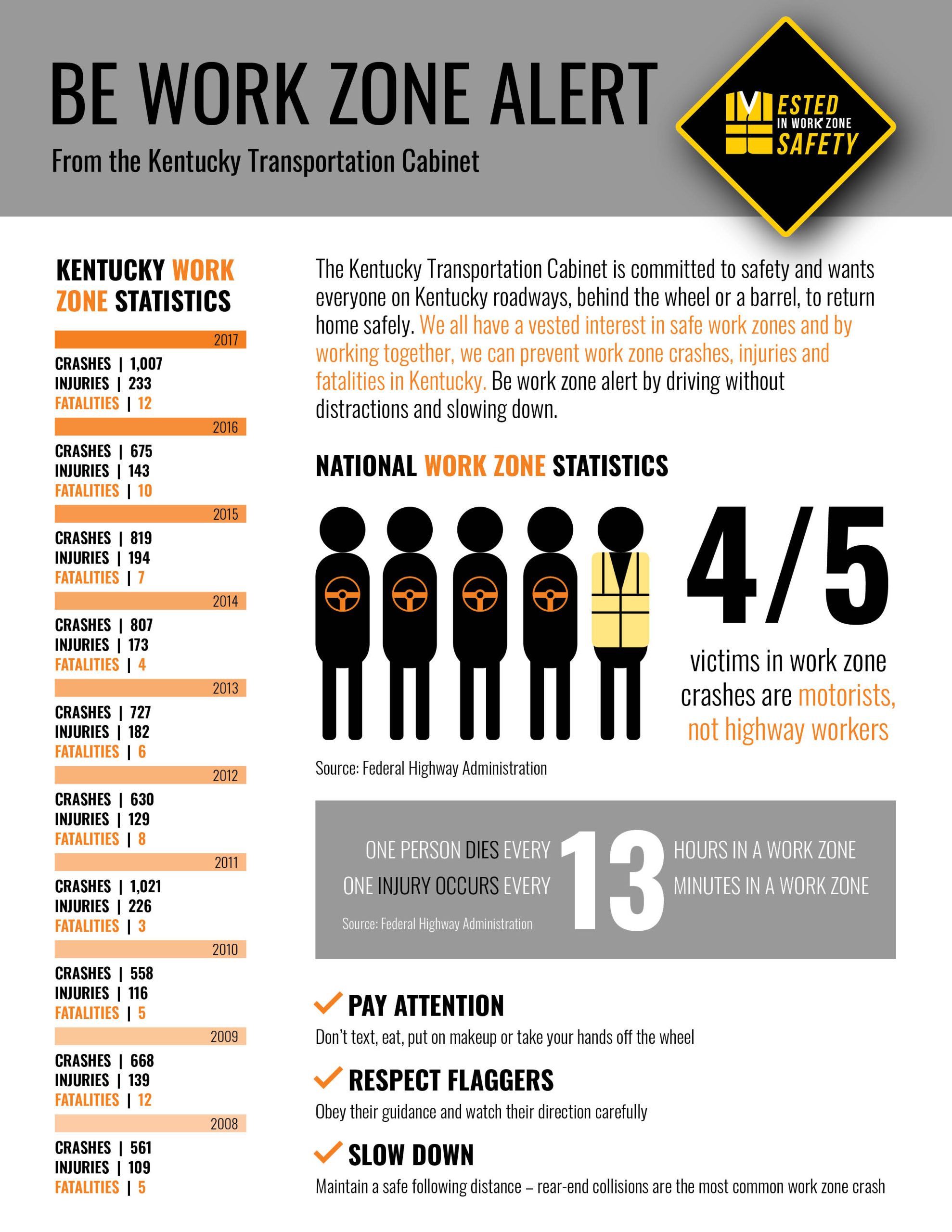 Busier Roads Do Impact Worker Hazards
So many transportation agencies are now focusing on roadways located in open, busy traffic to address growing congested and accident-prone areas. This can make work that needs to be done alongside increasingly heavier traffic more common and risky. And even when road work crews follow best practices like greater use of off-peak travel hours and night work, crashes still occur.
Although the primary causes of road worker fatalities in recent years were runovers and backovers, collisions between motor vehicles or being struck by other moving equipment grow in numbers reported by the FHWA.
Runovers/backovers: 48 percent
Collision Between Vehicles/Mobile Equipment: 14 percent
Caught in Between/Struck by Construction Equipment and Objects: 14 percent
In addition, each year over 20,000 workers are injured in road construction work zones, transportation incidents accounting for about 12 percent. Workers injured on the job in Kentucky, are covered by the state's workers' compensation laws – which provides injured workers with compensation for medical costs, temporary disability, or permanent disability if lingering injuries or impairments are present.
Contact a Kentucky Work Zone Accident Attorney
Rhoads & Rhoads is Kentucky's leading and experienced personal injury firm with offices in Owensboro and Madisonville, representing car accident victims and those injured while on-the-job throughout Western Kentucky. If you have been involved in a work zone related wreck, we can help. We offer free initial consultations, and all cases are taken on a contingency fee basis. We get paid only if we win or settle your case, so there is NO RISK involved.
Call us at 888-709-9329 or contact us by e-mail to schedule an appointment with one of our Madisonville or Owensboro personal injury attorneys.
Sources: U.S. Department of Transportation, Federal Highway Administration; Kentucky Transportation Cabinet, Work Zone Safety