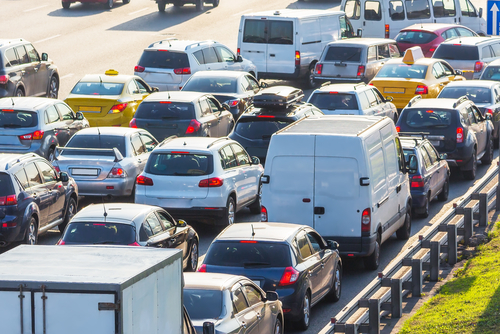 I-65 Crash Highlights Work Zones and Semi-Truck Dangers 
Kentucky State Police say a recent southbound crash on Interstate 65 involved many vehicles and resulted in hundreds of travelers stuck in accident-related traffic for hours. Initial reports show the wreck occurred at the 66-mile marker work zone where bridge repair is underway and the interstate merges from three lanes to one. Naturally, traffic was slowed and congested in the southbound lanes, and likely filled with distracted drivers. Investigators believe the crash occurred when a semi-truck approached the busy traffic in the right lane and failed to yield to stopped traffic in the lane closure. The large semi then hit a small Mitsubishi Galant before continuing through the southbound lane and moved onto colliding with several other motor vehicles including a Nissan Altima, Peterbilt semi-truck, Jeep Wrangler, Ford Ranger, Dodge Ram, and a Freightliner commercial vehicle before hitting an embankment and coming to a stop. The initial collision quickly caused a chain reaction type accident scene. Multiple injuries, ranging from critical to non-life threatening were treated.
Traveling Through a Kentucky Work Zone 
Making work zones safe remains the shared responsibility for both road crews and motorists alike. Among the contributing causes of work zone crashes, distracted driving is significant. In fact, 44 percent of Kentucky's work zone crashes list distracted driving as a factor and speed accounts for only 24 of the overall crashes. While work zone crashes can be inevitable, we encourage all operators to practice safe driving by simply following these rules:
Always pay attention to the road and other drivers and expect the unexpected. Stay a patient and calm driver.
Keep a safe distance on all sides of your vehicle and maintain a safe following distance. Rear-end collisions are the most common type of interstate crash related to busy or congested traffic.
Respect farm equipment, semi-trailers, and bigger trucks and always obey their guidance.
Distracted driving and operator inattention is a leading cause of all highway crashes. Don't text or talk on the phone and avoid taking your hands off the wheel.
Respect the posted speed limits and merge as soon as safely possible as this will allow traffic to flow smoothly. Speeding and aggressive driving are major causes of interstate crashes.
Pay attention to signage that may be giving accurate information and important warnings on what to expect ahead.
Expect delays and allow extra travel time to navigate known busy and congested areas.
If possible, select alternate routes to avoid a known congested area or work zone completely.
In general, approach areas for speed limit reductions, bridge construction zones, narrowing lanes, changing traffic patterns, and highway workers with high alert and be a firm yet courteous driver.
Hold Bad Drivers Accountable and Contact a Kentucky Car Accident Attorney 
Rhoads & Rhoads is Kentucky's leading and experienced personal injury firm with offices in Owensboro and Madisonville, representing car accident victims throughout Western Kentucky. If you have been involved in a work zone related wreck, we can help. We offer free initial consultations, and all cases are taken on a contingency fee basis. We get paid only if we win or settle your case, so there is NO RISK involved.
Call us at 888-709-9329 or contact us by e-mail to schedule an appointment with one of our Madisonville or Owensboro personal injury attorneys.