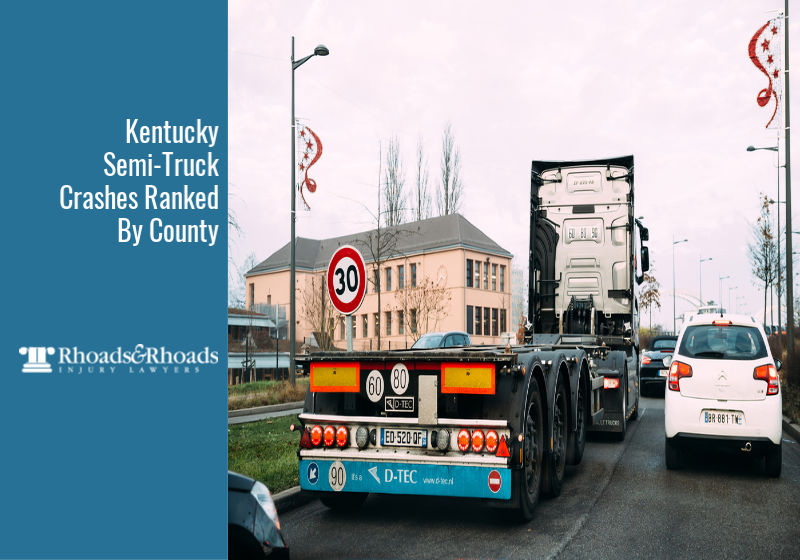 There are 3.5 million truck drivers in the U.S., many of whom will work 70 hours in an 8-day work week before getting a day off.
Approximately 90% of all fatal crashes involving large trucks occur in rural areas or Interstate highways, similar to those found in Boone, Daviess, and Clark counties.
Semi-truck haulers and trucking companies may ignore regulations designed to minimize dangerous travel in hopes of cutting operational costs and ensure on-time deliveries.
Even though semi-truck operators are highly trained and heavily insured, many commercial truck drivers and companies can be held liable for causing a crash.
Top Kentucky Counties for Semi-Truck Involved Collisions
In 2019, several crashes involving semi-trucks and tractor-trailers in Kentucky were the result of distracted truck drivers, operators driving too fast for conditions, and preventable load errors caused by improper cargo weights. Kentucky's Transportation Cabinet identified 40 counties with the most severe safety needs for semi-truck accident concerns from 2015-2017 (most current data available).
Jefferson
Fayette
Boone
Kenton
Hardin
Warren
Bullitt
Madison
Laurel
Campbell
McCracken
Hart
Scott
Oldham
Simpson
Rockcastle
Henry
Shelby
Whitley
Barren
Franklin
Pulaski
Boyd
Gallatin
Pike
Jessamine
Nelson
Clark
Carroll
Woodford
Marshall
Grant
Graves
Montgomery
The National Highway Traffic Safety Administration census of fatal crashes involving 18 wheelers reveals common truck driver errors include dangerous lane drifting, driving distracted by in-vehicle technologies, fatigue, and prescription drug impairment. Also, semi-truck haulers and trucking companies too often ignore regulations designed to minimize dangerous travel in hopes of cutting operational costs and ensure scheduled deliveries.
What You Don't Know About Semi-Trucks, May Save You
About 130,000 individuals are injured each year in truck collisions, and about 4000 people will be killed in accidents involving large trucks in the U.S., according to The Federal Motor Carrier Safety Administration (FMCSA). Kentucky State Police's most recent Traffic Collision Facts Report, showed nearly 10,000 semi-trailer trucks are involved in collisions across the Bluegrass each year.
Additional truck accident statistics and facts provided by the FMCSA from 2016 thru 2018 show:
The average age of a trucker is 49.
In 2017, there were 3,864 fatal crashes involving trucks over 10,000 lbs.
Approximately 61% of all fatal crashes involving large trucks occur in rural areas, 27% occur on Interstate highways, and 15% fall into both categories by occurring on rural Interstate highways.
It takes the length of two football fields for some semi-trucks to stop entirely.
37% of all fatal crashes, 23% of all injury crashes, and 20% of all property-damage-only crashes involving large trucks occur at night (6:00 pm to 6:00 am).
18-wheelers are massive in weight and size, more than 10,000 pounds, while midsize cars barely weigh in at 3,500 pounds.
84% of fatal crashes and 88% of nonfatal crashes involving large trucks occur on weekdays (Monday through Friday).
30% of work zone fatal crashes and 12% of work zone injury crashes involve at least one large truck. Rear-end collisions are the most common type of crash in work zone incidents.
Truck drivers who drive too fast for weather or road conditions or fail to slow down for curves or ramps create risks for spills and rollovers, as well as crashes.
In 2016, when federal and state inspectors pulled commercial motor vehicles (including buses and trucks) off the road for roadside inspections, they found that nearly 20% of the vehicles had sufficient violations to require ordering the drivers or vehicles out of service.
Hazardous materials cargo is present in 4% of the large trucks involved in fatal crashes and 2% of nonfatal crashes.
Two-lane highways have the highest injury crash rates involving large trucks, making the deadly crash rate on two-lane highways substantially higher than the other road types.
Truck driving is the most dangerous occupation in the U.S., with 28.3 fatal injuries per 100,000 full-time workers in 2018.
It's easy to understand how semi-trucks represent a danger to Kentucky motorists. Big-rig drivers are dependent on their in-vehicle technologies and working entire shifts behind the wheel and at risk of becoming tired or easily distracted. The average passenger vehicle doesn't stand a chance against one of these massive road hogs if a crash occurs, and if so, injuries to those passengers are likely to be catastrophic.
Supporting Kentucky Families Hurt in Semi-Truck Accidents
The devastating injuries or loss of a loved one due to a truck accident creates many stressors for families, including overwhelming financial burdens. After being involved in a truck accident, a truck company and the driver could be held liable for those injuries and the related life changes. Experienced attorneys who are knowledgeable in state and federal laws regulating the tractor-trailer industry may be necessary to help an accident victim prove truck driver negligence.
At Rhoads & Rhoads, our attorneys serve many different roles in accident cases. We are always reminded to consider the safety concerns related to the dangers semi-truck drivers pose in our communities and sorry, but sadly never shocked, to hear of the losses related to these accidents.
Western Kentucky Semi-Truck Accident Lawyers — No Recovery, No Fee 
With offices in Owensboro and Madisonville, Rhoads & Rhoads represents tractor-trailer accident victims throughout Western Kentucky. We offer free initial consultations, and all cases are taken on a contingency fee basis. This means there is no initial payment required to work with us, and we get paid when we win or settle your case, so there is NO RISK involved. Call us at 888-709-9329 to schedule an appointment with one of our Madisonville or Owensboro personal injury attorneys.
Also read: 2019 Review of Deadly Semi-Truck Crashes in Kentucky