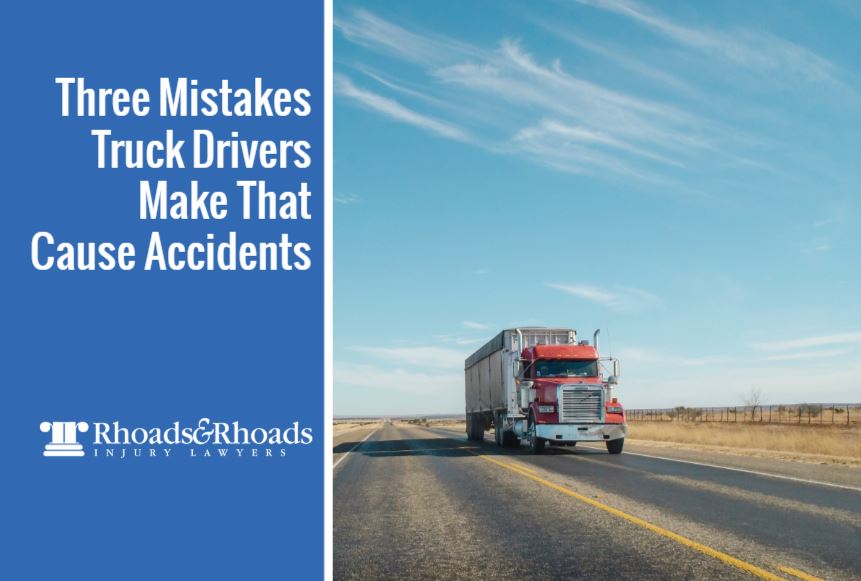 Synopsis
Kentucky State Police reported a total of 9,819 truck collisions, 82 of which were fatal, and 1,461 that caused injuries in 2017.
Semi-truck haulers and trucking companies may ignore regulations designed to minimize dangerous travel in hopes to cut operational costs and ensure scheduled deliveries.
The National Highway Traffic Safety Administration census of fatal crashes involving 18 wheelers shows common truck driver errors include dangerous lane drifting, driving distracted by in-vehicle technologies, fatigue, and prescription drug impairment.
Experienced attorneys who are knowledgeable in state and federal laws regulating the tractor-trailer industry may be necessary to help an accident victim prove truck driver negligence.
Three Ways A Truck Driver May Be Responsible for Your Car Accident Injury
It's easy to understand how semi-trucks represent a danger to Kentucky motorists. These 18-wheelers are massive in weight and size, more than 10,000 pounds, while midsize cars barely weigh in at 3,500 pounds. And big rig drivers are dependent on their in-vehicle technologies and working entire shifts behind the wheel and at risk of becoming drowsy or easily distracted. The average passenger vehicle doesn't stand a chance against one of these massive roadhogs if a crash occurs, and if so, injuries to those passengers will be lifelong and catastrophic. And even though these semi-truck operators are licensed and trained by their own special safe driving rules, many commercial truck drivers (and owner companies) can still be found liable for causing serious injuries to others and at-fault for fatal crashes.
According to Kentucky State Police's most recent Traffic Collision Facts Report (2017), a total of 9,819 semi-trailer trucks are involved in collisions, 82 in fatal accidents, and 1,461 in non-fatal injury crashes across the Bluegrass each year. In addition, an alarming review of the Kentucky Transportation Center Research Report (2012-2017) trend analysis shows a steady increase in the number of crashes involving big trucks starting in 2016 (13 percent) compared to the previous four-year average.

Here is a look at three ways semi-truck drivers and commercial trucking companies may be responsible for causing accident injuries to others.
Semi-Trucks May Not Be Prepped for Safe Travel
Unfortunately, tractor-trailer and trucking companies too often ignore the regulations and safety standards set by state and federal guidelines to minimize dangerous travel. As noted by the investigating officer on Kentucky truck crash reports, up to two contributing vehicular factors are likely to be identified at the time of a crash and can include:
Defective brakes
Broken or unlit headlights
Truck lighting defects
Steering failure
Tire failure
Tow-hitch failure
Overload
Improper load
Oversized load
Load securement
Companies, drivers, and third-party operators must regularly check trucks and loads, for problems and address any required fixes before leaving on a trip, including all accessories and features. Equipment failures such as worn brake pads, top-heavy cargo, or even dim headlights, have been known to cause major traffic accidents.
Truck Drivers Can Become Easily Distracted
A three-year data collection effort by the Federal Motor Carrier Safety Administration (FMCSA) and the National Highway Traffic Safety Administration's (NHTSA) found that an estimated 11,000 truck crashes nationwide involved distractions and an average of 70 percent of large-truck crashes occur when the truck driver was doing something besides driving the truck. Several types of truck operator distractions include:
Use of a dispatching device
Built-in dashboard technology
Fatigue
Outside objects
Eating and drinking
Texting
Handheld phone dialing
Smoking
Reading, writing, or use of paper maps
Setting in-vehicle technologies
Driving while distracted increases the risk of error as the driver's brain activity is busy staying focused on something other than the road. At 55 mph, this equates to a truck driver traveling the approximate length of a football field without looking where they driving or who they are sharing the road with.
Operator Errors and Trucking Company Negligence
NHTSA's Fatality Analysis Reporting System (FARS) 2017 census of fatal crashes involving semi-trucks reviews several examples of operator negligence due to errors such as lane deviation, driving haphazardly in poor road conditions, driving while distracted, driver fatigue and other negligent actions by third party groups and equipment manufacturers.
Driver Fatigue or Impairment: If a truck driver works beyond the timeframe they are permitted and are fatigued, they may be found guilty of negligence if an accident occurs. Truck drivers who are impaired by drugs or alcohol at the time of a crash may also be held responsible for any damages.
Operator Errors: These can include disabling or non-disabling safe vehicle failures, speeding through a narrow pass, taking sharp turns, and driving recklessly in congested areas and bottleneck zones.
Ignoring Road Conditions: If a trucker is ignoring weather reports because of delivery deadline pressures, or if they are not adequately trained to drive in tough situations such as heavy rain, wind or snow, they are putting other road users at serious risk of a collision with them.
Improper Cargo Loading: Truck operators and cargo loading teams must follow industry regulations related to the weight, size, length, width, and height limits to each truckload. If a mistake is made or a shipment was not fully inspected, a load could fall onto passing vehicles or cause a truck to jackknife or roll-over.
Equipment manufacturers, mechanics, and trucking companies who allow defective and dangerous products or outdated truck technologies to be used may be found seriously guilty of negligence as well.
Contact Rhoads & Rhoads to Review Your Settlement
The devastating injuries or loss of a loved one due to a truck accident creates many stressors for families, including overwhelming financial burdens. After being involved in a truck accident, a truck company and the driver could be held liable for those injuries and the related life changes. But know that an enormous amount of insurance backs commercial truck drivers who are represented by experienced adjusters quick to offer reduced settlements and well-prepared to deny even the most just claims.
Working with the tractor-trailer accident injury attorneys at Rhoads & Rhoads will allow an injured person to focus on their recovery and feel confident in rejecting a weak settlement from a trucking company that doesn't want to face its own faults. When the time is right for you, we will take our experience and work together to recover the financial damages you are rightfully owed.
Owensboro and Madisonville Semi-Truck Accident Lawyers — No Recovery, No Fee 
With offices in Owensboro and Madisonville, Rhoads & Rhoads represents tractor-trailer accident victims throughout Western Kentucky. We offer free initial consultations, and all cases are taken on a contingency fee basis. This means there is no initial payment required to work with us and we get paid only if we win or settle your case, so there is NO RISK involved.
Call us at 888-709-9329 or contact us by e-mail to schedule an appointment with one of our Madisonville or Owensboro personal injury attorneys.
Also read: Kentucky Highway Earns No. 10 Slot for Worst Traffic Congestion