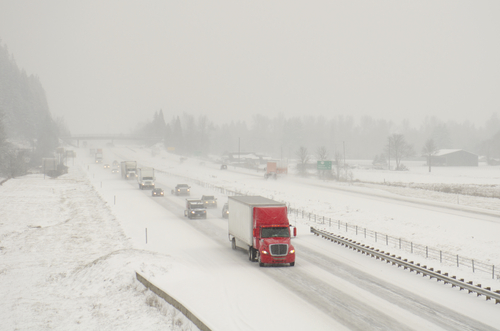 Injury and Fatal Truck Crashes Increase in Kentucky
In Kentucky, a truck is defined as a vehicle with a registered weight of 10,000 pounds or more. Most drivers may recognize these vehicles as tractor-trailers, big-rigs, and semi-truck haulers. An alarming review of the Kentucky Transportation Center Research Report (2012-2017) trend analysis shows a steady increase in the number of crashes involving these trucks starting in 2016 (13 percent) compared to the previous four-year average, numbers none of us should ignore.
According to the report:
The number of truck crashes ranged from a low of 7,442 in 2012 to a high of 9,380 in 2016.
The number of injury crashes increased by 6.1 percent and the number of fatal crashes increased by 24 percent in 2016 compared to the previous four-year average.
The number of injury crashes ranged from 1,189 in 2012 to 1,396 in 2015 while the number of fatal crashes ranged from 67 in 2014 to 93 in 2016.
In 2016, truck crashes represented 6.5 percent of all crashes, 5.4 percent of injury crashes, and 11.7 percent of fatal crashes.
*recorded truck crashes include both single unit and combination trucks
Changing weather patterns mixed with high wind and blowing snow, unknown road hazards like black ice and animal crossings, and navigating through congested roadways during holiday traffic can create major issues and increase the crash risk for truck drivers traveling through Kentucky during the winter months. In addition, driver stress and sleepiness can be created by quick delivery expectations that keep operators behind the wheel longer than they should be, resulting in delayed reaction times, poor decision-making, and distractions. These trucks also have operating limitations such as large blind spots, long stopping distances, and limited maneuverability. As these challenges grow and persist through the added cold weather season hazards, all truck drivers, as well as the motorists who share the road with them, need to be aware of changing conditions and stay cautious in order to be safe.
10 Ways Drivers Can Prevent an Accident with a Semi-Truck This Winter
Unfortunately, tractor-trailer and trucking companies too often ignore the regulations and safety standards set by state and federal guidelines in order to minimize dangerous travel. This creates an increased safety burden on motorist who share the road with them. The team at Rhoads & Rhoads, with the help of the Our Roads, Our Safety program by the Federal Motor Carrier Safety Administration, would like to review ten ways Kentucky drivers can avoid an accident with a big truck.
Stay out of the NO ZONES. Tractor-trailers and semi-trucks have huge blind spots – or NO ZONES – around the front, back, and sides of the vehicle. If you can't see the driver in the truck's side mirror, assume that the driver can't see you, especially in blowing snow.
Pass Safely. Make sure you can see the driver in the mirror before passing. Use your turn signals and clearly move into the left lane and accelerate so that you can get past the truck quickly and safely. Never pass from the right lane.
Don't Cut It Close. Cutting in too close in front of another vehicle is always dangerous, but it's especially dangerous to "cut off" a commercial truck. If you move in quickly from either side, you're likely to be in a blind spot so the driver may not see you in time. Even if you're visible, the vehicle may not be able to slow quickly enough to avoid a crash.
Stay Back. Tailgating a big truck presents added dangers, especially on slippery roads or when visibility is low because of winter weather. Because trucks are so high off the ground, if you fail to stop in time your vehicle could slide under the truck and create a devastating fatal injury.
Anticipate Wide Turns. Semi-trucks require extra turning room – they swing wide or may even initiate a turn from a middle (rather than far right) lane. Assume that leaving them room is the best choice.
Be Patient and Drive for Road Conditions. Honking, driving aggressively, or weaving through traffic won't make the trip faster, but can cause dangerous distractions and crashes. Be sure you are operating safely for road conditions such as snow, ice, or fog.
Buckle Up. Wearing your seat belt is one of the most important things that you and your passengers can do to save your lives. A seatbelt may keep you in your seat and help you maintain control of your vehicle in the event of a crash.
Stay Focused. If you need to attend to a text, a call, GPS, or an app, get off the road and stop driving. Driving distracted can be as dangerous as driving impaired.
Don't Drive Fatigued. Take regular breaks, get another driver to relieve you, or get off the road and find a safe place to rest.
Never Drive Under the Influence of Alcohol or Drugs. Alcohol and other drugs impair both judgement and reaction time. There is no safe limit for drinking before driving. If your medication carries a warning, take it seriously.
The devastating injuries or loss of a loved one due to a truck accident creates many stressors for families, including overwhelming financial burdens that will increase the stress your family is already facing. After being involved in a truck accident, the truck company and/or the driver can be held liable for your injuries and the related life changes you and your family may be facing. Negligence on behalf of the company or driver can be shown in multiple ways, including:
Reviewing inspection and repair records to verify appropriate maintenance of the vehicle;
Requesting records of driver's sleep and driving logs to determine adherence to regulations;
Utilizing toxicology or accident reconstruction reports in order to show the driver was driving under the influence, speeding, or otherwise not acting in accordance with traffic laws.
The attorneys at Rhoads & Rhoads are knowledgeable in the state and federal laws regulating the tractor-trailer industry and can be trusted to advocate on your behalf to uphold your rights.
Owensboro and Madisonville Semi-Truck Accident Lawyers — No Recovery, No Fee
With offices in Owensboro and Madisonville, Rhoads & Rhoads represents tractor-trailer accident victims throughout Western Kentucky. We offer free initial consultations, and all cases are taken on a contingency fee basis. This means there is no payment required up front. We get paid only if we win or settle your case, so there is NO RISK involved.
Call us at 888-709-9329 or contact us by e-mail to schedule an appointment with one of our Madisonville or Owensboro personal injury attorneys.