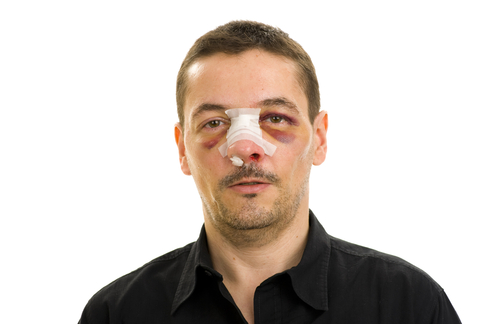 Facial Injuries Can Leave Car Accidents Victims Scarred and Disfigured
Car accident injury can be painful and frightening, but when injuries to the face, head and neck occur lasting impacts are made on car or truck accident victims who have likely already endured a serious emotional trauma or other physical injury. Since areas to the face are most exposed to vehicle materials like flying glass and jagged, misplaced metal, facial injuries can create a significant amount of pain and require ongoing reconstruction treatments and surgical interventions. Most of the time, even after treatment, victims are still left with uncomfortable and painful scars or disfigured appearances.
Types of Motor Vehicle Accident Facial Injuries
Some facial injuries are actually a combination of deep skin abrasions and cuts, multiple painful fractures and intracranial hemorrhages. Some facial injuries trigger more serious issues related to an accident victim's outcome and can prove fatal when not properly diagnosed or timely treated. Those responsible must be held liable.
Soft Tissue Injuries
Cuts, abrasions, road rash, gashes, and deep bleeding wounds which require stitches are most recognized by emergency department personnel and plastic surgeons assisting motor vehicle accident victims. These injuries typically happen after a strong blow to the face by another object, a burn, laceration by glass or metal, or when the face collides with an obstruction. Serious swelling or infection may present within hours or days after a soft tissue injury, making it more difficult to document in the moments after a car accident. Scarring is almost inevitable.
Facial Fractures
Facial fractures are broken bones anywhere on the face. The main types of facial fractures related to motor vehicle crashes include a broken orbit, cracked nose or cheekbone, forehead injuries, and a broken upper and lower jaw. Some symptoms such as pain, swelling, nosebleeds, problems with eyesight, restricted jaw movement, TMJ, and bruising and swelling can be related to facial fractures. Permanent disfigurement is possible.
Contusions (and Intracranial Hemorrhage) 
A contusion is a bruise caused by a direct blow that crushes and cracks underlying muscle and tissue without breaking the skin. A contusion can result from a driver's head being slammed into a side door or window, steering wheel, airbag, console or even a passenger seatbelt or displaced object during an auto accident. A hemorrhage can quickly follow and cause brain damage. This facial injury is most serious as it can become life-threatening. Symptoms can approach within moments leaving little time to waste prior to getting to a hospital emergency room for medical treatment.
Facial injuries may also be accompanied by Traumatic Brain Injuries (TBI) and other combinations of injuries. This type of injury often creates serious long-term effects and disability that will require life-altering decisions to be made by individuals and their families. Still, regardless of how serious the facial injury may present, it remains important that medical care is sought to ensure the safest recovery possible.
Common Symptoms of Brain Injury
Motor vehicle and traffic injuries are the leading cause of TBI-related death. Rates are highest for adults aged 20 to 24 years. A traumatic brain injury can occur when the head is stricken, suddenly jerked, or penetrated by a foreign object, similar to the bodily harm that happens because of a car accident.
After an impact or injury to the head, an individual can experience a variety of symptoms. When an individual is brought to the emergency room with a suspected head injury, doctors will learn as much as possible about his or her symptoms and how the injury occurred. The person's condition is assessed quickly to determine the extent of injury using a 15-point test to grade a patient's level of consciousness called the Glasgow Coma Score (GCS).
Common symptoms of brain injury include:
Spinal fluid (thin, clear liquid) coming out of the ears or nose
Loss of consciousness
Dilated (the black center of the eye is large and does not get smaller in light) or unequal size of pupils
Vision changes (blurred vision or seeing double, not able to tolerate bright light, loss of eye movement, blindness)
Dizziness
Balance problems
Respiratory failure (difficulty breathing)
Coma (not alert and unable to respond to others) or semi-comatose state
Paralysis, or difficulty moving body parts
Weakness
Poor coordination
Slow pulse
Slow breathing rate, with an increase in blood pressure
Vomiting
Lethargy
Headache
Confusion
Ringing in the ears (tinnitus), or changes in ability to hear
Difficulty with thinking skills (difficulty "thinking straight", memory problems, poor judgment, poor attention span, a slowed thought processing speed)
Inappropriate emotional responses (irritability, easily frustrated, inappropriate crying or laughing)
Difficulty speaking (slurred speech, difficulty swallowing)
Body numbness or tingling
Loss of bowel control or bladder control
We know car accidents can be very frightening, and most victims want to forget about them quickly. But the truth is, no one should ever ignore injury symptoms, no matter how mild. Brain injuries, specifically, will require expert medical attention for proper diagnosis and support for the catastrophic impact of mild, moderate, and severe injury to the brain and the lifelong medical and therapeutic needs of a TBI survivor. As personal injury lawyers, the attorneys at Rhoads & Rhoads have worked with many clients and families who have been affected by traumatic brain injury caused by the negligence of another person.
Contact a Kentucky Car Accident Attorney to Discuss Your Injury
Rhoads & Rhoads is Kentucky's leading and experienced personal injury firm with offices in Owensboro and Madisonville, representing car accident victims with facial injuries throughout Western Kentucky. We offer free initial consultations, and all cases are taken on a contingency fee basis. We get paid only if we win or settle your case, so there is NO RISK involved.
If you or someone you love sustained a disfigurement as result of a facial injury or has been diagnosed with a brain injury as the result of a motor vehicle accident, the brain injury attorneys at Rhoads & Rhoads are ready to fight for you and your family. Call us today for a free initial consultation at 1-888-709-9329.
Call us at 888-709-9329 or contact us by e-mail to schedule an appointment with one of our Madisonville or Owensboro personal injury attorneys.