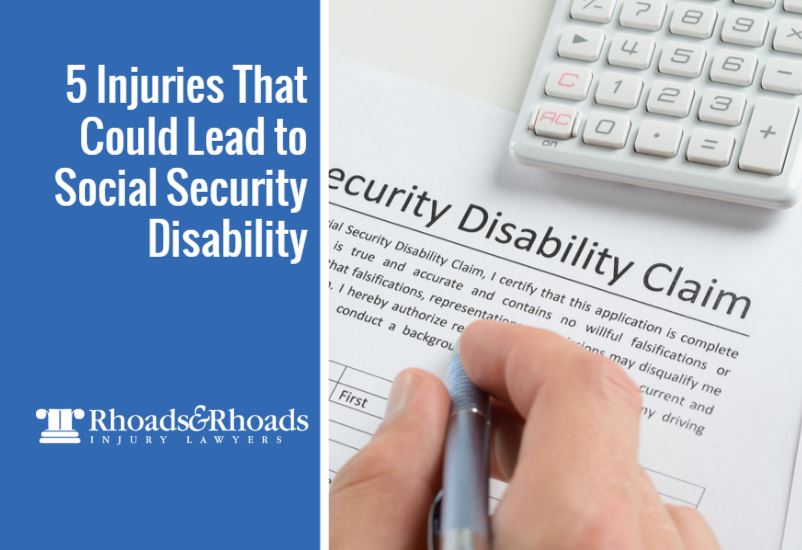 Synopsis
Personal injuries caused by motor vehicle accidents can create catastrophic financial, physical, and mental health issues for which most individuals should be compensated.
For crash victims who are no longer able to work due to severe and long-lasting psychological and physical injuries, Social Security Disability benefits may be available.
There are specific requirements to meet before being considered eligible for disability benefits, and an application with medical evidence must be collected to prove the car accident injury has hindered the ability to work.
For those denied claim compensation or disability benefits, other options may be reconsidered with the help of an experienced Social Security Disability attorney.
Five Car Accident Injuries That May Qualify You for Disability Benefits 
When a person can no longer work as a result of a serious car accident injury, compensation may be awarded through a personal injury claim if another driver was at fault (speeding or driving while distracted or impaired). But because some injuries do leave temporary or permanent disabilities, a person may also be eligible for Social Security Disability benefits, including Social Security Disability Insurance (SSDI) and Supplemental Security Income (SSI). The benefits are designed to help individuals and families with financial support.
Kentuckians may apply to receive Social Security benefits after they have been diagnosed with a disabling condition that affects their ability to work. An injury must be severe enough to have caused a shift in the ability to do specific work tasks and has lasted or is expected to last at least 12 months.
While there are many car accident injuries eligible for disability benefits, here are five conditions the Social Security Administration (SSA) may provide disability support. 
Psychological trauma and PTSD: These injuries may not be visible for others to see but some car accident victims will battle lifelong emotional or mental hurdles from either the trauma of the crash or because of related physical injuries. Accident memories may ignite uncontrolled feelings of:
anger
anxiety
crying
irritability
losing appetite
loss of interest in usual activities
mood swings
fearfulness
feelings of humiliation
sleep issues including nightmares
These symptoms are suffering and may lead to a long-term post-traumatic stress disorder (PTSD) or a general anxiety diagnosis in which only a psychiatrist can determine throughout several examinations. Social Security will determine if a disability applicant has the required level of functional limitations by using documentation that the applicant's PTSD has been serious, ongoing, and the frequency of their altered state has made them unable to adapt to the demands of work.
For the cases of PTSD that are not severe enough to qualify for disability, some may be considered for a medical-vocational allowance instead.
Spinal cord trauma and paralysis: Injuries to the spinal cord cause different types of mobility impairments, depending on the areas of the spine affected. Car accident victims with severe spinal cord traumas may experience loss of function to certain parts of their body or have limited or no use of their neck, arms, legs, torso, or hands. For these individuals, life will never be the same, and unfortunately any type of work may be impossible to perform.
Traumatic brain injury: Nearly 30 percent of all reported traumatic brain injuries are the result of car accidents. A traumatic brain injury (TBI) can occur when the head is stricken, suddenly jerked, or penetrated by a foreign object. Treatment and recovery may require full-time home-health assistance, physical rehabilitation, and surgery resulting in a wide range of long-term effects on the victim and their family.
Impaired Emotional Function (Depression, Personality Changes, Anxiety, PTSD)
Impaired Physical Function (Paralysis, Sensation Deficits—Problems with Sight, Vision, Hearing, Touch, Taste)
Impaired Thinking or Memory
Amputation and orthopedic limb injuries: These accident injuries happen when arm and leg bones become fractured, tendons permanently tear or when a limb is ripped from its socket due to the force of a motor vehicle crash. Lifting, pushing, pulling, grasping, climbing, dragging, and pivoting may be impossible movements to make after sustaining a limb injury or undergoing an amputation.
Burns: Car accident-related burns can cause deep tissue damage and the treatment from them could take months of painful skin graft treatments and years of anguish and recovery. Most of these burns come from external heat sources such as fire, hot metal, steam or scalding chemicals and can cause serious damage to one's appearance and create health complications including fatal infections. Severe burns and permanent disfigurements can prevent a car accident victim from ever working again.

For someone to qualify for Social Security disability benefits, a doctor will first need to determine that the disability is severe enough to prevent an applicant from working. Documentation and testing will be required to prove you are unable to return to your previous work or do any other job. But even with evidence and the proper medical support, many individuals will be denied benefits upon their initial application, possibly due to an error in forgetting one small detail related to the injury or job descriptions. For those applicants unsure of what to do after being denied benefits, there are options available to be reconsidered with the help of an experienced Social Security Disability attorney at Rhoads & Rhoads.
Owensboro and Madisonville Social Security Disability Lawyers
Rhoads & Rhoads has been protecting the rights of the injured throughout Western Kentucky for four decades. If you or a loved one have become disabled and are pursuing or have been denied SSD or SSI benefits due to a car accident injury, our team of experienced attorneys and knowledgeable support staff are available to help you through this challenging time and get you the financial recovery you deserve. Your monthly benefits will not be affected by working with an attorney.
We offer free initial consultations, and all cases are taken on a contingency fee basis. This means there is no payment required upfront, and there is NO RISK involved. Call us at 888-709-9329 or contact us to schedule an appointment at our Madisonville or Owensboro offices.
Also read: 5 Mistakes to Avoid Following a Kentucky Car Accident