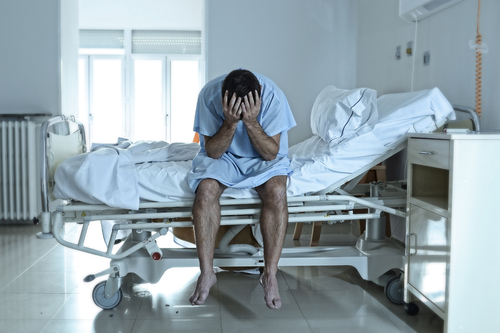 Yes, You Can Be Compensated For Pain and Suffering
Personal injury cases typically arise when someone is injured in an accident caused by another person's negligent or reckless behavior. Cases can be complicated, time consuming, costly and complex when understanding the specific types of damages for which a personal injury victim can claim compensation.
Some damages like lost wages, medical expenses and replacement of property are easily quantified because they are already assigned a dollar amount. It can be much more difficult to place a dollar amount on non-monetary damages, such as pain and suffering. Pain and suffering is difficult to estimate and claim outcomes carry a wide range of results based on a variety of factors. Anyone seeking compensation for a personal injury should be well informed in the types of damages created by the individual that caused or contributed to their losses, including pain and suffering.
WATCH Attorney Jerry Rhoads talks about the types of compensation a personal injury victim may be entitled to following their accident. One of the important facts to consider in these claims is the level of pain and suffering involved with your incident.
Understanding Pain and Suffering
Although significant, it may not be easy to put a quantifiable amount on pain and suffering because Kentucky law can be vague and non-descriptive when reviewing the value of these types of cases. Having an experienced personal injury attorney can help though. The first step will be to understand how the pain and suffering has impacted a person's life or future life.
Here are just some examples of compensatory damages a personal injury victim may claim under pain and suffering:
Anxiety or worry attributable to the personal injury
Grief, terror, and fright
Impairment of ability to work, or keep employment
Mental distress, failure to enjoy family and life
Physical pain, disfigurement and deformity
Shock, embarrassment, and humiliation
Worrisome, anxiousness, and nervousness
From here, a review of the type of pain and suffering a person can be linked to will happen. These types include a specific determination of either (or both) physical and emotional pain and suffering.
Physical Pain and Suffering
Physical pain and suffering is the actual physical pain caused by the personal injuries. It includes the pain and discomfort the victim has suffered since the injury, as well as any physical pain that is expected in the future as a result of the negligent accident. The physical impact an injury has had could be dealing with permanent disfigurement and chronic pain, or extended limitations on physical activities.
Mental Pain and Suffering
The other type is emotional suffering and mental trauma such as depression and feelings of anguish that present because of the accident and injuries. Mental pain and suffering may result from the claimant being physically injured. Mental pain and suffering can be any type of negative emotion that an accident victim suffers as a result of having to endure the physical pain and trauma of the incident they were not at fault for.
Mental pain and suffering can be exhausting and trigger:
Anger and mood swings
Depression
Lack of energy
Loss of appetite
Loss of sex drive
Sleep disturbances
Mental pain and suffering, like physical pain and suffering, includes not just the effects that the victim has endured to date, but also the pain and suffering that they may suffer in the future.
Both physical and mental pain and suffering can be so serious that it prevents the victim from returning to work even after their personal injuries have healed. When this happens, the victim may be able to claim any additional damages related to pain and suffering, such as lost income. Severe pain and suffering can also cause post-traumatic stress disorder (PTSD).
Clinicians Have a Significant Role in Identifying Pain and Suffering
Having the proof supporting pain and suffering claims can be tough, but another person who can help in addition to an attorney is the personal injury victim's treating doctor and supporting medical experts. They, paired with well-documented medical records, can provide key context for any jury or insurance company reviewing a claim. Being assessed right after an injury is sustained is the safest way a victim can be protected at the time of the injury and in the future. The medical evaluation allows any injuries, including invisible injures, to be documented, diagnosed and treated.
In addition to ensuring proper medical diagnosis by receiving a prompt medical assessment, a personal injury victim should also have:
Documentation of everything being experienced as result of the injury including symptoms, services and care received
Medical records
Proof of lost wages
Receipts for prescription and any over the counter medication
Statements from mental health professional and other treating medical experts
In addition, a personal pain journal can be very useful to show a history of pain and activities missed. Pictures of the injury over time can also be included. 
Putting Value on Pain and Suffering Damages
Since there are no set amounts for pain and suffering injuries, decision makers are guided to use their background and experience to determine a fair and reasonable amount to award the victim for his or her pain and suffering.
In addition, there are some factors that play into the determination of the compensation value. If the personal injury victim is a good witness and credible, or if the testimony is clear and consistent and supported by a doctor or medical expert's diagnosis and prognosis, the likelihood of receiving a reasonable compensation can be high.
Find Support From an Experienced Kentucky Personal Injury Lawyer
Most personal injury victims who have physical pain or emotional suffering will be compensated if the claim is not consciously fabricated. Because there is no clear definition for pain and suffering, understanding claims and how a person will be compensated can still be confusing and costly to navigate without professional help. These are times when hiring an experienced personal injury attorney is recommended.
The personal injury lawyers at Rhoads & Rhoads have decades of experience working with injury victims who are successful in their pain and suffering claims. We offer free initial consultations, and all cases are taken on a contingency fee basis. We get paid only if we win or settle your case, so there is NO RISK involved. Call us at 888-709-9329 or contact us by e-mail to schedule an appointment.
Video Transcription
If you or a loved one or a friend is injured in an accident which is caused by the negligence of someone else, one of the first questions that you may ask is, "What are the elements of recovery?"
Of course you can recover medical expenses – past, present, and future – and lost wages past, present, and future. But a major area of recovery is pain and suffering. Pain and Suffering is actually from a mental and a physical standpoint. If you are physically injured, you suffer pain as a result of this, you can recover for that pain and also the effects of your pain for things that you can no longer do past, present, and future.
So this is an important element of your claim and it is important to have legal representation to help develop this claim through the doctors and through other people, so that it can adequately be presented to the insurance company. Or if a settlement can't be reached, it can adequately be presented in court before a jury.