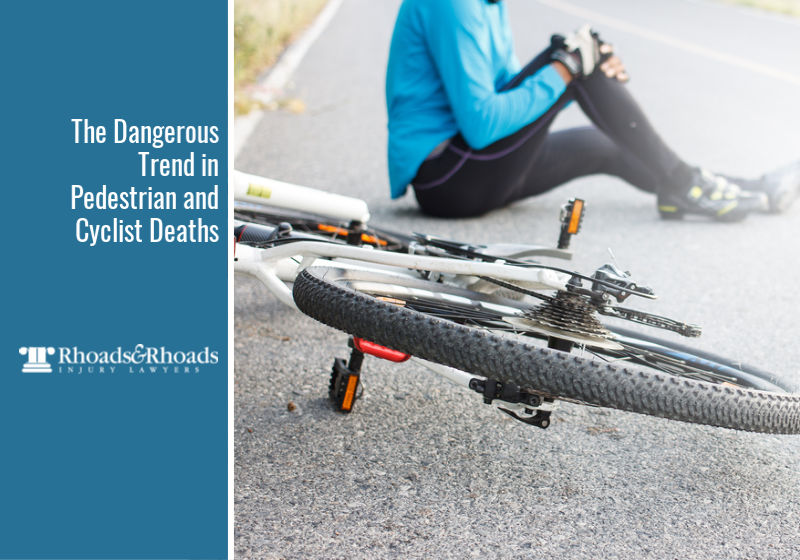 Key Points of This Article:
The number of pedestrians and cyclists who have been killed by motor vehicles has continued to quickly rise in recent years.
In 2019, pedestrian deaths reached the highest level in nearly three decades, according to new estimates by the Governors Highway Safety Association.
A cyclist or pedestrian's chances of dying increase by 50% if they are hit by an SUV or a truck instead of a sedan.
Some researchers believe the increase in distracted drivers, more congested roads, and higher speeds have also caused more alarming injury and fatality rates of both pedestrians and cyclists.
Changing the Dangerous Trend in Pedestrian and Cyclist Deaths
Since 2008, Americans have made progress in helping reduce road fatalities among many users such as motorcyclists and drunk drivers. Still, pedestrian deaths have risen 35 percent, a 28-year all-time high, according to new estimates by the Governors Highway Safety Association (GHSA). Cyclists who have been injured or killed by motor vehicles have also gone up, mimicking the stunning increase in pedestrian deaths.
Pedestrian Injury and Death Statistics
In the past ten years, the number of pedestrian fatalities on our nation's roadways has increased by more than 50%.
There were 6,590 pedestrian fatalities in 2019, the highest number in more than 30 years, according to GHSA.
From 2008 to 2017, the number of nighttime pedestrian fatalities increased by 45%, compared to a much smaller 11% increase in daytime pedestrian fatalities.
Pedestrians accounted for 17% of all traffic deaths in 2019, compared to 12% in 2009.
In Kentucky, Jefferson and Fayette Counties currently rank highest for pedestrian accidents.
Populated communities such as Owensboro and Lexington, as well as public community areas where pedestrian traffic is high such as business districts, green spaces, university campuses, and hospitals, are most common for fatal pedestrian-related accidents.
Cyclists Injury and Death Statistics
In 2018, 57 bicyclists were killed in motor vehicle crashes, a more than 6% increase from the year before.
Studies of fatal bike crashes from 2015 to 2019 found that 9% involve a speeding driver, 16% involve a drunk driver, and nearly 20% were the result of a hit-and-run.
According to the National Highway Traffic Safety Administration (NHTSA), 30% of all bicycle accident injuries occur when a bicyclist is struck by a car.
Several Bluegrass communities have implemented bicycle safety advocacy efforts and made positive changes on city streets and bike routes in Owensboro along Western Kentucky Botanical Garden and Smothers Park, the Legacy Trail greenway trail connecting to downtown Lexington, and in Adkisson Greenbelt Park in Daviess County.
While not a fatal risk factor, intersections continue to pose the most common serious injury risk to both pedestrians and cyclists, due to an increase in drivers who are distracted or using their phones to send text messages.
Yes, Large Vehicles and SUVs are Partly to Blame for More Fatalities
Researchers believe the increase in distracted drivers, more people on the road, bad driving behaviors such as running red lights, and higher speed limits have caused more serious injury and fatality rates of both pedestrians and cyclists, but a boost in SUV and light truck usage are also to blame. Pedestrians struck by these vehicles are twice as likely to die as those hit by a car, based on data provided by State Highway Safety Offices in 2019.
"[T]he number of sport utility vehicles (SUVs) involved in pedestrian deaths has increased by 50 percent since 2013. By comparison, (non-SUV) passenger cars' involvement in pedestrian fatalities increased by 30 percent over the same time period. Although passenger cars still account for the majority of pedestrian deaths, SUVs – which generally cause more severe pedestrian injuries – make up an increasingly large percentage of registered vehicles."
– February 2020, Governors Highway Safety Association (GHSA)
The increase in larger light trucks and the bulky SUV-type vehicles found more often on American roads today also makes walking away from a pedestrian or bicycle accident without a serious injury less likely, even if one of these vehicles hits the individual at a slower speed.
What Should You Do If Hit by a Car or SUV While on Foot or Bike?
While we hope you never find yourself in this situation, after getting hit by a driver it will remain imperative to know what to do. First, do your best to keep collected so you can work alongside emergency medical responders and law enforcement officials to proactively have your injuries assessed and gather the evidence needed.
More yourself somewhere safe.
Request urgent medical attention if needed.
Gather evidence.
Visit with a doctor and keep track of your injuries, treatments, and medical bills.
Seek help from an experienced pedestrian or bike accident lawyer.
Speak up for change in your community.
While holding another driver accountable can feel uneasy, and a long and complicated process at times, the legal team at Rhoads & Rhoads wants you to know it is not impossible. We are here to help you every step of the way. And although the clock to develop a case for your incident may have started ticking on the date of your accident, you may still have time to bring it into legal action under Kentucky's statute of limitations. We can assist you as soon as you feel well and ready.
Pedestrian and Cyclist Car Accident Injury Attorneys in Western Kentucky
Rhoads & Rhoads has been protecting the rights of the injured throughout Western Kentucky for over four decades. If you or a loved one were walking or riding a bicycle and injured due to the negligence of a motor vehicle driver, our team of experienced trial attorneys and support staff is available to help you through this challenging time and get you the financial recovery you deserve.
We offer free initial consultations, and all cases are taken on a contingency fee basis. This means there is no payment required upfront, and there is NO RISK involved. Call us at 888-709-9329 to schedule your free consultation today.
Also read: What You Need to Know About Electric Scooter Accident Risks