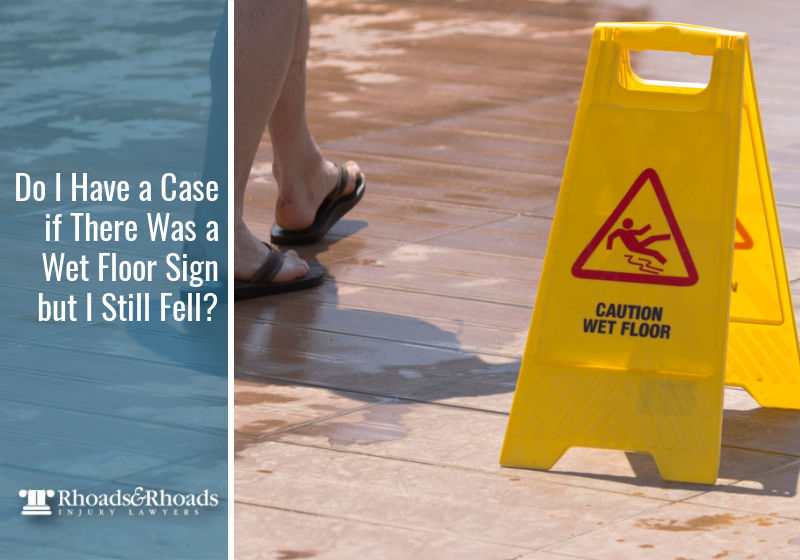 If you have been injured by slipping and falling in a big box store, grocery store, or any other type of retail establishment, your first priority should be to seek medical attention. You will probably be battling pain, plus embarrassment (nobody wants to wipe out in front of strangers; it's a very vulnerable feeling). If you tripped over an obstacle or slipped on a wet floor, you may fear that you have no recourse if there was a slip and fall warning sign, but that isn't true. 
Stores generally try to avoid placing themselves in a situation where they could be held liable for injuries caused on their premises. They know that they have the responsibility (or "duty of care") to keep their customers safe. Unfortunately, sometimes people make mistakes or are just plain negligent, and this can result in someone, like you, getting hurt. 
Each year, more than

1 million

people are injured badly enough in slip-and-fall accidents to warrant trips to the emergency room. 

Typical injuries can include concussions and fractures, particularly broken hips. 

Older people are especially vulnerable to falls and are also at greater risk of injury after a fall.

Falls in general "account for 87% of all fractures among people over the age of 65," according to the

NFSI

(National Floor Safety Institute).

 
What do I need to prove?
In order for a premises liability lawsuit to succeed, there are certain conditions that must be met: duty, breach, causation, and damages.

The wet or overwaxed floor must have been directly responsible for your fall

.

Your fall must have caused your injury

.

The person responsible

(this may be the store owner, the store manager, or staff members)

either knew about the problem or should have known about the problem

. For example, if another customer drops a jar of mayonnaise in front of you and you immediately slip on it, the store could not reasonably have prevented that. 

The spill or wet floor was not cleaned up or warned against

. Sometimes, it takes a little while for someone to be able to clear up a spill, but in the meantime, the store workers are supposed to post obvious warnings about the hazard. 
What are some examples of inadequate posted warning signs?
If warning signs were present but easy to overlook, you may have a case. Would a reasonable person have noticed them, or were they inadequate? 

There may have been a warning sign present, but if it wasn't placed in the appropriate location, you would have no way of knowing where the spill was or what part of the floor to avoid. 

If you walked around the corner of a supermarket aisle and slipped on a wet floor, a sign placed in the second aisle would have been impossible for you to spot before you encountered the slippery surface.




The store or aisle may have had inadequate lighting which prevented your being able to read or notice the sign.

The writing on the sign may have been too small to be easily noticed.

There may have been one sign present in a situation that clearly called for three, placed around the entire hazard. 
There are many possible circumstances in which you can successfully pursue a premises liability lawsuit against a store if there was a wet floor sign but you still fell. An experienced premises liability attorney will be able to consider all of the conditions present and advise you if you have a case. 
How should you proceed after a slip or fall of this type?
Report the fall immediately. For your own safety, it may be better to stay where you are and tell another shopper to get help.

When the store manager writes an incident report, make sure that you explain that the wet floor or spilled produce made you slip.

Document the surroundings by taking photographs showing the problem area as well as any signs and their locations. Show the position in which you ended up in relation to all of these things. 

Request the names and contact information of any potential witnesses. 

Get checked out in an emergency room or at your doctor's office. Be aware that some injuries are not immediately apparent, so resist the urge to assure everyone that you are fine before you know this for sure. 

If you have been hurt, contact an experienced

premises liability attorney

who will be able to prove that the store owner's (or manager's) negligence was a direct contributor to your injuries. 

Don't forfeit any of your legal rights. You will need to be fairly compensated for such things as your medical expenses, missed work, and pain and suffering. 
If there was a wet floor sign but you still fell, take the time to get in touch with an experienced personal injury lawyer to discuss your case. With law offices in Owensboro and Madisonville, Rhoads & Rhoads' legal practice area includes representing premises liability victims throughout Western Kentucky. We offer free initial consultations, and all cases are taken on a contingency fee basis, which means there is no payment required upfront. We get paid only if we win or settle your case, so there is NO RISK involved.
Call us at 888-709-9329 for legal advice or contact us by email to schedule an appointment with one of our Madisonville or Owensboro personal injury attorneys.