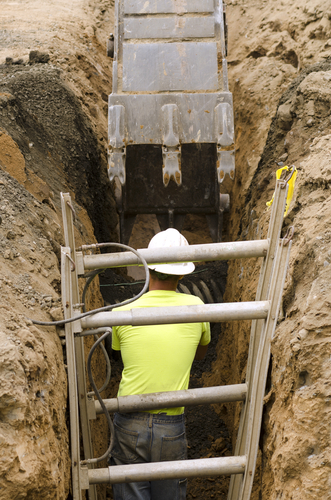 Recognizing the Dangers of Excavation and Trench Work
Excavation and trenching are among the most hazardous construction operations. Occupational Safety and Health Administration (OSHA) data shows 23 construction workers were killed in trench collapses in 2016, nearly double the year before. As we wait for the official 2017 trench worker fatality and injury statistics to be released, Kentucky Fatality Assessment and Control Evaluation Program (FACE) reported three trench-collapse deaths with the most recent being a 38-year-old worker in Madison County. Several trench work related injuries have been cited since. Common trench and excavation injuries include:
Suffocation or bone crushing injuries
Improper ventilation resulting in asphyxiation
Electrocution from underground power lines during excavation
Falls into insufficiently-marked trenches
Explosions injuries to the eyes and ears
Traumatic brain injuries from falling objects
While the dangers of excavation work or prevention of trench collapse is generating awareness with some local companies, fatality prevention programs are still not up to par with current standards and the workplace injury attorneys at Rhoads & Rhoads feel Kentucky workers deserve better.
Trenches Can Easily Collapse, Hurt Workers
When done safely, OSHA says trenching operations can reduce worker exposure to cave-ins, falling loads, hazardous atmospheres, and hazards from mobile equipment. Before work begins, be sure your company or employer is following these safety standards and requires that trenches and protective systems be inspected daily.
Never enter a trench unless:
It has been properly inspected by a competent person.
Cave-in protection measures are in place.
There is a safe way to enter and exit.
Equipment and materials are away from the edge.
It is free of standing water and atmospheric hazards.
Prevent trench collapses:
Trenches 5 feet deep or greater require a protective system.
Trenches 20 feet deep or greater require a protective system designed by a registered professional engineer.
Protective systems for trenches:
SLOPE or bench trench walls by cutting back the trench wall at an angle inclined away from the excavation.
SHORE trench walls by installing aluminum hydraulic or other types of supports to prevent soil movement.
SHIELD trench walls by using trench boxes or other types of supports to prevent soil cave-ins.
Employers across the U.S., including right here in Kentucky, have an enormous responsibility to create a safe work environment for their employees. All workers have the right to working conditions that do not pose a risk of serious harm and receive information and training (in a language and vocabulary the worker understands) about workplace hazards methods to prevent them, and the OSHA standards that apply to their workplace. When companies fail to take safety seriously, trench and excavation workers are blasted with lifelong injuries and put at greater risk of being involved in a fatal accident.
Owensboro and Madisonville Construction Accident Injury Lawyers — No Recovery, No Fee
With offices in Owensboro and Madisonville, Rhoads & Rhoads represents excavation and construction accident victims and their families throughout Western Kentucky. We offer free initial consultations, and all cases are taken on a contingency fee basis, which mean there is no payment required up front. We get paid only if we win or settle your case, so there is NO RISK involved.
Call us at 888-709-9329 or contact us by e-mail to schedule an appointment with one of our Madisonville or Owensboro personal injury attorneys.
Source: OSHA, Trenching and Excavation