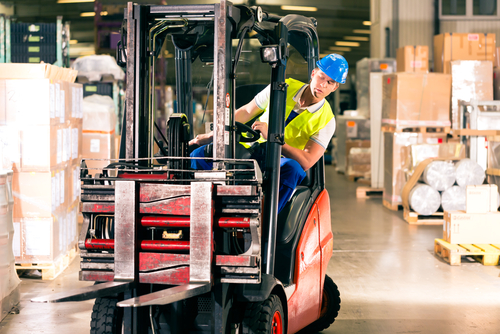 4 Common Causes of Forklift Operator Injury or Death
Forklifts are common work vehicles used by most of Kentucky's construction and manufacturing industries. Also known as powered industrial trucks (PITS), forklifts are used most often to lift heavy loads and transport supplies and can either be operated by a trained worker or controlled by a walking driver. Either way, these trucks can be extremely dangerous given the size and weight especially when operated by inexperienced workers, in unsafe workplace environments, or if the machinery is poorly maintained. Data from the Occupational Safety and Health Administration (OSHA) show these industrial vehicles are involved in nearly 100 worker deaths and 20,000 work-related injuries each year.
There are several types of forklifts and each comes with different hazards associated with its operation. For example, OSHA explains "the chance of a falling load accident occurring when the truck is a sit-down, counterbalanced rider truck is much greater than when the vehicle is a motorized hand truck because the height that the load can be raised on the sit-down rider truck is much greater than the hand truck." Many workers involved in forklift incidences will become injured in these four ways:
Lift trucks are inadvertently driven off loading docks.
Lifts fall between docks and an unsecured trailer while a worker in onboard.
Workers (or pedestrians) can be struck by a lift truck.
Trucks may fall while on elevated pallets and tines.
Workers can also be killed or seriously hurt in rollover accidents, when loads fall onto them, or tragically runover by forklift operators who are distracted or using illegal, non-prescribed substances or doctor provided substances in excess of prescribed amounts, a workplace drug abuse epidemic reaching industrial workers at skyrocketing rates.
Most Forklift Accidents Could Be Prevented
These powerful machines can weigh up to 9,000 pounds, which is three times heavier than many cars and travel up to 18 mph. But unlike a car, forklifts only have brakes in the front, making them harder to stop. In addition, forklift trucks are very different from regular vehicles in the way they maneuver and require center of gravity balance. Much of the required forklift operator training is focused on getting to know the machine, load capacity, stability, and understanding limitations and risks. OSHA says nearly 70 percent of most forklift accidents could be prevented leaving employers responsible for training operators and positioning safeguard policies for all workers. In addition, it is a violation of Federal law for anyone under the age of 18 to operate a forklift or for anyone over 18-years-old who is not properly trained and certified to do so.
Failing to maintain the forklift is another dangerous faulty of employers. Workers need to be trained to perform a preshift inspection and never operate the forklift if it is deficient in any way. National Institute for Occupational Safety and Health (NIOSH) research has shown that both defective and failing products such as overhead guards, backrest extensions, blades and restraint systems, or improper training and maintenance are at the center of most forklift accidents and injuries, leaving the employer liable. When this happens, the injured person or deceased worker's family may have a case to support their need for compensation to cover lost wages, medical bills and related healthcare expenses, disability payments, pain and suffering including emotional distress, as well as other needs specific to their case. If you or someone you know has been killed or injured in a forklift accident or other industrial vehicle accident, they should follow these steps.
Seek medical attention immediately.
Notify your employer and file an injury or accident report.
Preserve legal rights by hiring an attorney because your employer has likely already done the same.
Collect statements from witnesses and coworkers at the event.
Contact a work accident attorney at Rhoads & Rhoads to assist you in gathering evidence and filing your suit.
Remember to never sign or agree to anything your employer gives you regarding the incident or your injury without first consulting with a lawyer.
OSHA oversees the responsibility for work safety regulation in about half the U.S. Kentucky is one of those states where the federal safety group does not, and forklift truck safeguarding tasks fall to the Kentucky Safety and Health Program
(KY OSH). Federal regulations allow the state to carry out inspections, enforcement, and other work safety programs with the caveat that they be equal to, or better than, what the federal government would provide. KY OSH has received much criticism over the years for not fully investigating forklift related worker deaths and injuries.
Is Industrial Vehicle Safety a Priority in Your Workplace?
Eliminating injury and fatal on-the-job incidences should be the goal of all employers yet work-related fatalities and serious injuries still happen. While some are true, tragic accidents, many could have been prevented. Physical injuries involving industrial accidents such as those with a forklift, equipment failure, or defective machinery can include general injuries like broken bones but also more serious events that cause amputations and traumatic brain injuries that may be covered under Kentucky's workers' comp coverage.
Owensboro and Madisonville Workplace Injury and Wrongful Death Lawyers — No Recovery, No Fee
Forklift accidents can be fatal or have lifelong, disastrous outcomes and the injuries can be more than physical. When a loved one dies or is terminally injured in a workplace accident, family members may be eligible for compensation. After an event like this, it is important to consult an attorney right away, as there is a strict statute of limitations for these special cases.
With offices in Owensboro and Madisonville, Rhoads & Rhoads represents work-related accident victims and their families throughout Western Kentucky. We offer free initial consultations, and all cases are taken on a contingency fee basis, so there is no payment required up front. We get paid only if we win or settle your case, so there is NO RISK involved. Call us at 888-709-9329 or contact us by e-mail to schedule an appointment with one of our Madisonville or Owensboro personal injury attorneys.
Sources: National Institute for Occupational Safety and Health (NIOSH), Occupational Health and Safety Administration (OSHA)