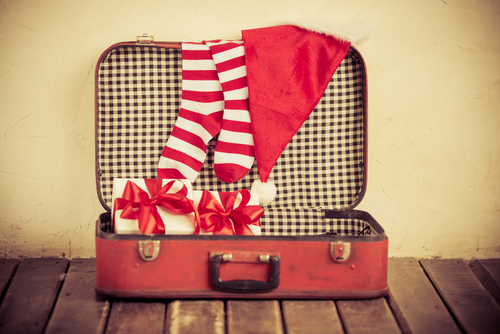 Travel Safe During the Holiday Season
The holiday season is here and that means you and your family may be planning a special road trip to see Santa, or fueling up and traveling to your favorite winter vacation destination, or maybe just taking the regular old two-hour drive to a family's home for dinner. Wherever you are headed, the team at Rhoads & Rhoads wants to make sure you first have a chance to review these holiday travel tips.
Get your vehicle scheduled for winter maintenance. This means an official inspection and evaluation of the brake, exhaust, heating and cooling systems. While malfunctions in these systems can result in injury or death due to carbon monoxide poisoning or weather exposure, a problem with the brake system can pose a lethal threat to everyone on the road. Check all tires for the correct pressure, get new windshield wipers, and test your battery as well.
Holiday season crashes too often occur because the driver is distracted. The most influential distraction is using your phones to talk or send messages while operating a vehicle. Just don't do it. Put your phone in a spot you cannot access it or have another traveler navigate your device for you.
Avoid drinking and driving. As you break for lunch or dinner, don't be tempted to order an alcoholic beverage with your meal. It doesn't take a lot for the effects of alcohol to impact decision making skills. In fact, a standard drink is equal to 14.0 grams (0.6 ounces) of pure alcohol.
Kentucky seatbelt use continues to be among the lowest of the 50 states. Stay buckled up and take the time to make sure your children are fastened correctly in the right child-sized seat.
Don't be a drowsy driver. Before the start of a long car trip, get a good night's sleep, or you could put your entire family and others at risk.
Have a winter emergency kit added to your trunk space with things like a blanket, extra hat and gloves, water and snacks, an extra ice scraper, a flashlight, jumper cables, flares, a first aid kit and a shovel that could save you if your vehicle is stuck.
Check for any recalls your vehicle may have and get it in to be serviced. Use the NHTSA site and enter your Vehicle Identification Number (VIN).
In addition, watch weather reports prior to a long-distance drive or before driving in isolated areas. Delay trips when especially bad weather is expected. If you must leave, let others know your route, destination and estimated time of arrival.
Happy Holidays to all!
Owensboro and Madisonville Winter Car Accident Lawyers — No Recovery, No Fee
With offices in Owensboro and Madisonville, Rhoads & Rhoads represents car accident victims throughout Western Kentucky. We offer free initial consultations, and all cases are taken on a contingency fee basis. There is no payment required up front and we get paid only if we win or settle your case. There is NO RISK involved.
Call us at 888-709-9329 or contact us by e-mail to schedule an appointment with one of our Madisonville or Owensboro personal injury attorneys.