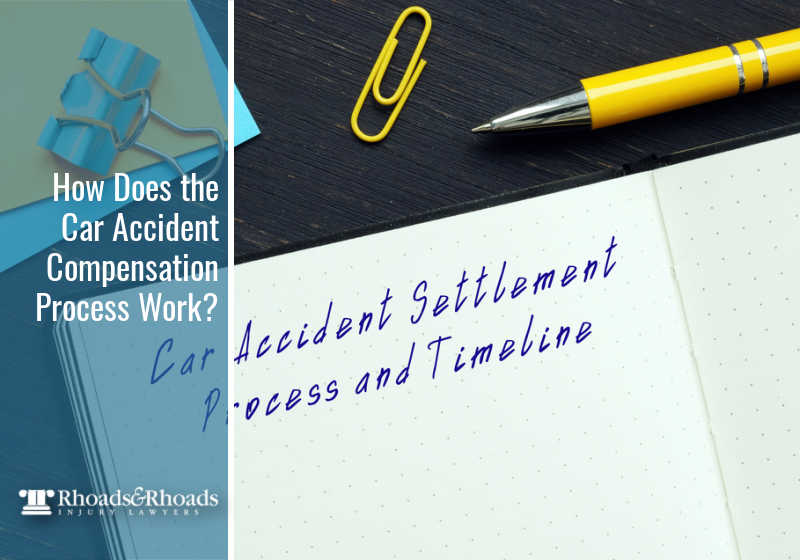 Key Points of This Article:
Claiming Kentucky car accident compensation is easier when you hold the proper auto insurance and hire a car accident lawyer. 

You may be entitled to significant compensation if you avoid making missteps that could harm your car accident claim.

Beware of following the insurance company's claims process before speaking to a car accident lawyer about your options.
It's stressful and traumatizing to be in a car accident. Even after the chaos of the crash is over, you're thrust into a confusing legal situation as you struggle to recover from your injuries.
Although it sounds easy to start an insurance claim for car accident compensation, the process rarely goes smoothly or results in maximum compensation without a lawyer's help. In this article, we'll explain how the accident compensation process works in Kentucky and how to pursue the award you deserve.
What You Should Know About Car Insurance Claims and Laws
According to Kentucky car insurance laws, it is mandatory for all registered vehicles to be covered by insurance. Below is a summary of the types and amounts of insurance vehicle owners are required to carry.
Your vehicle must have minimum liability insurance coverage with an acceptable minimum single limit of $25,000.

Liability coverage should include $25,000 for bodily injury for one person and not less than $50,000 for a total of all injured people.

The policy should include $25,000 in property damage coverage per accident.
If you fail to carry insurance, you could face penalties including a fine of $500 to $1,000 or up to 90 days in a Kentucky jail. It may also make it more challenging to receive compensation from an insurance company after a car accident due to your failure to carry insurance coverage.
Under Kentucky statute KRS 189.635, you must notify a law enforcement officer immediately after any auto collision involving injuries, a fatality, or significant vehicle damage that renders it inoperable. Call 911 to report severe injuries that need emergency assistance. 
If there are no severe injuries or fatalities and the car is operable but property damage exceeds $500, Kentucky law requires you to report the accident to the Kentucky State Police within 10 days. Also, request a copy of the police report from the officer who attended the accident because you'll need it later if you file a car accident compensation claim.
A minor accident with no injuries can be handled through a Civilian Collision Report filed with the state police. With no injuries or medical bills from a minor collision, you may have trouble securing significant accident compensation beyond a simple vehicle damage claim with the insurance company.
Should I Follow the Insurance Company's Claims Process?
After your accident, the insurance company may urge you to simply use their online claims portal for a quick resolution. They'll either deny your claim or make you an offer. You can appeal a denied claim or appeal their offer if you feel it's insufficient to cover your damages. 
You can attempt to handle this process without a lawyer's help but beware of making decisions that could result in an unsuccessful insurance claim. You could do or say something that erodes the value of your claim, or you could inadvertently accept a lowball payment that doesn't account for the total value of your medical bills, your ability to earn money in the future, lost wages, ongoing pain and suffering, and more.
Insurance companies typically pay the largest share of accident awards, so they often take an adversarial approach to injured people. They may resist providing compensation by questioning your medical history, asking you to fill out extra paperwork, and making the process feel unbearable. Alternatively, they might rush you through the process before you have time to carefully weigh your options.
Before you sign any documents or agree to anything with the insurance company, speak to a Kentucky car accident law firm first. You deserve factual information about the law, your rights, and your best route to full and fair compensation.
Can I Claim Car Accident Compensation if I'm Partially At Fault?
Kentucky follows the pure comparative fault rule for car accident liability. After a review of the evidence in your case, fault will be assigned among the parties, totaling 100%
You may hold all of the blame, none of the blame, or some percentage in between. Your compensation will be reduced proportionally. If you're found to be 10% at fault, any car accident compensation you receive would only be reduced by 10% to account for your limited share of the blame. This could still result in a considerable award of the remaining 90% of your case's value.
As you can see from this example, it's possible to receive valuable accident compensation even while holding partial responsibility for a crash. In Kentucky, there's no need to be reluctant to pursue a car accident claim simply because you're worried about being held partially liable. Discuss your concerns with your car accident lawyer for more insight into your specific situation.
Do I Need a Lawyer for Kentucky Car Accident Compensation?
Under Kentucky law, you have the right to pursue car accident compensation from the liable party with or without a lawyer's help. Hiring a personal injury lawyer makes it much easier and less stressful to seek repayment for losses in your car accident. 
When you're seeking a car accident settlement, your lawyer can provide extensive assistance and support that's otherwise hard to find. They have access to digital platforms and filing procedures lawyers use to communicate with the courts. They can help you locate evidence like surveillance videos, public records, and information about the other driver's history. You may be able to speed your case along and avoid common mistakes, like filing the wrong paperwork or missing important deadlines. 
Did you know you're much more likely to end up with an auto accident settlement than go to court? Here in Kentucky and across the nation, about 95% of personal injury cases end in settlements instead of proceeding to in-court car accident lawsuits. If you have a case that needs to go to trial, you'll need a skilled and experienced Kentucky car accident lawyer to represent you and make a strong case for the compensation you deserve. Also, the insurance company is more likely to be fair and offer you what you deserve if they know you have a lawyer that is willing to take your case to court. 
A car accident lawyer helps you organize your case, strengthen it with additional evidence, meet legal deadlines, and alert you to essential information about the law you wouldn't otherwise know. They can provide valuable insight into your best possible route to high-value compensation.
Kentucky Car Accident Attorneys – Rhoads & Rhoads
If you need an experienced Kentucky lawyer to help you with your car accident compensation claim, turn to Rhoads & Rhoads. Our car accident attorneys have decades of experience with claims like yours and we are dedicated to helping you get the outcome you deserve.
We offer free initial consultations and all cases are taken on a contingency fee basis. No up-front payment is required. We take payment only if we win or settle your case, so there is NO RISK to you. Connect with us at 888-709-9329 to schedule an appointment now.