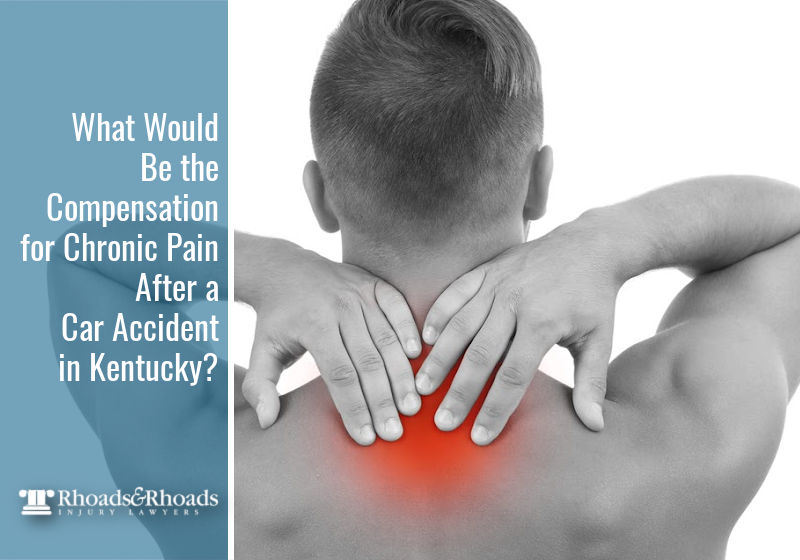 Suffering from a car accident can cause unimaginable pain and discomfort. These serious occurrences can result in a variety of injuries that range from mild to fatal, and those who suffer from vehicular accidents are far more likely to develop debilitating and cumbersome chronic pain. Additionally, car accidents can worsen existing chronic pain, causing more aches and limitations. 
Chronic pain from a car accident can negatively impact many different aspects of your life, such as your ability to work, physical activity, and even your mental and emotional health. Chronic pain also often requires expensive medical attention and ongoing treatment.
If you suffer from chronic pain after a car accident, you shouldn't have to pay out of pocket for your medical bills, lost wages, and loss of earnings potential. You can file a claim with the liable driver's insurance company in order to recover the money you deserve. 
What is Chronic Pain?
According to the Centers for Disease Control and Prevention, chronic pain is pain that lasts at least three months and results from an injury, disease, condition, medical treatment, or an unknown cause. 
Chronic pain can last anywhere between a few months and an entire lifetime, and there's no particular treatment for the condition. Medical professionals may be able to identify underlying causes of chronic pain and treat the source, but this isn't always the case — some people suffer from chronic pain indefinitely without a cure.  
Tragically, those who struggle with chronic pain suffer from emotional and mental pain as well. The American Psychiatric Association (APA) stated those with chronic pain have an increased risk of mental health problems, which may include depression and anxiety, and they have a greater chance of struggling with substance abuse. In fact, according to the APA, 35% to 45% of those living with chronic pain also suffer from depression.  
If you struggle with chronic pain, it's critical that you seek medical treatment. Medical professionals may be able to identify underlying causes for your condition and alleviate some of your pain. Additionally, you should seek mental health treatment from a qualified professional if possible to address the emotional and mental discomfort that comes with chronic pain. 
Tips for Reducing Chronic Pain 
Some of the ways in which you may be able to make your chronic pain less severe and more manageable include:
Meditation

Physical therapy

Occupational therapy

Calming breathing exercises

Nerve blockers

Anti-inflammatory medications

Antidepressants 
Common Types of Chronic Pain After Car Accidents
Although many different conditions and injuries can cause chronic pain, car accidents are especially likely to result in these serious issues. The impact of a vehicular collision can directly cause injuries that lead to victims developing long-term physical discomfort. 
Some common car accident injuries that result in chronic pain include:
Whiplash and other neck injuries 

Spinal cord injuries

Nerve damage

Soft tissue injuries
Recovering Compensation For Chronic Pain in Kentucky
When filing a claim with a negligent driver's insurance company, you can recover damages for pain and suffering, and this includes chronic pain.
Chronic pain is often a long-term or even permanent condition, so if you're able to prove that you're suffering from it, you may be able to recover compensation for both past and future medical treatments.
In addition to recovering money for physical pain and suffering, you may also be able to recover further damages for your mental and emotional pain and suffering. You can gain compensation if you prove that your physical pain contributes to depression, anxiety, or another mental health condition. 
You can also recover compensation based on how the pain affects your ability to make a fair wage. You may have had to miss work in the immediate aftermath of your car accident because of your injuries, and your chronic pain may also debilitate your ability to earn a full-time income. Fortunately, by filing a claim or lawsuit, you can recover damages for lost wages and loss of future earnings. 
How Much Compensation Can I Recover For Chronic Pain?
The overall amount of compensation that you can expect to recover from your case will depend on your unique situation and injuries. There's no set amount that victims can expect to earn after a wreck.
In order to recover the most compensation possible, you need to be able to prove that the car accident caused your chronic pain and that you are suffering because of it. 
Proving That You Suffer From Chronic Pain 
You need to be able to prove that the other driver caused the vehicular collision and that you suffered injuries. 
Firstly, when it comes to proving that the other driver was at fault, you can use video and photographic evidence, eyewitness testimonies, and the accident report. 
Hiring chronic pain personal injury attorneys is also critical for this step because they can help you prove your case by gathering evidence, and they can subpoena critical proof, such as surveillance footage, to build your case. 
Next comes proving that you suffered from injuries and chronic pain as a direct result of the accident. You can provide evidence such as:
Medical bills, including all treatments and medications 

A daily journal logging your pain and physical limitations

Proof that you took time away from work

Testimonies from those who treated your injuries
Seasoned legal representatives can also assist you in proving your case because they can call on expert medical witnesses who can draw a direct connection between the car accident and the injuries you sustained. 
Contact a Kentucky Chronic Pain Personal Injury Lawyer
If you suffer from chronic pain as a result of a car accident, you need to contact personal injury attorneys to assist you with your case. For experienced lawyers in car accident chronic pain injuries in Kentucky, contact the legal professionals at Rhoads & Rhoads Attorneys at Law. We'll work tirelessly with you to prove your claim and maximize the amount that you can recover for your injuries. 
Call us today at 888-709-9329, or you can connect with us online here.