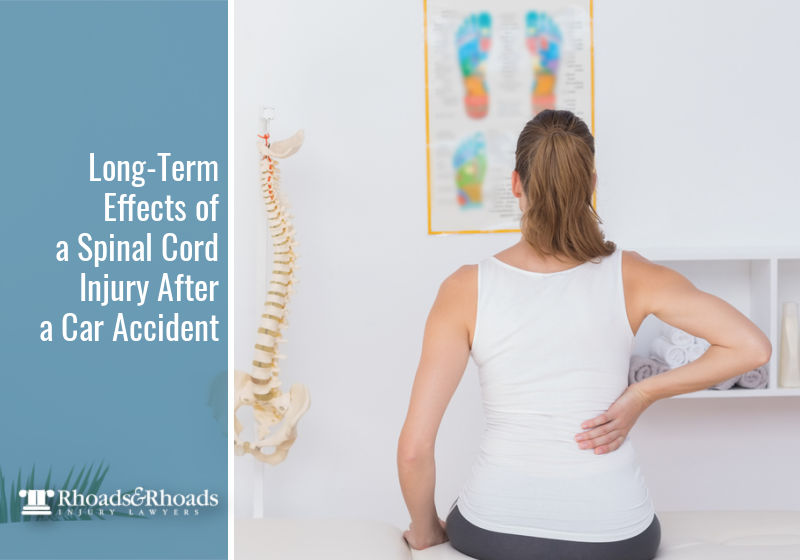 Key Points of this Article
Between 250,000 and 500,000 SCIs occur every year.

Spinal cord injuries (SCIs) can result in permanent, long-term damage.

Long-term effects of SCIs can significantly alter your quality of life and life expectancy.

A personal injury attorney can help you get a high-value settlement for your SCI car accident case.
Spinal cord injuries (SCIs) are one of the most severe injuries a person can suffer from after a car accident. While you can survive a spinal cord injury, it can often result in long-term effects and complications that can significantly alter your quality of life. 
According to the World Health Organization, between 250,000 and 500,000 people suffer from spinal cord injuries every year. And even for those who do initially survive an SCI, their life expectancy is reduced, meaning they are more likely to end up dying prematurely. 
If you or a loved one sustain a spinal cord injury after a Kentucky car accident, the team at Rhoads & Rhoads can help you navigate your personal injury claim. 
These injuries can be devastating and require expensive treatments and surgeries. As such, you deserve to win a high-value settlement to help you pay for your medical expenses and other damages. And at Rhoads & Rhoads, we are dedicated to helping our clients get the full and fair settlement they deserve.  
Car Accidents Are a Leading Cause of Spinal Cord Injuries
SCIs can happen for various reasons, but according to the National Spinal Cord Statistic Center (NSCSC), car accidents are the leading cause of spinal cord injuries at 38.6%. 
Other causes of SCIs include:
32.2% Falls

14% Acts of violence

7.8% Sports

4.2% Medical/surgical causes

3.2% Other
What Happens When The Spinal Cord is Injured?
Spinal cord injuries happen when any part of the spinal cord is damaged, which includes the nerves at the base of the spinal canal. In many cases, an SCI will result in permanent damage that affects sensation, strength, and other bodily functions below the site of the injury.  
What exactly happens after a spinal cord injury will depend on the type of SCI and the extent of the injury. There are two types of spinal cord injuries and four different levels:
The two types of SCIs are:
Complete spinal cord injury:

Permanent damage that often results in paraplegia (paralysis of lower limbs) or tetraplegia (paralysis of upper and lower limbs). 

Incomplete spinal cord injury:

With an incomplete SCI, the ability to move and the sensation lost will depend on the specific area affected. 
The four levels of SCIs include:
Cervical:

Head and neck region

Thoracic:

Upper chest, mid-back, and abdominal regions

Lumbar:

Hips and legs

Sacral:

Lower hips, back of the thighs, buttocks, and pelvic regions
Complications and Long-Term Effects of Spinal Cord Injuries
Depending on the type of spinal cord injury, the area affected, and the severity of the injury, victims can suffer from a wide range of symptoms and long-term effects. Some of the most common long-term complications include:
Loss of bladder control

Issues with bowel control

Pressure injuries from not being able to move

Circulatory problems, such as low blood pressure, blood clots, deep vein thrombosis, and pulmonary embolus

Respiratory issues and trouble breathing

Loss of bone density

Reduced muscle tone, including spasticity and flaccidity

Sexual dysfunction

Chronic pain

Mental health issues from coping with an SCI, such as depression
Kentucky Personal Injury Lawyers – Rhoads & Rhoads
When car accident victims suffer from severe and debilitating injuries that leave them impaired and disabled, such as an SCI, they deserve to be awarded a higher value settlement. 
While no amount of money can compensate for such a devastating and life-altering injury, a personal injury settlement can help you pay for medical expenses and lost wages. This will allow you to live more comfortably, which can help with pain & suffering and emotional distress. 
Unfortunately, insurance companies are notorious for offering low-value settlements. This is why it is crucial that SCI victims and their families work with an attorney. With the help of a lawyer, your rights will be protected, and your lawyer can handle negotiations with insurers to ensure they pay you the full and fair settlement you deserve. 
At Rhoads & Rhoads, our Kentucky car accident attorneys have years of experience handling spinal cord injury cases and are dedicated to helping each client get the compensation they need to help them recover and move on as comfortably as possible. 
If you are suffering from a spinal cord injury and need help, call us at 888-709-9329 to schedule an appointment with one of our Madisonville or Owensboro personal injury attorneys. We offer free initial consultations, and all cases are taken on a contingency fee basis, so no initial payment is required. We get paid only if we win or settle your case, and there is NO RISK involved.