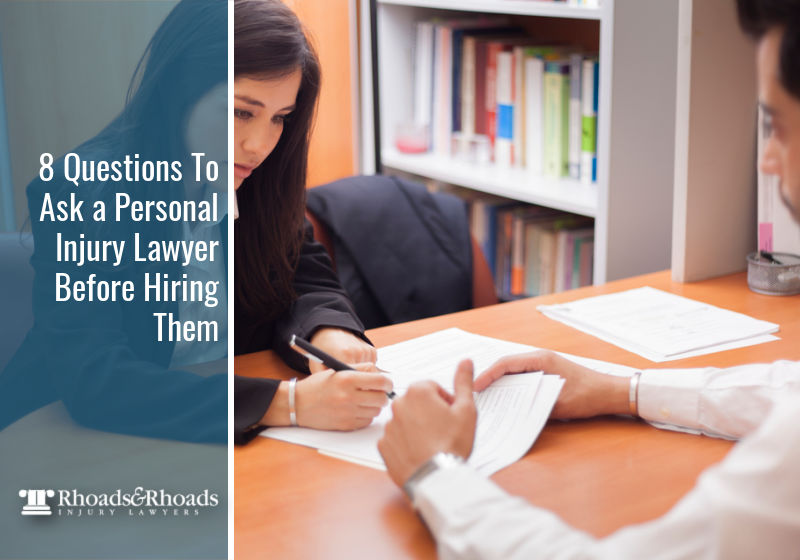 Key Points of this Article
It's important to ask your attorney questions before you hire them to make sure they are qualified.

A good attorney should be a good communicator and willing to answer your questions.

The top eight questions to ask a personal injury attorney before hiring them.
When suffering from an injury after a car accident, you want to make sure that the Kentucky law firm or specific attorney you choose to work with has the qualifications and skills necessary to adequately handle your case. Not all firms charge the same rates or fees, and not all firms specialize in the same areas of law. 
So it's important to make sure that the one you choose has experience handling cases like yours specifically and that they have the skills and know-how to get you the full and fair settlement you deserve. Once you do choose, it's also a good idea to have a checklist for your first meeting so you are fully prepared, know what to expect, and what questions to ask. 
Let's review the top questions to ask a personal injury attorney to ensure they are qualified and right for you before you hire them.
1. What Are Your Fees?
Generally, the better and more qualified law firms offer free consultations and only take cases on a contingency fee basis. This means that they will not charge you upfront and will only get paid if they win your case and you receive a settlement. Their fees will then be taken from the compensation amount you receive. However, not all law firms do this, so make sure you ask. 
2. What Practice Areas Do You Specialize In?
Some law firms specialize in a wide variety of practice areas, and some only specialize in one or two things, like workers' compensation or dog attacks. So if you are involved in a specific kind of accident, like a motorcycle accident or a semi-truck accident, you want to ensure that the attorney you will be assigned has experience handling your specific kind of case. 
3. Do You Have Reviews or Testimonials I Can See?
It's one thing for a law firm to say they have years of experience, but it's another to actually show that they have that experience. For example, just because a website says they have ten years of experience practicing personal injury law doesn't mean they have the reviews to prove it. So it's important to ask for actual proof to validate their claims of experience. This can include testimonials and online reviews where you can see how far back the reviews go. 
4. How Long Do I Have to File My Injury Claim?
While most attorneys in Kentucky should know the answer to this, it's still good to ask to verify for your own purposes. You want to make sure you file your claim in time to be eligible to recover damages. 
In Kentucky, you have one year from the date of the car accident to file a case against the other party involved. 
5. Are You Prepared to Take My Case to Trial if Needed?
In many situations, a personal injury case can be settled without taking it to court. For this reason, some lawyers have a lot of experience settling cases out of court and not as much experience taking a case to trial. So it's important to ask because if your case does go to trial, you want to have an attorney representing you who will know what they are doing in court. 
6. How Much Is My Case Worth?
There is no way to guarantee upfront how high the settlement will be for any case. However, a good attorney should have enough experience to at least offer you a general estimate after reviewing your case. Again, this is just an estimate and is by no means final, as every case is unique. But being able to give you an estimate shows you that they know what they are doing and have dealt with cases similar to yours before. 
7. Will You Be the One to Handle My Case?
The person you talk to initially at the law firm might not end up being the one who will handle your case, so it's wise to check. It doesn't help to ask these questions of someone who won't be handling your case. So make sure you get to speak directly with the attorney who will be assigned to you to make sure they are fully qualified and the right one for the job. 
8. Can I Contact You Directly? 
A good attorney should have open lines of communication. You will likely have other questions for a personal injury attorney about your case that come up, and you should be able to contact them easily and directly. If an attorney seems absent or hard to get in touch with, they will likely not be the best communicator, which is not ideal for you. 
Kentucky Personal Injury Lawyers – Rhoads & Rhoads
At Rhoads & Rhoads, our Kentucky car accident attorneys have years of experience handling personal injury cases and are dedicated to helping each client get the settlement they deserve. 
But don't take our word for it. Call us at 888-709-9329 to schedule an appointment with one of our Madisonville or Owensboro personal injury attorneys, and bring all of your questions to ask a personal injury attorney. 
We offer free initial consultations, and all cases are taken on a contingency fee basis, so no initial payment is required. We get paid only if we win or settle your case, and there is NO RISK involved.