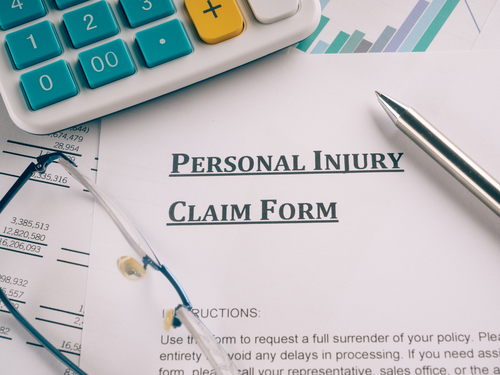 4 Things You May Not Know About Personal Injury Claims
If you would like to make a personal injury claim after being involved in a motor vehicle, pedestrian, motorcycle, or slip and fall accident, you probably have a lot of concerning questions. What to do with stacking medical bills? New financial insecurities? How to deal with ongoing calls from insurance agents? Not to mention the heavy emotional strains caused by accident trauma on you and your family. These issues can all be expected when trying to move on and heal from an injury caused by someone else's negligence. Our recommendation is to set up a meeting with an experienced attorney and start hashing out the complex details of the accident to get your claim started. With an honest and thorough sharing of accident and injury information, your case will be supported by the best evidence. To begin, here is a quick look at four things you may not know about filing a personal injury claim.
1. The Facts Are All You Need
Our recommendation is to schedule a consultation with a personal injury attorney as soon as you are able. You will want to gather as much information and be prepared for your meeting by bringing the facts and as many of these documents (or notes related to them) as possible.
If involved in a motor vehicle accident, bring information about your auto insurance and any communication sent to you from insurers after your reported injury.
Gather a general timeline of events starting from the day of accident to your first visit with an attorney.
Proof of employment and a calculation of any time used away from work because of your injury.
Any medical bill and health insurance information.
Bring along all medical records, including any recent visits, treatment plans, and diagnoses.
Photographs and videos of the accident scene and of your injury.
An official police report or notes taken during conversations with police.
If injured at a business, bring the contact information of the employee you spoke with and a copy of the incident report filed.
Receipts for money spent on any activity or travel related to the accident or injury.
Keep a personal injury journal to share with an attorney.
Always gather a list of witnesses and their contact information.
This information will be used to present your case and should only be used to strengthen your claim.
2. Pain and Suffering Can Be Difficult to Quantify, But Not Impossible
Although significant, it may not be easy to put a quantifiable amount on pain and suffering because Kentucky law can be vague and non-descriptive when reviewing the value of these types of cases. Having an experienced personal injury attorney can help though. Here are a few examples of compensatory damages a personal injury victim may claim under pain and suffering:
Anxiety or worry attributable to the personal injury
Grief, terror, and fright
Impairment of ability to work, or keep employment
Mental distress, failure to enjoy family and life
Physical pain, disfigurement and deformity
Shock, embarrassment, and humiliation
Worrisome, anxiousness, and nervousness
Be sure to always make a note and let your treating physician know about any new developments in your health, medical treatment, new injury symptoms, medical conditions or mental struggles you are experiencing.
3. "No Fault" Coverage May Not Always Apply
Persons who carry "No Fault" coverage and find themselves involved in a motor vehicle accident can usually obtain benefits and money through an automobile policy. Although there are several instances when basic personal injury protection (PIP) benefits will not carry through. For example:
When the owner of the car was injured in an accident, but the car was not insured.
If the person who sustains an injury in a motor vehicle that does not fit Kentucky's "No Fault" law's definition such as a farm tractor, equipment primarily used on construction sites or other work vehicles, or city trolleys propelled by overhead electrical power.
Policy owners can exclude certain persons in their household from a PIP policy through named driver exclusion.
"No Fault" coverage is not primary when the accident was not work related (although is still may apply).
Unless purchased for the motorcycle, neither the motorcycle's operator nor passenger are entitled to collect PIP benefits. If the motorcycle owner elects not to purchase basic PIP coverage, they are considered to have accepted the limitations on their rights unless a "No Fault" rejection form is filed.
"No Fault" insurance does not pay to repair damages to vehicles involved in accidents.
In addition, if a car accident injury claim meets the state's statutory threshold, the claim will be exempt from the "No Fault" rules.
4. Insurers Will Put Pressure on The Victim
Insurance companies are big and powerful, with a heavy team of lawyers behind them dedicated to fighting to get their money back from the liability covered. Sometimes, they will try to connect with an accident victim to discuss the accident scene, injuries and damages in more detail, or to learn if any lawsuit has been set into motion. They will want to find out if anyone specific is to blame for the injuries, and consequently responsible for paying for their customer's injuries.
This involvement can drive factors leading towards insurance subrogation.
Subrogation happens when one person or party is standing in the place of another. This could mean an insurance company filling in as the voice for the accident victim they provide coverage for. It can cause issues for the injured in figuring out who will pay for all or some of the injury damages. Before having these conversations too deeply, it is better to speak with an attorney.
In addition, Kentucky carries a "statute of limitations" law, similar to other U.S. states. The law sets a deadline for filing a personal injury lawsuit with the state's civil court system. Connecting with an experienced personal injury attorney as quickly as possible after an accident, can ensure you will be appropriately compensated for your injuries within the right time frame.
Contact a Kentucky Personal Injury Attorney 
We believe it is always a good idea to initiate a free consultation with an experienced attorney if you choose to pursue a personal injury claim. Rhoads & Rhoads is Kentucky's leading and experienced personal injury firm with offices in Owensboro and Madisonville, representing accident victims throughout Western Kentucky. We offer free initial consultations, and all cases are taken on a contingency fee basis. We get paid only if we win or settle your case, so there is NO RISK involved.
Call us at 888-709-9329 or contact us by e-mail to schedule an appointment with one of our Madisonville or Owensboro personal injury attorneys.