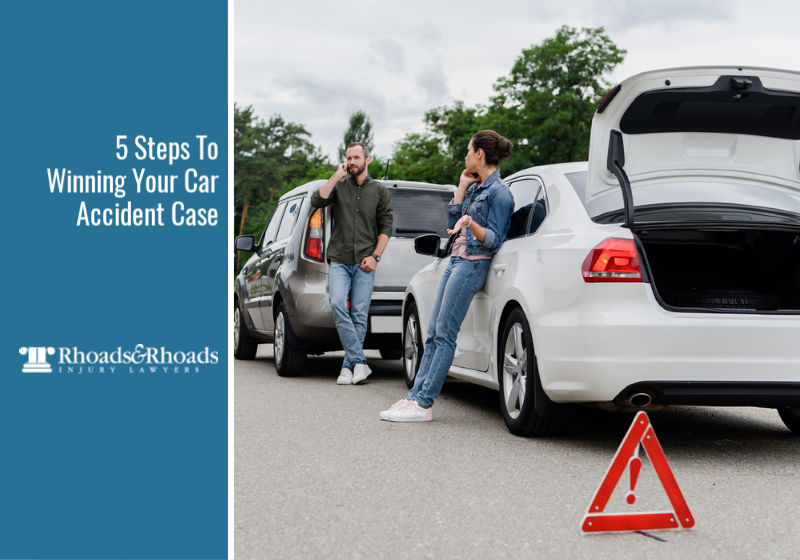 Key Points of This Article:
More than 160,000 traffic collisions are caused by speeding, driving while impaired, distracted driving, and reckless driving in Kentucky each year.
Being injured in a car accident can impact an individual's ability to work, take care of their family, and pay bills.
Concern and distress often set in for accident victims when health insurance groups and hospitals begin contacting them to get reimbursed for money.
If an accident caused serious injury or even death, those involved should know all the options available for pursuing damages and how to win their case. Only an experienced car accident legal team can help with that.
Unfortunately, if you are one of the several thousands of Kentuckians to be injured in a car wreck this year, there are many reasons why you may want to contact the car accident attorneys at Rhoads & Rhoads. Often, questions that are specific to medical bills and health insurance coverage, what type of evidence is needed, dealing with property damage claims, and understanding how and why a claim was denied are some of the top concerns of those injured. We have outlined five steps that will help win your car accident case.
See a Physician and Follow Their Treatment Guidance
The symptoms of a motor vehicle accident-related injury, serious or seemingly small, may not always show up immediately. And an injured person's adrenaline rush has been known to make it more it difficult in recognizing pain, distress, or discomfort at the scene of a crash. Injuries can present within a few hours after the event or even a couple of days later. Immediate care and an assessment by a medical professional will reduce the chance of these complications and a delayed diagnosis. A doctor can provide the proper treatment and documentation needed to make a claim, as well as help an injured person become more aware of pain and suffering type symptoms, and provide them the healing treatments required.
Gather All Evidence
To help make your case, it is vital to present as much information as possible regarding the accident cause, those involved, and injuries sustained. Collecting evidence to prove someone else's negligence related to your car accident-related injury can feel stressful while dealing with your recovery, medical appointments, and insurance companies. But having the right evidence after being involved in a motor vehicle accident can feel easier when seeking the help of an experienced attorney who may be able to access real-time video footage of the accident scene, gather accident reports, and medical documentation to prove an injury.
Avoid Giving Insurance a Recorded Statement
Giving a recorded statement could position you in a situation where it may be used against you. If you have been asked to record anything, it's best to decline and then connect with an experienced attorney who specializes in auto accidents. If a recording is necessary, they can be present during the time of the recording and help advise you on answering questions that could be misleading and hurt your claim. Insurance companies aren't always the bad guys, but they will manipulate and put a good face forward when benefiting their interests – not yours. 
Adjusting Accident Damage
You will want to seek out several auto shops and gather estimates to assess and fix the accident damage to your vehicle or motorcycle. The insurance company will only pay what it thinks is the reasonable cost of repair. A vehicle damage claim can typically be guided with a few phone calls between auto shops and claim adjusters. Once you have received information on the damages, it is time to negotiate a bit to determine if your vehicle is a total loss or it can be repaired. If the repairs exceed a specific percentage of the vehicle value, your auto insurance company will likely deem the vehicle a total loss. Decisions will vary depending upon how well your vehicle has been maintained and its condition.
Avoid Sharing Accident Details with Your Social Community
Insurance companies will be actively searching for information to displace your claim, including photos, communication sent to others involved in the accident, and social media posts. Even though sharing the details of your accident online, or making comments in a public setting, may feel important to you, they won't help. Remember that if you are pursuing a claim for accident damages, posting information about your accident, injury, or life online will likely be used against you.
Working with An Attorney Provides the Best Chance for Winning Your Claim
Working closely with an attorney from the start of your claim will make the ease in coordinating the evidence and identifying expert witnesses, painless for you. They will work alongside accident investigators, medical doctors, and other subject-area experts who are equipped to support your case. With the help of an attorney, you have a better chance of recovering the compensation that you need to get through this challenging time, including damages for:
medical bills
future medical expenses, including surgeries and therapies
lost wages, including for future earnings
services to support you and your family during this time
pain and emotional suffering
Car accidents can cause economic, physical, and mental health issues, and you deserve to be compensated. Although the clock to develop a case for your incident may have started ticking on the date of your accident, you may still have time to bring it into legal action under Kentucky's statute of limitations. Most personal injury cases have a statute of limitations deadline that is typically one to two years after the injury, but exceptions can be made.
Western Kentucky Car Accident Injury Lawyers 
Rhoads & Rhoads has been protecting the rights of the injured throughout Western Kentucky for over 45 years. If you or a loved one have been injured in a car accident, our team of experienced trial attorneys and knowledgeable support staff are available to help you through this difficult time and get you the financial recovery you deserve.
We offer free initial consultations, and all cases are taken on a contingency fee basis. This means there is no payment required upfront, and there is NO RISK involved. Call us at 888-709-9329 to schedule your consultation.
Also read: Personal Injury Accident Trends to Watch for in 2020