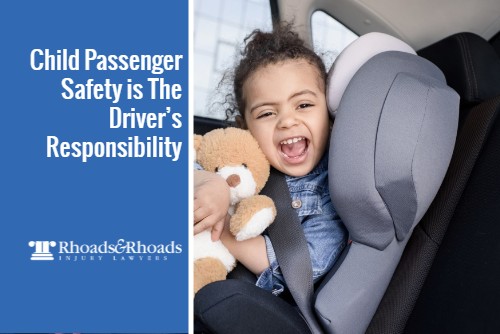 Synopsis
The U.S. Department of Transportation's National Highway Traffic Safety Administration reports that every 30 seconds, one child under the age of 13 will be involved in a crash.
In 2017, over one-third of adolescent children killed in passenger vehicles were not restrained in car seats, booster seats, or seat belts.
Injuries and deaths related to young passengers can be prevented with the proper use of car seats, boosters, and seat belts and the help of drivers who choose to follow traffic laws and avoid distractions.
It is the responsibility of all drivers to minimize their passenger's risk of injury or death in the event of a crash.
Child Passenger Safety is The Driver's Responsibility
On average, nearly two children under 13 were killed every day in 2017 while riding in cars, SUVs, pickups, and vans. Many parents may feel overwhelmed by hearing those statistics regarding child passenger safety, but they shouldn't feel helpless. The National Safety Council (NSC) along with the U.S. Department of Transportation's National Highway Traffic Safety Administration (NHTSA) are busy launching campaigns this season to let everyone know that about every 30 seconds in our country, one child riding in a passenger vehicle will be involved in an automobile crash and there are things drivers can do to lessen their child's risk. Many times, these serious injuries and deaths could have been prevented with the proper use of car seats, boosters, and seat belts.
Take some time to review these critical facts provided by the NHTSA that show just how important the issue is.
Car crashes are a leading cause of death for U.S. children.
From 2013 to 2017, there were 3,313 children under 13 killed while riding in passenger vehicles.
Fatalities decreased in 2017 from 2016, the first decrease since 2014.
From 2013 to 2017, there were 1,161 "tweens" (8 to 12 years old) killed in passenger vehicles.
In 2017, the <1-to-3 age group had the highest number of fatalities (247, or 37%) among children in passenger vehicles, which is a two-percent increase from 2016.
Of those aged 3 and under who were killed, approximately 22 percent were unbuckled.
In 2017, over one-third (35%) of children under 13 killed in passenger vehicles were not restrained in car seats, booster seats, or seat belts.
Of the children under 13 involved in crashes in 2017, an estimated 14 percent were injured.
Drivers who choose to operate responsibly by staying sober, avoid distractions and respect traffic laws are doing their part in keeping roads safer for young passengers as well.
Are You Following 2018's Revised Car Seat Guidelines?
Research led by the American Academy of Pediatrics sparked monumental changes in U.S. child car seat guidelines back in 2018. With new, updated guidelines focused on keeping children in rear-facing car seats until they reach the height or weight limit for the seat, the guidelines also say:
Once children reach the height or weight limit and shift to a forward-facing seat, they should use safety seats with harnesses for as long as possible, often up to 65 pounds.
When children exceed the height or weight limits for those seats, they should use a belt-positioning booster seat until the lap and shoulder belts fit properly, often when the child has reached 4 feet 9 inches in height.
Again, children should remain in rear-facing seats until they reach the highest weight or height allowed by the seat manufacturer. For several years, the annual Safety Belt Usage Survey in Kentucky has provided data showing that Kentucky parents are getting better but still not using child car seats and seat belts correctly.
10 Child Passenger Safety Tips for Kentucky Parents
In 2017, among children under 5, car seats saved an estimated 312 lives, and a total of 371 children could have survived if they had been buckled up 100-percent of the time, according to NSC. Child injuries or deaths related to safety seats or seat belts occur when these suggested safety tips are ignored:
Read and carefully follow the installation instructions included with a car seat, as well as the vehicle owner's manual. Failure to do this can lead to incorrect installation, exposing a child passenger to the risk of injury or death in a crash.
If you're pregnant, schedule a car seat installation with a certified child passenger safety technician before the child is born.
If your kids complain about wearing seat belts, don't negotiate; don't drive off until they buckle up.
Always be consistent and wear your seat belt; driver safety belt use strongly influences whether your child will buckle up.
All 50 states require child seats with specific criteria; here is a list of Kentucky laws.
The life of a car seat is from six to eight years; recalls for child seat manufacturers for the past ten years can be found here.
Air bags can save the lives of older children and adults, but they can be fatal for young children.
All children under 13 should always ride in the back seat.
Tethers should always be used for forward-facing car seats.
NEVER drink alcohol/do drugs and drive; don't text or allow yourself to be distracted while driving at any time, especially with children on board.
Take advantage of car seat safety events held by Child Passenger Safety Technicians in Kentucky year-round or schedule an appointment with one. Parents and caregivers should ask questions about how to choose the right car seat for a child's age and size, how to correctly install the seat in their vehicle, and how to use that seat correctly every time.
Speak with an Accident Lawyer About Your Child's Injury
If your child has been injured in a motor vehicle accident and you believe it was caused by the actions of someone other than yourself or by a defected safety seat or feature in your motor vehicle, don't hesitate to call us. All you need to bring with you are the accident facts and your trust — we are here for you and your family and will handle the rest.
Call us at 888-709-9329 or contact us by e-mail to schedule an appointment with one of our Madisonville or Owensboro personal injury attorneys.
Also read: What to Know About Whiplash Injuries