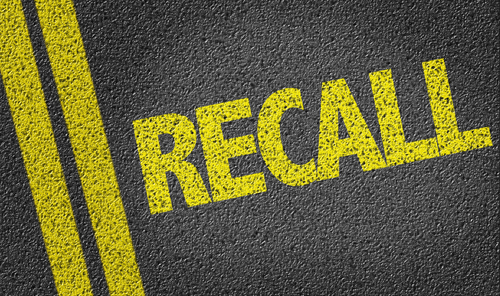 Too Many Recalled Vehicles Traveling Kentucky Roads
In 2016, a record-high 53.2 million vehicles were recalled in the United States. In Kentucky, 25 percent of vehicles operating on the roads today have unrepaired recalls even though free repairs are available. This ranks Kentucky as the eighth-highest open recall rate in the nation. Because of these dangerous numbers, Kentucky is the first state to launch a campaign with the National Safety Council called Check To Protect.
At www.CheckToProtect.org, drivers can conduct a two-minute search which generates a free report for open recalls on their specific car using their Vehicle Identification Number (VIN). A search using the vehicle's year, make and model will generate a list of potential open recalls. If a recall is identified for the vehicle, drivers can call their local dealer to schedule a free repair. Since the campaign launched in June of 2017, more than 105,000 clicks have been made to the website. KYTC said in a news release it wants to see those numbers increase across the state.
"Of the 4 million registered vehicles on Kentucky roadways, one in four has recall repairs that need to be addressed," said John-Mark Hack, commissioner of the Kentucky Department of Vehicle Regulation. "Unfortunately, there's no warning light on a dashboard alerting drivers of recalls. Our efforts are important in encouraging drivers to take the initiative to check if the vehicle they use daily requires a free repair."
What Car Owners Should Do
The Kentucky Transportation Cabinet says neglecting recalls could lead to costly vehicle damage and can jeopardize the safety of all motorists who share the road. Taking a few minutes to check if your vehicle needs attention makes the roads safer for everyone and reduces accident rates. It's important that quick actions by car owners are made once they have been informed that their vehicle has been recalled.
Since drivers expect to receive alerts about recalls, they do not tend to check for themselves. As a preventative measure, vehicle owners should make sure their contact information is always up-to-date with their car's manufacturer and local department of motor vehicles. Sadly, there have been too many tragic instances when individuals were killed in car accidents because they did not receive any of the recall notices sent to them. With free repairs available for all open recalls and such a simple way to check, there's no reason not to find out if your vehicle needs a recall repair.
A VIN Number Is All You Need 
Every vehicle has a unique VIN. Once you locate your 17-character VIN on the lower left of your car's windshield, or the inside of the driver-side door, you can learn if it needs to be repaired as part of a recall. Your VIN could also be located on your car's registration card, and it may even be shown on your insurance card. The NHTSA has provided these FAQs to use the recall online portal found at both www.CheckToProtect.org, and by visiting www.nhtsa.gov/recalls.
What is included in an online VIN search? 
Vehicle safety recalls that are incomplete
Vehicle safety recalls conducted over the past 15 calendar years
Vehicle safety recalls conducted by major light auto automakers, including motorcycle manufacturers
What is NOT included in an online VIN search?
Completed safety recall information
Manufacturer customer service or other non-safety recall campaign
International vehicles
Very recently announced safety recalls for which not all VINs have been identified
Safety recalls that are more than 15 years old (except where a manufacturer offers more coverage)
Safety recalls conducted by small vehicle manufacturers, including some ultra-luxury brands and specialty applications
The Check to Protect campaign says that most Kentuckians can expect to see plenty of reminders to check for recalls during the awareness campaign through a range of mediums, including their local circuit court clerk's office, social media, SAFE Patrol, rest areas and welcome centers. The motor vehicle accident attorneys at Rhoads & Rhoads invite you to check your vehicle's recall status as soon as you are done reading this post.
Common Vehicle Safety-Defects That Initiate a Recall
Recalls are only issued if the defect poses as a safety risk and most often include items such as:
Faulty windshield wiper systems.
Accelerator pedals that fail to release.
Defective steering systems, hampering the ability to maintain control.
Cracking tires.
Faulty fuel system components that leak upon impact, making them susceptible to fire.
Seats or seat backs that fail to hold their position.
Defective seat belts.
Faulty air bag systems that deploy upon the slightest impact.
Defective wiring systems that make the vehicle susceptible to fire.
Car jacks that fail to hold.
Child safety seats with defective buckling systems or components that break or crack.
Car components that crack, break or fall off the vehicle, rendering its ability to remain in control.
Motor vehicle recalls do not typically cover common wear and tear such as:
Overuse of brake pads, car batteries, exhaust systems and shock absorbers.
Chipping and/or fading paint.
Body rust.
Faulty air conditioning systems.
Defective car stereo systems.
You should be able to trust that the vehicle you purchase is safe. Unfortunately, children and adults are injured in vehicles with recalled parts each day. When an individual is injured while using a consumer product, he or she may make a claim for damages through a product liability lawsuit. Product liability cases can result from almost any type of defective product, with some of the most common being automobile seat belts, air bags, or other car parts.
Owensboro and Madisonville Lawyers — No Recovery, No Fee
If you or a loved one have been injured in an auto accident, or injured as the result of a faulty vehicle or related products, don't hesitate to call us. All you need to bring with you are the accident facts and your trust — we are here for you and can take care of the rest. Call us at 888-709-9329 or contact us by e-mail to schedule an appointment with one of our Madisonville or Owensboro personal injury attorneys.