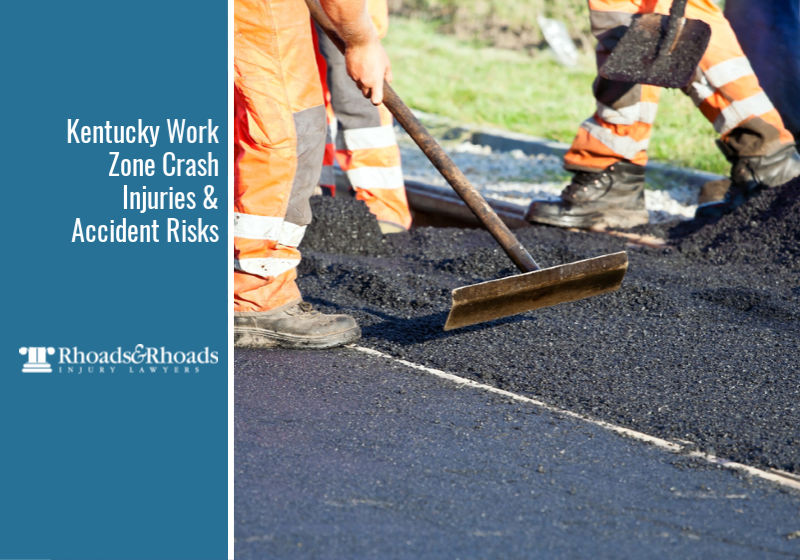 Key Points of This Article:
Road work equipment and workers, distracted driving, speeding drivers, and narrow and barrel-lined highway lanes are all known to cause an increase in traffic accidents each summer.
Kentucky motorists should cautiously drive within the posted and reduced speed limits, and maintain a safe following distance to avoid the most common highway work zone car crashes; a rear-end collision.
Work zone accident injuries commonly include whiplash, traumatic brain injury, and post-traumatic stress disorder.
Car accidents can cause economic, physical, and mental health issues, making it essential to seek a medical diagnosis and gather the proper documentation before making a personal injury claim.
What You Should Do If Injured in a Work Zone Accident
During the warmer months, work zones and temporary work sites pop up along Kentucky's highways, roads, and streets more often as maintenance and new construction projects aimed to keep motorists safe are underway. While most work zones can be identified by orange hazard cones, barrels, and workers in bright-colored clothing, motorists should depend on warnings and change in speed limit signs and flashing lights to help indicate that operations ahead are interrupting the regular flow of traffic. Factors involved in work zones where accidents happen most often include motorists who are 'tailgating' and driving too close to others, are impaired, speeding or driving distracted, are inexperienced teenage drivers, and choose to operate motorcycles and big trucks recklessly.
Work zone crashes can occur on various highways in rural and urban areas and inside communities at intersections and throughout busy city streets. These spots are becoming a critical crash risk for all drivers (and road workers) due to others who avoid taking extra safe driver precautions. In 2019, there were 1,251 construction zone crashes in Kentucky – a 20% rise from the previous year. The number of fatalities rose from three in 2018 to eight in 2019, according to data published in September of 2019 by the Kentucky Transportation Center.
Stop a Construction Zone Accident Before It Begins
We know that practicing safe driving behaviors, like avoiding distractions and obeying the speed limit, saves lives. Never use your phone, or do anything that would take your eyes off the road ahead, especially in a work zone. Drivers should also obey the posted speed limits because speeding significantly increases the risk for a severe crash and fatal injuries to motorists and workers, double fines, or a penalty of six points on your driver's license. The most common crash in a work zone is a rear-end collision when traffic moves from two lanes into one-lane roads, which is why maintaining a safe following distance is critical.
To help reduce future work zone accident and injury rates, the Kentucky Transportation Cabinet (KYTC) asks drivers to practice three simple work zone safety tips.
Pay Attention and Avoid Distractions – Don't text, eat, or perform any other distracting activity while driving.
Respect Workers Holding Flags and Work Zone Signage – Obey their guidance and observe their directions.
Slow Down and Don't Follow Too Closely – Maintain a safe following distance.
Sometimes injuries may not be immediately present in slower-moving work zone accidents. That is why it is essential to acknowledge any symptoms of pain or discomfort and seek medical treatment as soon as possible. Missing critical windows of time to be diagnosed and collect evidence can hurt your car accident case.
Never Ignore the Symptoms of a Car Accident Injury
The symptoms of motor vehicle accident injuries, serious or seemingly small, may not always show up immediately. Often, an injured person will experience general confusion masked by adrenaline after a crash, making it difficult to recognize an injury, pain, or discomfort. But issues can present within a few hours or a week later. Here are some of the more common symptoms of a car accident injury to watch out for.
headaches
hip and knee stiffness
abdominal pain
back pain
numbness in arms and legs
swelling in the abdomen area
excessive bruising that does not go away
unable to perform family activities or routine job duties
reduced physical function
changes in personality
increased feelings of sadness, anxiety, and fear when driving or traveling in a motor vehicle
Immediate care and an assessment by a medical professional will reduce the chance of complications in these injuries, and provide a rehabilitation plan and the proper medical documentation to make a claim, as well as create a greater awareness of underlying symptoms such as pain and suffering. If pain and suffering is present, an attorney can discuss the compensatory damages a personal injury victim may claim, including, but not limited to:
generalized worry attributable to the personal injury
grief, terror, and fright
impairment of ability to work, or keep employment
mental distress, failure to enjoy family and life
physical pain, disfigurement and deformity
shock, embarrassment, and humiliation
worrisome, anxiousness, and nervousness
Be sure to always alert your physician of any new developments in your health, medical treatment, new injury symptoms, medical conditions or mental struggles you are experiencing.
Personal injury cases do have a statute of limitations deadline of one to two years after the date the injury incurred, but exceptions can be made. An experienced car, motorcycle or truck accident attorney at the law firm of Rhoads & Rhoads can listen to you and also provide counsel if there are special rules that may apply to your case.
Western Kentucky Personal Injury Lawyers — No Recovery, No Fee 
Rhoads & Rhoads represents the seriously injured due to the negligence of others throughout Western Kentucky. We offer free initial consultations, and all cases are taken on a contingency fee basis, so there is no payment required up front. We get paid only if we win or settle your case, and there is NO RISK involved.
Call us at 888-709-9329 to schedule an appointment with one of our Madisonville or Owensboro personal injury attorneys. We are ready to offer you the legal advice and help you deserve.
Watch: Learn about our work as personal injury attorneys in Breckinridge County.