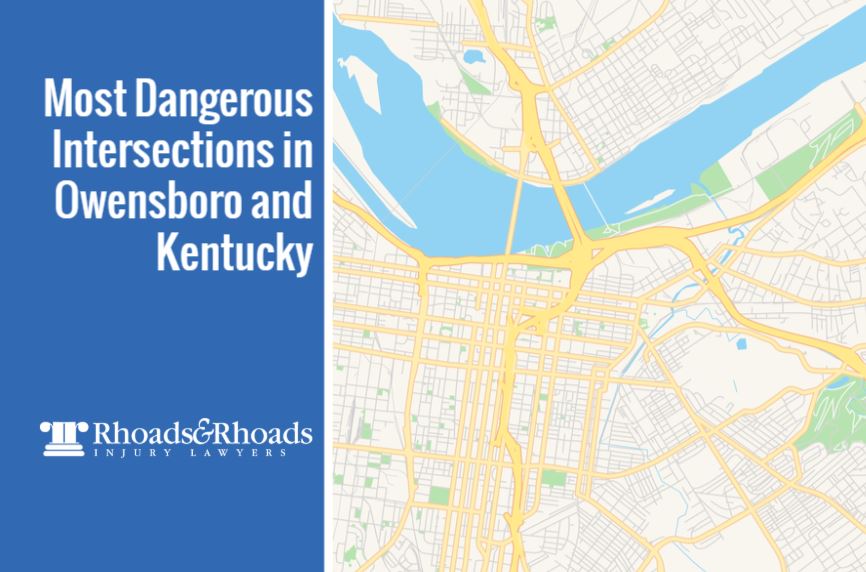 Synopsis
Of the 3,537 roadway fatalities in Kentucky from 2010 through 2014, 450 resulted from collisions at roadway intersections.
The most dangerous intersection in Kentucky is in Louisville at 2nd Street and Broadway.
As part of a Highway Safety Improvement Program (HSIP) project, the Kentucky Transportation Cabinet has identified several unsafe intersections across the region, including two locations in Owensboro.
Intersections at U.S. 431/Frederica Street at Salem/Goetz Dr and KY 2831/Frederica Street at KY 81/Parrish Avenue will see generous improvements to both street infrastructures, lane widening and markings, and new signal modifications.
Two Dangerous Intersections Identified in Owensboro 
More than 50 percent of the combined total of fatal and injury-related motor vehicle crashes each year occur at or near intersections, according to the Federal Highway Administration. Lack of intersection safety impacts drivers, passengers, cyclists, pedestrians and anyone else who uses them. The most recent report by the Highway Safety Improvement Program (HSIP) identified 32,278 accidents at Kentucky intersections, resulting in 100 fatalities to motorists and pedestrians in 2014. The Kentucky Transportation Cabinet (KTC) has begun work at several intersections across the region, including Owensboro, as part of the HSIP program.
All road users, including pedestrians, should expect to see improvements made at these two Owensboro intersections, according to an announcement by KTC as reported by The Owensboro Times.
S. 431/Frederica Street at Salem/Goetz Dr: The medians on U.S. 431 are being reconstructed to provide an offset for both northbound and southbound left-turn lanes to improve visibility of oncoming traffic. Turn lanes are being extended to provide additional capacity. A northbound right turn lane is also being added. The median will be removed, and pavement markings will be revised on Goetz Drive to include a dual left-turn lane. Salem Drive will be widened to accommodate a right turn lane. Once this work is completed, signal modifications will be made to accommodate the new lane markings.
KY 2831/Frederica Street at KY 81/Parrish Avenue: Pavement markings are being revised at this busy intersection to provide offset northbound and southbound left-turn lanes to improve visibility of oncoming traffic. Signal modifications will be made to accommodate new markings, and this section will be milled and filled following some required excavation work.
During this time, stay alert for construction activity at these locations and workers sharing intersections with both driver and pedestrian traffic.
Kentucky's Most Dangerous Intersection is in Louisville
In 2019, TIME Magazine used ten years of crash data provided by the National Highway Traffic Safety Administration to identify the most dangerous intersections in America. In Kentucky, that location was found in Louisville at 2nd Street and Broadway. From July 2018 to July 2019, there have been 35 crashes at this dangerous intersection, some fatal. These roads are crossed by a two-way street and a one-way street congested with operators who disregard traffic lights and speed limits, and drive distracted through large amounts of pedestrian traffic who have the right-of-way when crossing the street.

Intersection Safety Tips for Pedestrians, Bicyclists and Motorists
Drivers who run red lights, allow for distractions, choose to ignore flashing yellow arrow indications, and are confused about alternative intersection designs can easily be identified as intersection accident risks. But like most accidents, intersection wrecks can be prevented if all road users, pedestrians and bicyclists included, practiced safe driving and obeyed the law.
Motorists should ensure they are in the correct lane before reaching an intersection, look out for signs, sudden turning lanes, construction zones, pedestrians, crosswalks, and bicycle lanes and always use a turn signal. We should all know by now that distractions will hinder a driver's performance, so don't ever use your cell phone or text while driving.
Pedestrians should avoid being distracted by their phones while walking and keep their attention on their surroundings and follow traffic cues. If traveling at night, walkers can take extra safety precautions by only traveling on well-lit walkways or carrying a flashlight and wearing retroreflective clothing. Pedestrian-friendly communities such as Owensboro and Lexington, and well-known areas for high pedestrian traffic like downtown districts, campuses and hospitals are typical homes for fatal intersection-related accidents.
Bicyclists need to ride in a straight line, not in and out of cars and should always signal moves to other road users. Watch for left- or right-turning traffic and make sure the drivers see you before crossing an intersection. Bicycles are expected to follow the same rules of the road as motorists and ride in the same direction.
These engineering strategies identified by HSIP in the Strategic Highway Safety Plan 2015-2019 could help make all Kentucky intersections safer:
Expand use of Flashing Yellow Arrow (FYA) traffic signal display.
Improve visibility of signal heads (retroreflective back plates, supplemental heads, etc.)
Develop a policy to require annual inspections and preventative maintenance of traffic signal installations.
Implement high-friction surface treatments at intersection approaches.
Optimize traffic signal clearance intervals and phasing.
Develop a GIS-based intersection location database to maximize the quality of crash data used in the development of Intersection Emphasis Area Lists.
Improve access management near intersections.
Improve sight distance at intersections.
Provide additional guidance features through complex intersections.
Consider systematic implementation of low-cost countermeasures for pedestrian crashes.
Promote the use of innovative intersection designs (roundabouts, J-turns, continuous flow intersections, positive offset left-turn lanes).
Pursue the development and installation of Intersection Conflict Warning Systems.
Pursue systematic projects that include signs and markings for the highest risk intersection types.
Until these strategies have been implemented throughout all Kentucky communities, please remember to stay alert and be courteous, and follow traffic laws as a motorist, pedestrian and cyclist to reduce any intersection crash and injury risks to yourself and others.
Owensboro and Madisonville Intersection Accident Lawyers — No Recovery, No Fee 
If you have been injured or a loved one killed in an intersection-related accident, the Kentucky personal injury law firm of Rhoads & Rhoads is ready to provide you and your family the legal support needed to ensure a successful recovery and without undue financial stress. Regardless of the kind of injury you or your loved one have sustained; we will fight for you whether your anticipated claim is large or small. If your injury makes it difficult for you to meet with us in our offices, we will be happy to meet with you elsewhere, whether the hospital, your home, or another location.
We never collect fees unless your case is won or settled, and we provide a completely free initial consultation. Reach out today to hear more about how we can help. Call 888-709-9329 or contact us to schedule an appointment.