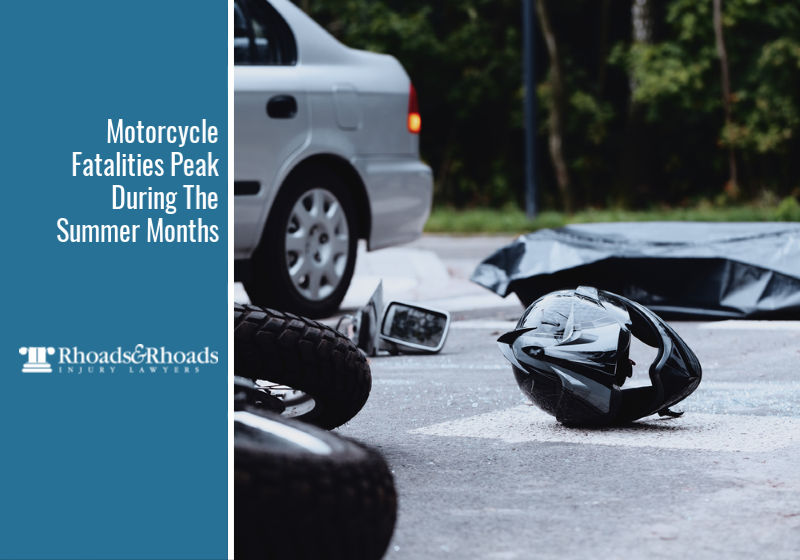 Key Points of This Article:
Similar to U.S. averages, the majority of fatal motorcycle accidents in Kentucky happen in June, July, and August.
Motorcyclists are much more likely than passenger car occupants to die or become injured in a crash and represent 14% of road fatalities, according to the Insurance Information Institute.
Motorcycle drivers are more vulnerable to devastating crash injuries such as traumatic brain injury and disabling spinal cord injuries.
Awareness efforts that increase helmet use, safe motorcycle handling, and educating other motorists about motorcycle safety can help reduce road fatalities.
Motorcycle Fatalities Peak in the Summer Months
According to the National Highway Transportation and Safety Administration (NHTSA), the number of motorcycle fatalities over the last ten years (from 2008 to 2017) is 48,727. And a total of 4,985 motorcyclists died in U.S. crashes in 2018, hitting their peak in June, followed by July and August.
Gender, age, time of day, alcohol, weather, education and skill of the rider contribute to how likely a motorcyclist will be involved in an accident. But many motorcycle accidents are caused by the negligence of other drivers, especially during the summer season when more people are on the road, including less experienced teen drivers.
In the past 90 days, several Kentucky counties have been home to tragic motorcycle accidents resulting in dozens of fatalities. Our team is saddened to hear of any accident-related injury or death. We keep these tragedies in mind as we help similar clients through difficult times and work to get them the financial recovery deserved.
Crittenden: According to Kentucky State Police, a 65-year-old man died after losing control and crashing his motorcycle on KY120 three miles east of Marion. The man left the roadway and struck a concrete culvert and was then thrown.
Motorcycle Crash Fact: NHTSA reports 37% percent of motorcyclist deaths in 2018 occurred in single-vehicle crashes.
Lyon County: A 27-year-old man was killed when his motorcycle hit a southbound car at the intersection of Kentucky 93 and Kentucky 3305 in an evening crash. The Kentucky State Police report says the vehicle's driver attempted to make a left turn onto KY 3305, and the motorcycle hit the car, causing the bike to lose control and collide with an unoccupied pickup truck. The rider was pronounced dead at the scene, but others involved were not injured.
Motorcycle Crash Fact: Left-turn accidents account for 36% of fatal motorcycle accidents, according to the NHTSA. Almost always, a vehicle that hits another vehicle while making a left-hand turn will be found at fault for the accident. 
Madison County: Authorities are still investigating a crash that killed a 25-year-old motorcyclist in Madison County. According to the Madison County Coroner, the man died after colliding with a pickup truck on Old Lexington Road that was traveling northbound. The man and his motorcycle went under the truck, and he was pronounced dead on the scene.
Motorcycle Crash Fact: Motorcycle helmets are estimated to be 37% effective in preventing fatal injuries to motorcycle operators and 41% effective for motorcycle passengers.
Jefferson County: Louisville Metro police reported a fatal motorcycle crash at the intersection of New Cut Road and Harper's Ferry Road due to a two-vehicle collision. Reports say the motorcycle was traveling northbound when it hit a car attempting to turn left onto New Cut Road southbound from Harper's Ferry Road. The driver of the car involved was not hurt.
Motorcycle Crash Fact: According to the NHTSA, roughly half of all motorcycle accidents occur at traffic intersections. Data also shows an estimated three motorcyclist deaths per day due to multi-vehicle accidents at intersections.
Bourbon County: A 31-year-old man was killed and a 23-year-old woman seriously injured when the motorcycle they were riding swerved into another lane, crashing head-on into a car. According to Kentucky State Police, the accident happened at Hooktown Road near the Bourbon-Nicholas County line when the 2009 Kawasaki crossed the center line while approaching a curve.
Motorcycle Crash Fact: The Insurance Information Institute has revealed that riders under 30 who ride supersport bikes are involved in four times as many fatal accidents as other bike owners. 
Kentucky State Police say motorcyclists represent nearly 8% of the state's fatal accidents each year. Jefferson, Fayette, Boone, Hardin, Warren, Kenton, and Daviess Counties are home to the highest numbers of motorcycle accidents in Kentucky.
Understanding the At-Risk Motorcyclist Population
While lack of skill, speeding, and inattentiveness can be the causes behind the escalating rates of fatalities and injuries involved in motorcycle accidents across the Bluegrass, non-motorcyclists contribute to the rise in motorcycle-related fatalities in the summer months when more vehicles are on the road.
Crashes involving motorcycles and other vehicles account for 56% of motorcycle accident deaths.
In the vast majority of these accidents, 78% of the time, the car strikes the motorcycle from the front.
Head-on collisions between a car and motorcycle are often fatal to the motorcyclist and their rider.
The experienced Kentucky motorcycle accident lawyers at Rhoads & Rhoads have seen numerous causes for these accidents. Despite taking all safety precautions and wearing protective gear, motorcycle crash injuries and dangerous fatalities still occur and can be caused by distracted or impaired drivers, hazardous road conditions, and too often – motorists' negligence.
Kentucky is a beautiful state to explore on a motorcycle. Be safe out there.
Find Legal Help with a Western Kentucky Wrongful Death Attorney
If you or someone in your family has been seriously injured or killed in a motorcycle accident, the Kentucky motorcycle accident lawyers at Rhoads & Rhoads can help. Please take advantage of our free initial consultation and discuss your motorcycle accident case with us. There is no payment required upfront, and there is NO RISK involved. Call us at 888-709-9329 to schedule your consultation today.
Also read: Kentucky Counties Where Motorcycle Accidents Occur Most Often
Source: National Highway Traffic Safety Administration. Motorcycles (Traffic Safety Facts Research Note. Report No. DOT HS 812 492). U.S. Department of Transportation, Washington, DC; 2017. Available at https://crashstats.nhtsa.dot.gov/Api/Public/ViewPublication/812492External. Retrieved 6 July 2020.