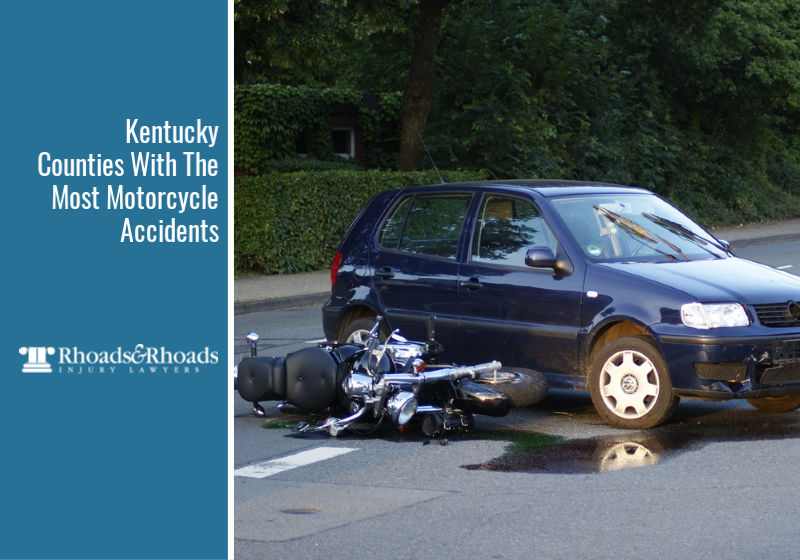 Key Points of This Article:
There are an estimated 122,360 motorcycles registered in Kentucky each year.
According to Kentucky State Police, motorcyclists represent nearly 8% of the state's fatal accidents.
Jefferson, Fayette, Boone, Hardin, Warren, Kenton, and Daviess Counties have some of the highest numbers of motorcycle accidents in Kentucky.
The top contributing factors for all motorcycle accidents in Kentucky involve inattentive drivers and motorcyclists who do not have proper control over their bikes.
Kentucky's State Police released the most recent Traffic Collision Facts report on July 23, 2019. The annual data review shows 67,964 traffic collisions (including 216 fatal crashes) involved "two-vehicle" collisions. These collisions represent 51% of all collisions and 33% of deadly accidents reported. While the majority of the vehicles involved were passenger cars, motorcyclists represented nearly 8% of Kentucky's "two-vehicle" fatal accidents, and involved 1,464 related collisions.
Kentucky Motorcycle Fatalities
Fatal collisions: 84
Total persons killed (motorcycle driver or passenger): 88
Killed with helmet use: 34
Killed without helmet use: 54
Kentucky Motorcycle Driver or Passenger Injuries
Injury collisions: 933
Total persons injured (motorcycle drive or passenger): 1,033
Injured with helmet use: 496
Injured without helmet use: 536
Highway safety officials agree that lack of skill, as well as driving above the speed limit, and inattentive drivers of non-motorcycle vehicles, are major causes behind the escalating rates of fatalities and injuries involved in motorcycle accidents across the Bluegrass.
Where Kentucky Motorcycle Crashes Happen
When a bike crashes, riders don't have the protection an enclosed vehicle offers, leaving riders more likely to be injured or killed. The National Highway Traffic Safety Administration (NHTSA) says motorcyclists and their passengers are 37 times more likely to die while riding a motorcycle than a car accident – and nine times more likely to become injured while riding a motorcycle than while driving a car.
The top 40 counties in Kentucky for most accidents involving a motorcycle include:
Jefferson
Fayette
Boone
Hardin
Warren
Kenton
McCracken
Madison
Bullitt
Campbell
Laurel
Boyd
Pulaski
Pike
Whitley
Scott
Franklin
Shelby
Barren
Jessamine
Nelson
Oldham
Calloway
Graves
Clark
Marshall
Grant
Perry
Grayson
Woodford
Rowan
Harrison
Floyd
Letcher
Learn more about the people we help and represent in Muhlenberg County.
Understanding the Causes Behind Most Motorcycle Accidents
Safe motorcycling that involves proper road and bike knowledge, including training, balance, coordination and sound judgment are just as important crash risk factors as motorists who drive sober and with attentive driving behaviors. Contributing factors related to all Kentucky motorcycle collisions in 2018 involved:
Inattention
Not Under Proper Control
Failed to Yield Right of Way
Alcohol Involvement
Midjudge Clearance
Following Too Close
Exceeded Stated Speed
Too Fast for Conditions
Overcorrecting/Oversteering
Improper Passing
Disregard Traffic Control
Turning Improperly
Drug Involvement
Weaving in Traffic
Emotional
Lost Consciousness/Fainted
Sick
Medication
Fell Asleep
Improper Backing
Cell phone
Fatigue
Physical Disability
Other crash variables that cause a motorcycle to crash include uneven pavement, weather, unsealed patches, potholes and unkept roads, slick surfaces, and distractions from passengers. And, motorcyclists should always watch out for cars and trucks that are changing lanes. Pay special attention to turn signals, wheels, sudden movements, and other drivers who may be motionless in the seat, as they may be distracted.
An estimated 122,360 motorcycles are registered in Kentucky each year. It's important for these riders, no matter their skill level, to strive for greater safe motorcycling awareness and to have the proper bike training, as well as rid any negligent driving habits such as inattentive driving and speeding before getting on their bike.
How Drivers Can Avoid an Accident with a Motorcyclist
Unfortunately, most drivers aren't always on the lookout for motorcycles. But because all drivers play an important role in reducing their individual accident risk, everyone who operates a motor vehicle should know to share the road with motorcycle drivers and their passengers. To prevent both crash injuries and the tragic road fatalities involving motorcycles, the Kentucky Governor's Commission on Motorcycle Safety and Education asks all drivers to:
Look Twice: The most common motorcycle accident occurs when the vehicle positioned in front of a motorcycle is turning left. The driver typically fails to see the bike or is unsure of the bike's speed and makes the wrong move.
Allow for Greater Following Distance: Road conditions that are minor annoyances to you can pose major hazards to motorcyclists. Motorcyclists may change their speed or adjust their position within a lane suddenly in reaction to road and traffic conditions. Allow a greater following distance, three or four seconds, when following a motorcycle, so the motorcyclist has enough time to maneuver or stop in an emergency.
Share the Road: Remember that motorcyclists are entitled to a full lane to drive in. Give the motorcyclist respect by treating them like any other motor vehicle. Sharing the road will save lives.
Despite taking all safety precautions, motorcycle accidents are going to happen, and lasting injuries and tragic fatalities will still occur each year. But we can all do our part to be better prepared for sharing Kentucky roads with motorcycles and focus on reducing our own accident risk by following this suggested advice.
Western Kentucky Motorcycle Accident Injury Attorneys
If you or someone in your family has been seriously injured or killed in a motorcycle accident, the Kentucky motorcycle accident lawyers at Rhoads & Rhoads can help. Take advantage of our free initial consultation and discuss your motorcycle accident case with us. There is no payment required upfront, and there is NO RISK involved. Call us at 888-709-9329 to schedule your consultation today.