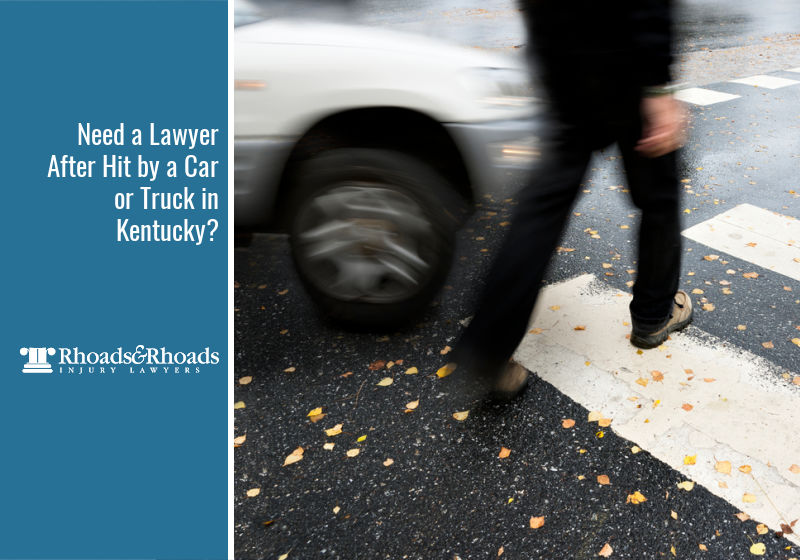 Key Points of This Article:
There has been a surge in reckless driving accidents impacting pedestrians during the COVID- 19 pandemic, causing alarm for motorists to become more aware and do all they can to avoid a crash with other road uses, including pedestrians.
Whether you are commuting to work or school on foot, out for a walk with your family, headed to the bus stop to catch a ride, or exercising outside, you are a pedestrian.
Pedestrian accident injuries, especially those that happen at crosswalks and busy intersections, can create catastrophic financial hardships and painful physical and emotional injuries.
If hurt due to a negligent driver and looking for compensation, seek out a medical evaluation, document your injuries, and speak with a Western Kentucky attorney at Rhoads & Rhoads to learn more about your legal options.
More Pedestrians Are Being Injured and Killed on U.S. Roads  
A large majority of motor vehicle accidents, particularly those resulting in severe injury or a fatality, have one of the following as a root cause: speeding, driving under the influence of drugs or alcohol, driving while tired, and distracted driving. People often believe it is just motorists who are injured in these crashes. Still, the Governors Highway Safety Association's annual "Pedestrian Traffic Fatalities by State" report shows that more than 6,500 pedestrians were killed in the U.S. in 2019, the highest number since 1988. And given the documented surge in reckless driving during the COVID- 19 pandemic, the number of pedestrians injured or killed is expected to rise again in the 2020 report.
Populated cities such as Owensboro and Lexington and well-known community areas where pedestrian traffic is high like business districts, shared green spaces, campuses, and hospitals, are most common for fatal pedestrian-related accidents.
As with all types of car accidents, pedestrian crashes caused by motorists can occur for many specific reasons.
They are not following traffic laws. Failure to yield to pedestrians is a real problem, even though drivers are legally obligated to stop for pedestrians at all corners and crosswalks. Drivers who do not indicate where they are going by using turn signals may be more likely to confuse walkers and cause crashes with pedestrians, bicyclists, and motorcyclists.
They are road hogs. Drivers should pass pedestrians at a safe distance and always give runners, walkers, and joggers enough room.
Bad driver habits and behavior. Distracted drivers, drowsy drivers, drunk drivers, speeding drivers, and other negligent drivers may cause pedestrian crashes and cause more dangerous accidents.
Obscured or limited visibility. Weather conditions such as rain, snow, fog, darkness, signage, and other larger vehicles may obscure intersections or crosswalks and make it difficult for motorists to see pedestrians.
Back-up accidents. Drivers who are backing out of parking spaces or driveways may not see pedestrians in their paths.
Failure to stop for a bus or delivery driver. Drivers should stop for busses, including school busses and delivery trucks, that are loading or unloading passengers or boxes.
Poor road design and intersection safety. Roads without sidewalks, stop signals, or designated crosswalks may make pedestrian accidents more likely.
The increase in large, bulky SUV-type vehicles found more often on American roads today also makes walking away from a pedestrian accident without a severe injury less likely. This is true even if one of these big vehicles hits a pedestrian at a slower speed or fails to stop entirely.
Car Accidents Result in Hundreds of Kentucky Pedestrian Injuries Each Year
When a car crash occurs, the car's occupants have some protection from the vehicle's frame, seat belts, airbags, and other safety devices. There is no such protection for a pedestrian who is hit by a car. Common pedestrian injuries include:
broken legs, knees, ribs, arms, and hips
blunt force internal injuries, such as internal bleeding and organ failure
spinal cord injuries and nerve damage
neck and shoulder injuries
soft tissue wounds, cuts, and lacerations
crushing injuries, which can lead to amputations
pain and suffering
death
All pedestrians should be using designated crosswalks and traffic signals when available and always walk on a sidewalk or the road's shoulder, facing traffic. If walking or riding your bike at night, try carrying a flashlight and wearing retro-reflective clothing to ensure you are seen.
What Should You Do If Hit by a Motor Vehicle While on Foot or Bike?
While we hope you never find yourself in a situation like being involved in an accident with a vehicle while walking or riding your bike, on average, 61,000 pedestrians are injured in traffic crashes every year. If you are one of these people and assuming you are coherent after being hit, do your best to keep collected so you can work alongside emergency medical responders and law enforcement officials to have your injuries assessed.
Move somewhere safe.
Request urgent medical attention if needed.
If able, you can also use your smartphone to gather the evidence and witness statements needed to present your case.
Visit with a doctor and keep track of your injuries, treatments, and medical bills.
Seek help from an experienced personal injury lawyer.
Speak up for change in your community.
While holding another driver accountable can feel uneasy and a long and complicated process, the legal team at Rhoads & Rhoads wants you to know it is not impossible. We can assist you as soon as you feel ready.
Kentucky Lawyers Representing Injured Pedestrians and Bicyclists
Suppose you or a loved one were walking or riding a bicycle and injured due to a motor vehicle driver's negligence. In that case, our team of experienced trial attorneys and support staff is available to help you through this challenging time and get you the financial recovery you deserve.
Rhoads & Rhoads offers free initial consultations, and all cases are taken on a contingency fee basis. This means there is no payment required upfront, and there is NO RISK involved. Call us at 888-709-9329 to schedule your free consultation today.
Also read: Most Dangerous Intersections in Owensboro and Kentucky