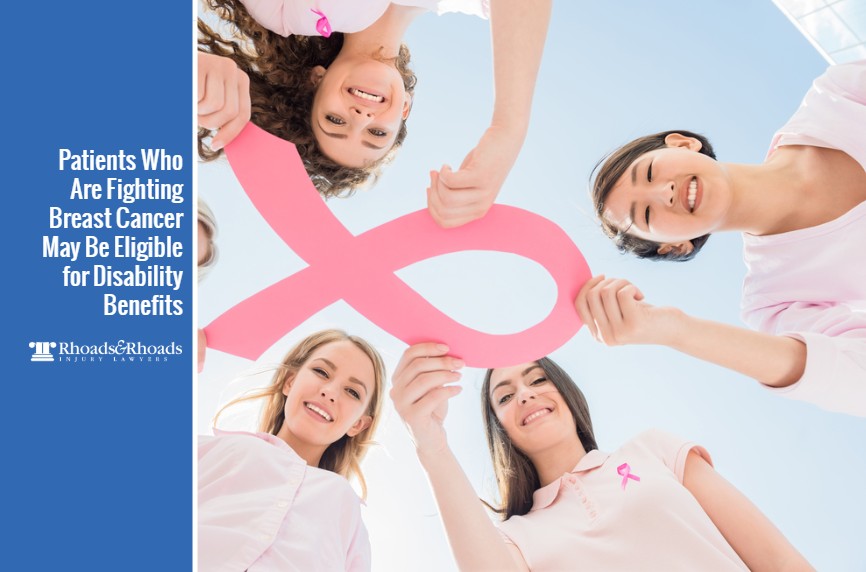 Key Points from This Article
1 in 8 women will develop breast cancer in her lifetime, and an estimated 41,760 women will die from breast cancer in the U.S. in 2019.
Breast cancer is the most common cancer in American women, and many women are unable to work at all due to treatment.
Social Security benefits may be available for those battling breast cancer conditions severe enough that it prevents them from performing any gainful work activity in at least 12 months.
Unfortunately, some applications will be denied even if the qualifications are met. Extra support from a lawyer may be required for the best chance to appeal against the Administration's decision.
Patients Who Are Fighting Breast Cancer May Be Eligible for Disability Benefits
The North American Association of Central Cancer Registries (NAACCR) ranks breast cancer among the highest cancer incident rate in Kentucky. And according to the American Cancer Society, in 2019, an estimated 268,600 new cases of invasive breast cancer will be diagnosed in women as well as 62,930 new cases of non-invasive (in situ) breast cancer.
New breast cancer treatments have gained attention including cell dividing enzymes and protein targeted therapies for early stage breast cancer care, but chemotherapy, radiation and cancer drugs remain the most common and expensive methods followed by invasive and costly reconstructive surgeries. Life can quickly become overwhelming for these women and their families with treatments costing an average of $100,000 and in advanced cases, $300,000 or more.
October is Breast Cancer Awareness Month, and the attorneys at Rhoads & Rhoads want to help raise awareness by providing information about breast cancer Social Security Disability (SSD) claims, how best to determine eligibility and what to do if an application is denied.
How to Find Out If Your Breast Cancer Qualifies You for Social Security Disability
Qualifying for SSD can be straightforward for some aggressive forms of breast cancer, but an applicant will still need to provide the Social Security Administration (SSA) with evidence to show either that:
The diagnosed breast cancer fulfills the qualifications for the SSA's disability listing
OR
the symptoms or treatment for breast cancer have limited the person so much that they are unable to work.
When you apply for disability benefits, the individual who reviews your claim will refer to the SSA's Blue Book of listed impairments. Breast cancer is included in this listing under Section 13.00 — Malignant Neoplastic Diseases. Some early stages of breast cancer will not be listed in the Blue Book but could still qualify for disability benefits with the help of doctors' notes and hospital records that show you will be expected to be out of work for at least 12 months.
Doctor's reports or test results must show one of the following:
Advanced breast cancer that has extended to the chest, skin, or internal mammary nodes.
A carcinoma (cancer started in the cells of the skin or tissue lining organs) that has spread above or below the collarbone has spread to 10+ nearby nodes or spread to distant regions of the chest.
A carcinoma that returns after anticancer therapy.
Small-cell (oat cell) carcinoma.
If you are diagnosed with breast cancer and preparing to apply for SSD benefits, do your best to gather as much medical documentation as possible to support your claim, including but not limited to:
Surgical or biopsy notes, or a report from a physician noting why the cancer is not operable or can't be removed.
Biopsy results or a pathology report that documents the type of breast cancer you have.
Imaging scans showing the location(s) of tumors or spread of the disease
Details of your cancer treatments such as chemotherapy, radiation, and surgeries, including how often you undergo them and what their impact has been including ongoing infections and related illnesses.
Some forms of fast-moving breast cancer will qualify under the SSA's Compassionate Allowance (CAL) program and benefits could be approved in as little as ten days. Advanced breast cancer patients are usually eligible for CAL if they meet one of the three following conditions.
Your breast cancer has metastasized (spread to distant organs).
Your breast cancer has returned despite undergoing chemotherapy or another cancer treatment.
Your breast cancer is inoperable.
Unfortunately, patients who suffer from less severe forms of breast cancer may find it challenging to be approved for SSD benefits, and many people who should qualify will have their initial application rejected. Although rare, a man's breast cells and tissue can still develop cancer, making them eligible for breast cancer-related disability benefits equal to those available to women.
Applicants Who Work with An Attorney Have a Higher Chance of Approval
If you can provide enough objective evidence proving the severity of your breast cancer condition, you may be approved for benefits during the initial stage of the SSD application process. But if an application for benefits has been denied and a determination letter was received, it's not too late to contact an attorney who can help appeal the SSA's denial decision within the 60-day time limit. Our attorneys have experience in proving that Kentucky SSD applicants are more likely to receive benefits in the initial application process or have an appeal accepted when working with a qualified disability lawyer.
Owensboro Breast Cancer Disability Lawyers – We Are Here for You
Rhoads & Rhoads has been protecting the rights of the sick and injured throughout Western Kentucky for over 43 years. If you or a loved one has been diagnosed with breast cancer and are pursuing SSD benefits or have been denied, our team is available to help get you the financial recovery and benefits needed to support you during this time.
Out attorneys get paid only if we win or settle your case, so there is NO RISK involved, and all cases will be taken on a contingency fee basis. Call us at 888-709-9329 or contact us by e-mail to schedule an appointment at our Madisonville or Owensboro offices.
For additional information on all types of cancer, visit: